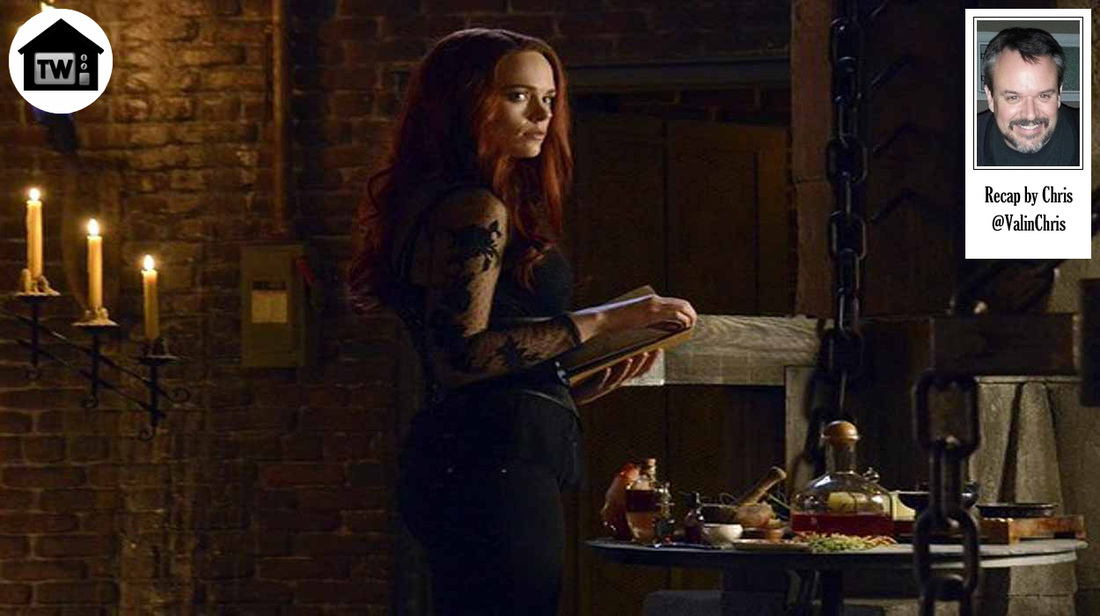 Icky and Abbie have an angel on their side! Good news? Hell, no! Instead Sleepy Hollow becomes "the epicenter of a conflagration of biblical proportions."
The Woods: Ichabod and Abbie wake up to find Moloch and Henry gone. Apocalypse averted! It's Miller time! So let's jump forward six weeks to a …

Farmer's Market: Bored. Bored, bored, bored. That's what Crane is, now that there are no battles to fight against the forces of evil. He's spent the past six weeks searching for clues that evil is still around, but all he can find are worm-filled apples that smell like brimstone. So, they head over to …

The Archives HQ: Where Ichabod has been sleeping for the past six weeks because he and Katrina are taking some time to "think about things" while she keeps Abraham prisoner. After talking about that busted relationship, they decide to follow up on that apple lead over at …

A Farm: Where Abbie questions whether Crane is just trying to distract himself from the fact that he isn't getting along with his wife. But it turns out evil actually is afoot: they hear chanting coming from a barn, and discover demons inside. When they confront the demons, they prove to be difficult to shoot, but someone comes to their rescue … a dude with giant wings and a halo, who calls himself Orion.

The Cabin: Where Katrina is now staying, and keeping Abraham prisoner. She feels responsible for him taking on the mantel of death, and wants to figure out a way to separate him from the horseman. She tells Ichabod that she thinks she knows a way to do it. Yeah … she's gonna have some 'splainin' to do. However, back at …

The Barn: Orion informs Abbie the lesser demons want to make Death their new master, and that he wants to destroy him. He won't answer any questions about Heaven or the big guy upstairs (except to say it's not a "guy," but everything there is), but he does give her a charm to call him whenever she needs help. Kind of like a pager for your guardian angel, I guess. Meanwhile, at …

The Pub: Jenny asks Hawley for help in tracking down demons, so he shows up with a rock. Yeah, that's what I said: a rock that tracks down demons. They just need to figure out how to use it. So they head outside, where they have to figure out how to use it. After Hawley admits he still has feelings for her and she rebuffs him, he realizes he has to smash the rock, and finds the actual demon tracker inside. He sees Headless at the coach house with the demons they're looking for. When Jenny tells Abbie about this, she talks to Ichabod, who is back at the archives and found some scary news about Orion. Abbie heads over to …

The Coach House: Where Orion's crazy-talk about stealing Headless' power and cleansing evil from the world by killing most of the people in it scares her. Like it should scare any sane human being. Orion confronts Headless and almost defeats him, with his halo/sword-frisbee stuck in his back and sucking up his power. So Abbie distracts Orion by telling him he's gone over the edge, while Ichabod chops the halo with an axe and it 'splodes all over the place. The angel freaks out and leaves, and Headless still wants to kill Ichabod even though he saved his … life? What would you call it? So … score! Now they have enemies coming at them from both ends of the afterlife.

Stinger: Irving staggers into a convenience store and chugs some milk, then asks the clerk if he's in Heaven or Hell. The clerk replies, "Neither, man. You're in Sleepy Hollow." Whoa!

Next Week: Paintings that are … evil or … something. At least Irving's back!
​