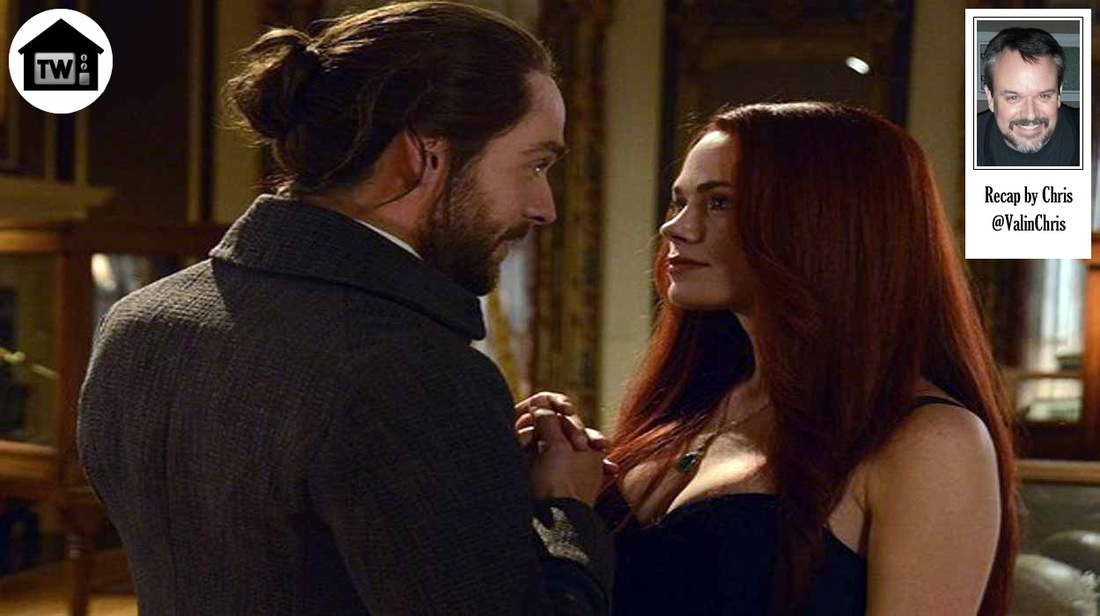 A dude who was trapped in a painting by Abigail Adams climbs out and starts whacking people. Why yes, I do understand how ridiculous that sounds, as a matter of fact.
Let's begin at ...

The Historical Society: Where an art restorer named Hollister sees blood coming from a painting of a guy painting that he's restoring. After saying "blood" out loud to make sure we get it, it seems to disappear as we're off to ...

The Cabin: Where Ichabod gets ready for "date night" with the wife, and Abbie warns him not to name drop the founding fathers or Betsy Ross, with whom he had a "dalliance" back in the day. But, of course, that's way too much to ask for the show, since we discover that Katrina was the midwife and BFF of none other than Abigail Adams, the closest thing we have to a "founding mother." And she's played by Buffy's little sister in the flashbacks, so she seems kinda young, but Katrina's ready, so they head over to ...

The Historical Society: Where Mrs. Adams is brought up again, since the aforementioned painting hung in the Adams home, and the wine glasses belonged to Abigail herself. But something is amiss, and Hollister asks Crane if he actually believes in the Sleepy Hollow ghost stories they've talked about, but before he can answer, Hollister's boss, Miller, bitches him out for the creepy painting having a cracked frame. Then it's "B" story time, so it's off to ...

The Police Department: Where someone shows up that freaks the officers out, and when Abbie goes to look, it turns out to be the recently (but obviously not permanently) departed Captain Frank Irving. At her look of shock at the dead man walking, we're back to...

The Historical Society: After Katrina's flashback in which she's getting wasted while pregnant (no wonder her son is so screwed up), the dude in the painting climbs out and kills Hollister, hanging him upside down to drain his blood. Roll opening credits! Then we're back at ...

The Police Station: ... because Abbie needs to disobey a direct order from her boss and talk to Irving. As they recall how he was killed by War (since they got rid of the Previouslies), she tells him that his wife and daughter are the only ones who know he's supposed to be dead, but she can't trust him since the last dude that came back from the dead to "help" her (Deputy Harold Sulu) betrayed her. Back at ...

The Historical Society: Ichabod and Katrina look closely at the painting, and figure out the artist must have killed Hollister, and the guy in the painting, who had his back to the viewer, suddenly turns his head and looks at them! Creepy. They talk about the artist, James Colby, who was a drunk and probably the murderer Abigail Adams was trying to track down back when Katrina disappeared into Purgatory. If he finishes painting the inverted cross that he's painting in the painting, apparently, he'll be resurrected. Definitely bad news. Next we're back at ...

The Police Station: Abbie talks Jenny into tracking down a weapon to use against the undead just in case Irving goes evil on them, then calls Mrs. Irving in to show her that Frank is still alive. ("Remember when I told you he was dead? J/K!") And now we return to ...

The Historical Society: Katrina finds a journal in a secret compartment in Abigail Adams' desk, but before she can read it, she spots Colby walking around covered in blood. Because she doesn't run and tell Ichabod immediately, Miller gets pulled into the painting so Colby can get him, and now there he is hanging upside down in the painting itself. They discover upon reading the journal that the frame isn't cracked, it has runes placed there by Reverend Knapp, the demon hunter who saved Abigail when he was kidnapped by Colby. They figure out that Colby is collecting blood from his victims in order to finish the painting within the painting so that he can come back. And they decide they need to go inside the painting to stop him. Meanwhile, this entire episode we haven't made a trip to ...

The Woods: Where Jenny digs up a corpse that was killed by platinum bullets from the gates of Hell (yes, that Hell), then she has to dig the bullets OUT of him. But when she pulls out the last one, he comes back to life, so she has to shove it back in. While she takes the bullets to Abbie, we get to see ...

Inside the Painting: Where they manage to save Miller just as Colby attacks, and Katrina's spell returns them to ...

The Historical Society: Colby comes with them and almost cuts them up into little pieces, but Abbie shows up just in time, shoots the painting with the platinum bullets, and Colby dies (for reals this time). Reyes kinda-sorta buys Crane's "guess" that Colby was simply a murderous vagrant, and we make one last trip to ...

The Police Station: Where Reyes says someone's given the D.A.'s office proof that Irving isn't the killer they think he is. Now who might that someone be?

Next Week: If you've been hankering for a Hawley episode, it's time to rejoice.

​