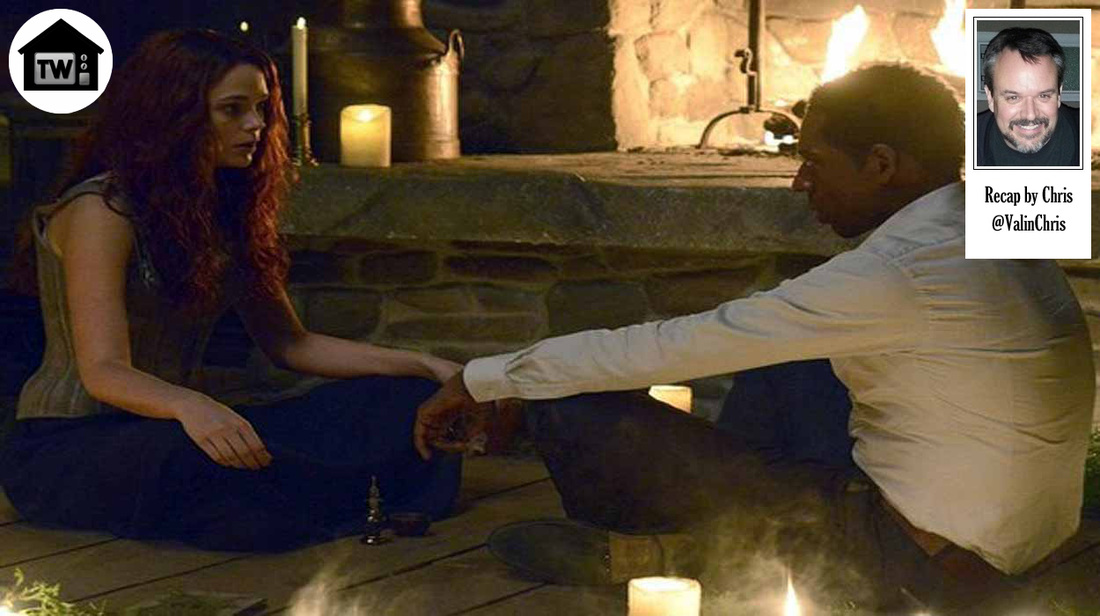 Hawley episode alert! Wherein we dig into his backstory, and find a lot of dirt. And an undead godmother.
Previouslies: They're back? Yeah, they're back. Booooooo. Let's skip them and grab a drink at ...

The Pub: Where Abbie is rocking the Karaoke mic. Ichabod and Jenny are into it, but Hawley's mind is elsewhere. He has to step out to buy some ancient throwing stars from a crook named McKenna at ...

Some Parking Lot: But it turns out to be a bait and switch, and he actually meets with Carmilla, the criminal mastermind who raised him. Hawley is not happy about this, but she says that if he doesn't help her rob Theodore Knox's estate, she's dead. When he still refuses, she vamps out on him Buffy-style, which freaks him out (so I'm assuming he didn't know she was undead?). Since he goes with her instead of back to ...

The Pub: Jenny gets worried because Hawley said he'd be back for her – yes, in that way – so Abbie and Ichabod go with her to find him. Which gets really easy because the alarm is going off at ...

The Archives: Which have been ransacked, presumably by Hawley, who is trying to escape in the tunnels, telling Jenny he'll "explain later." Yeah, like she's never heard that from him before. Then Carmilla shows up all threatening-like, but Ichabod shoots a crossbow bolt through her chest, which chases her off – but not until after we see her true, uglier-than-hell self. They all wonder what the hell she was as we go to commercial, then it's off to ...

The Courtroom: Where Irving is released by the judge, because the D.A. refuses to pursue any charges, to her own dismay. Back at ...

The Archives: Where they figure out that Carmilla is an undead Hindu creature that serves the goddess Kali, and while Jenny and Abbie decide to check out the McKenna guy who set up Hawley, Ichabod says he's going to ask Katrina to help him find Hawley. So it's off to ...

The Pawn Shop: Where McKenna quickly gives up Carmilla Pines' name thanks to some head-crackin' by Jenny, since he's not afraid o' no cops. So the scene is really short, while back at ...

The Archives: Ichabod is explaining Mary Poppins to Katrina (no, that's not a euphemism) when he comes across the angel beacon given to Abbie by Orion. He seems upset, but before he can say anything, Abbie and Jenny return, and Ichabod informs them that Hawley stole the blueprints to the Knox estate. Through a combination of Crane's exposition about the past and Jenny's exposition about the future, we find out that Henry Knox (one of Washington's generals) built an estate in Sleepy Hollow that was heavily fortified to safeguard the Colonists' weapons, and that his living heir, Theodore, has a huge collection of black market antiques and artifacts stored there now. Next, we get more exposition from Hawley and Carmilla at ...

Some Warehouse: Where he says he left her when he saw her murder someone, and she says she tracked him to Mumbai, which is where some people carved a mark into her back and turned her into a creature. She gets him to feel sorry for her and agree to help her get an artifact that can change her back to a normal human, while in ...

Hawley's Mustang/Product Placement: Crane hauls ass with Abbie and Jenny in the car, all the while discussing horse technicalities and asking about Hawley's past. As they race toward the supernatural flea market that Knox is holding, Jenny explains that Hawley's parents died when he was twelve, and Carmilla was his godmother, who was like a female Indiana Jones. She didn't know what happened between them, and finishes her story as they arrive at ...

The Knox Estate: Where Crane is stopped by Teddy Knox because he wants to check out Ichabod's crossbow (again, not a euphemism), which prevents him from helping Jenny and Abbie stop Carmilla and Hawley. Hawley gets past the security, allowing Carmilla to steal a Hindu statue, but when Abbie tries to stop her, she vamps out again and grabs her by the throat.

Crane arrives with his crossbow drawn, but since Carmilla has acid claws, they're at a stalemate. Hawley shows up and talks Carmilla into locking them in the vault instead of killing them, since he agrees to go with her. While locked in the vault, Crane tells Abbie the statue turns people into creatures like Carmilla (uh oh!). But rather than figure out how to get out, they decide to air their dirty laundry instead. Back at ...

Some Warehouse: Carmilla says Hawley isn't fooling her with his act, and he realizes the Champagne he's drinking is drugged. As he passes out, she says they'll be together again – presumably as vampire creatures. Meanwhile, in ...

The Vault: Crane and Abbie work out their issues, which helps Ichabod to figure out how to escape by pressing a button with a symbol for iron ... except he's wrong, and the walls start to close in on them, Star Wars trash compactor style. And I'm not the only one who notices the similarity, since Abbie makes the reference herself. Abbie asks Crane what Knox really loved, and he realizes it was gold. They press the button with the symbol for gold, and they're able to get away. They grab Jenny and head for ...

The Warehouse: Where they realize the way to kill the creature is with iron and fire. They bust in on Carmilla turning Hawley into a creature like her, and quickly dispatch her super-strong, super-fast minions (way too easily, if you ask me). They help Hawley break loose, and he's about to off Carmilla with a torch and a crowbar, but she super-speeds away and escapes.

The Archives: Where Hawley returns the blueprints to Jenny, and tells her he's going to hunt Carmilla down. He gives her a kiss goodbye, and he's off, while we have one more scene at ...

The Pub: Where Abbie and Ichabod talk about their freaking issues AGAIN, and then do a Karaoke duet ofProud Mary (yes, I said, "WTF?" out loud). And a final scene at ...

The Cabin: Where Katrina helps Irving figure out that Henry no longer has a hold on him, but when he looks at his reflection in the mirror, he ain't there ...

Next Week: Solomon Kane! No, wait ... Solomon Kent, witch hunter. Sorry.

​