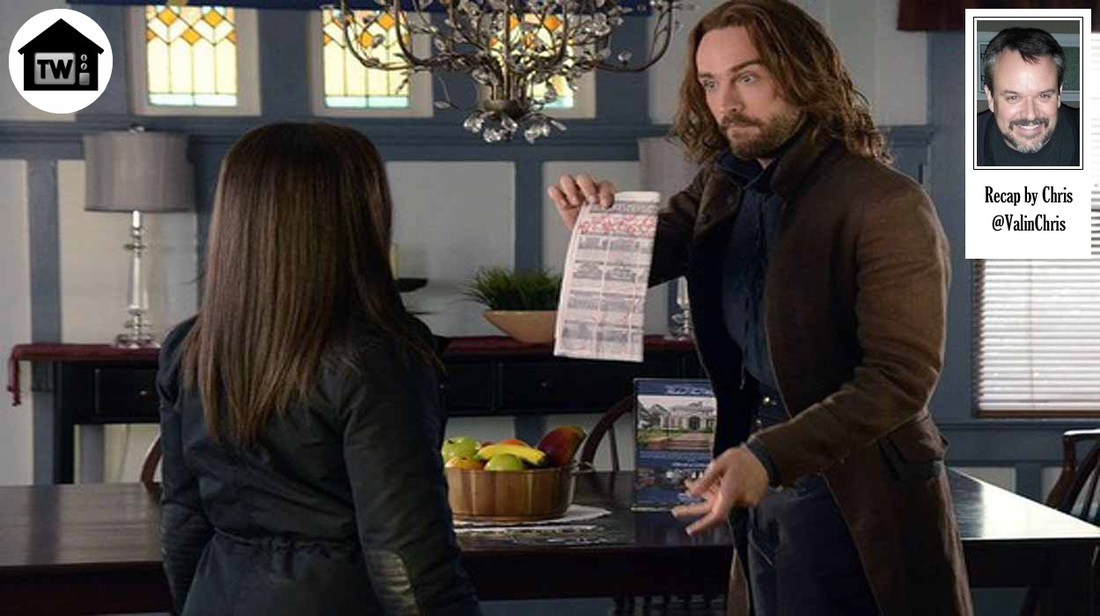 An evil warlock from Salem shows up in the Hollow, and we finally see what's up with Henry/Jeremy/War.
Previouslies: Aaaaaannnd they're gone again. Yay! So we start at an ...

Auction House: Where an evil pilgrim-looking dude appears, grabs an old book, and kills the people there by boiling their blood in their bodies before we switch to ...

An Open House: Which Crane is checking out, since he wants his own place rather than continue staying in Corbin's cabin. Abbie tells him about the dead antiquers and the missing book, which was written by an expert in the occult. But they need to talk to the real expert, Katrina, so we head over on our first weekly visit to ...

The Woods: Where she tells them it's the Grand Grimoire, and was probably stolen by someone else who was released from Purgatory. And she's still worried about Henry, whom we visit for the first time since the return of the show, at ...

A Cheap Motel: Where he sees the story on TV about the deaths at the auction house, and from his conversation with the manager, is apparently remorseful over his previous actions. And depressed. And, oh, we're more than five minutes in and still haven't seen ...

The Archives: So let's listen in on Ichabod and Abbie's exposition about an alkaloid found at the scene, which is from Moonflower, which means the culprit is using black magic. Katrina recognizes him from the security footage as Solomon Kent, the warlock all witches fear, because "wherever he goes, terror and death are sure to follow." And, man, is this guy ugly. But also the buffest puritan you've ever seen.

He was a leader in Salem before getting his heart broken and accidentally killing the object of his affection, Sarah Osborne, at which point he covered it up by turning to witchcraft while leading the witch hunt himself. (Hey, at least the backstory isn't during the Revolutionary War for once.) Eventually, the real witches ganged up on his ass and sent him to Purgatory. And, speaking of the evil Mr. Kent, he's trying to finish some big spell when he discovers there are pages missing from the spell book. When Abbie and the Cranes realize this, the race is on! But first, an interlude out on ...

The Street: Where Abbie finds she's being followed by Irving, and we have our weekly "let's talk about our issues" scene. After a tense fifteen-second conversation, they're all good and joking around with each other. Now let's check back in on Henry at ...

The Cheap Motel: Where the manager's son is fixing the plumbing and having a heart-warming conversation with Henry that will surely either turn him into a good guy or end very, very badly. Then, suddenly, we're back at ...

The Archives (again): Where Ichabod and Abbie are now worried that Kent is trying to perform a resurrection spell to bring back the puritan woman he had the hots for. Unfortunately, she won't be the only one coming back, and the dead will overrun the earth. Before you get all excited about a Walking Dead crossover, Abbie and Ichabod head back to ...

The Auction House: Where they battle Kent along with Katrina, and he tells the witch that her powers don't work right because she's walking the wrong path. Kent raises some demons with his own blood to keep them busy while he finishes his spell, but Katrina foils him with a bag full of powder while Abbie and Ichabod dispatch them with their magic bullets. Before Kent escapes, he does something to Katrina that causes her eyes to go white, then she says they can't stop him. Back at ...

The Cabin: Katrina's acting kind of whack, and they don't know what to do about finding Kent. So Abbie goes to meet Irving at ...

The Pub: Where he tells her not to back down, and keep fighting. Nice pep talk from a dead guy. Now there's another interlude back at ...

The Motel: Where Henry witnesses some thugs giving the manager and her son a hard time. He stalks off to his room with a mean ol' look on his face while we jump quickly back to ...

The Cabin: Where Abbie tells Crane they used to fight this stuff without Katrina, and they can do it now. Then they figure out that the lack of zombies means Kent must be planning something different, and realize he's going to travel back in time to change things. They head over to ...

The Freemason's Cellar: Where Irving joins them as they prepare to travel back in time themselves at midnight if necessary. Abbie wants to go, but Crane says he wants to teach Kent a lesson. But first, it wouldn't be Sleepy Hollow unless we had another trip to ...

The Woods: Where they take on Kent with poison darts and electricity, and Crane goes a bit nuts beating the crap out of him once he's unconscious. Irving takes it even further by snapping his neck with his foot while the others are distracted, and takes the Grimoire before Kent disintegrates. Then he lies his ass off, leaves out the part where he murdered Kent, and acts like the Grimoire was nowhere to be found. Uh oh! Do we have evil Irving on our hands? Aaaaannnndd we're back at ...

The Cabin: Where Abbie compliments Crane on going Rambo on Kent, and they have a discussion about how everyone is on the razor's edge between light and darkness. They take off for a brewski at the pub, and Katrina comes out of the bedroom, where she does a spell to blow up a flower (WTF?) and gets a nosebleed in the process. Okay, then. One last time to ...

The Motel: Where Henry does something good for once, by confronting the scumbags from the night before, telling them there are sheep and wolves, and he is a wolf. He murders them all in cold blood without laying a finger on them. Oh, and look, we get to make another trip to ...

The Woods: Where Henry meets Irving, who's obviously a bad guy now, since he gives him the Grimoire and makes fun of the Witnesses for trusting him again. Then Henry does his supervillain monologue about how Moloch is gone, and now he's the Big Bad this season. Luckily, they cut away before the evil laugh.

Next Week: Blah blah Thomas Jefferson blah blah creepy zombie-looking dudes blah blah whatever.
​