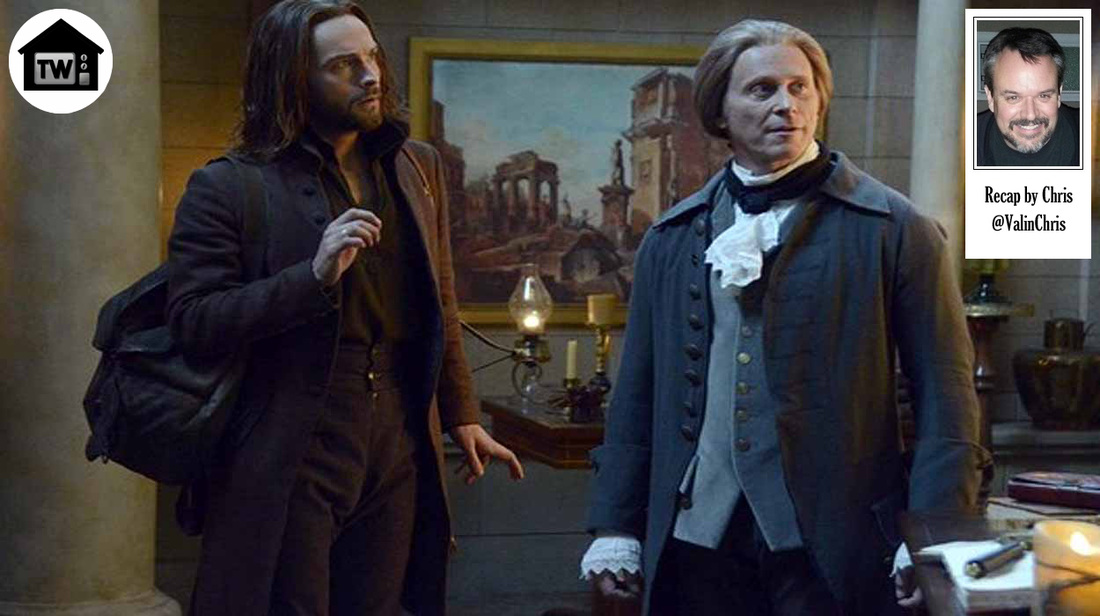 What lies beneath? I'll tell you what lies beneath. None other than Thomas mother-freakin' Jefferson, that's what.
Previouslies: Still gone! Whoo-hoo! Let's head straight into ...

The Sewers (or some other equally untidy tunnels under Sleepy Hollow): A construction crew finds tunnels under the tunnels, and busts open a ye-olden-days-looking hatch, only to get scooped up and pulled down by some very nasty looking creatures. Which is why it's very jarring to suddenly find ourselves at ...

The Docks: Where the water is apparently deep enough to hold a battleship museum, which is where Abbie and Ichabod are strolling along, discussing how John Paul Jones could have taken New York City in a day with one of these suckers. But then – the almost-every-episode cell phone call, this time to find some missing persons ... namely the three construction dudes who were pulled underground. So they head to the scene at the opening of ...

The Sewers: Where Abbie is confronted by an investigative journalist named Calvin Riggs, who happens to be the brother of one of the missing guys, and – I have a sneaking suspicion – may just be Hawley's replacement. They go down and find the hatch, the guys' equipment, and claw marks, but can't get in.

Meanwhile, at ...

The Pub: Irving approaches Jenny and asks her to help him liberate his wedding ring from the evidence lockup at the police station ... ostensibly for sentimental reasons, and the fact that he's trying to fix his marriage. She agrees to do it because she's suspicious of his tattoo. Over at ...

The Archives: Abbie and Ichabod figure out that the chamber under the hatch is the Fenestella Vault, built by Jefferson on Washington's orders to hide vital secrets, and guarded by "damned souls" called reavers. Abbie asks about Jefferson, and Ichabod says they were good friends until one day when Jefferson "unfriended" him without explanation (even though Crane helped write the Declaration of Independence, and even named it – because OF COURSE he did). So they head back down again to ...

The Sewers: Abbie and Ichabod climb down, open the hatch, and ... don't get pulled down by the creatures. So they climb down a ladder, make contact with the construction workers over a radio, and THEN the creatures show up. There's too many to fight, so they rush back up the ladder, and one lands on Crane's back as they exit the hatch. It falls back because of bright flashes, and guess who is standing behind them getting it all on camera? That's right – Calvin's a tenacious dude, and now they have to convince him that the world's not ready to know about all the scary shit that's going on in Sleepy Hollow these days. He agrees to help them out in order to save his brother, but he isn't happy about keeping his mouth shut. Next, at ...

The Police Station: Jenny helps Irving break in, but he's not after any wedding ring – Jenny catches him going through stuff belonging to the Hellfire Club, but he knocks her down and takes off.

The Sewers: Abbie tells Calvin to stay at the hatch, and Ichabod sets Calvin's camera on auto, adds some flash powder, and drops it down into the opening, where it goes off several times and blinds the reavers. This allows them to run through the under-tunnel straight to ...

The Fenestella Vault: Where they meet up with none other than the third president of the United States and author of the Declaration of Independence (and "architect of Monticello," he adds, although I happen to know he was actually most proud of the Virginia Statute on Religious Freedom). Um, I'm talking about Thomas Jefferson, for those who didn't pay attention in history class (or read my teaser, or see the show, or see any stills from the episode, or last week's preview ...). And he's ... kind of an asshat, I'm sorry to say. Steven Weber was great on Wings back in the day, but he's pretty much played jerkholes ever since, hasn't he?

Anyway, he's not really Jefferson, but a hologram powered by 18th Century technology and witchcraft. Jefferson explains that he kept Crane at a distance so that he wouldn't find out he was a Witness too early on. They tell him they need to save the two remaining workers (the third was eaten), but he says it's more important for them to get the information in the vault, which was created to help the Witnesses after the second one (Abbie) showed up. Jefferson says if they attack the reaver nest, it will destroy the Fenestella, including all the info they need about being Witnesses. Back at the ...

Police Station: Jenny catches Irving, and he explains how he is conflicted – that there are basically two Irvings since he came back: one who works for Henry, and one who wants to save his family and make sure they're taken care of. But they're both him. And at ...

The Fenestella Vault: Crane explains to Jefferson that there's more than just grass and trees above them now – there's 300 million people, and those reaver things are dangerous as hell. So Jefferson not only agrees that the vault needs to be blown up, he offers to do it himself. AND adds that Ichabod Crane should be considered a Founding Father of our country (because OF COURSE he should). Abbie saves the workers, and Crane gets out just in time, the place goes up in flames, and Abbie gets the digits of Mr. Slick Reporter Guy, who I'm sure will be back soon. But, before we go, we never checked in at ...

The Cabin: Where Katrina wakes up to find her son sitting next to her with a rose. He says he killed Moloch for her, but he can't forgive his dear old dad's betrayal, and he hands her the rose, which has a thorn that cuts her hand, and then OH! She wakes up. Just a dream. But there's a rose sitting nearby. Duh-duh-duuuuuuhhhh … so it wasn't a dream. Or was it? Seriously, I'm asking because I'm not sure.

Next Week: The Liberty Bell! You'll never guess who accidentally cracked it. Or, more likely, you probably will. Hint: His name rhymes with Rickabod Pane.
​