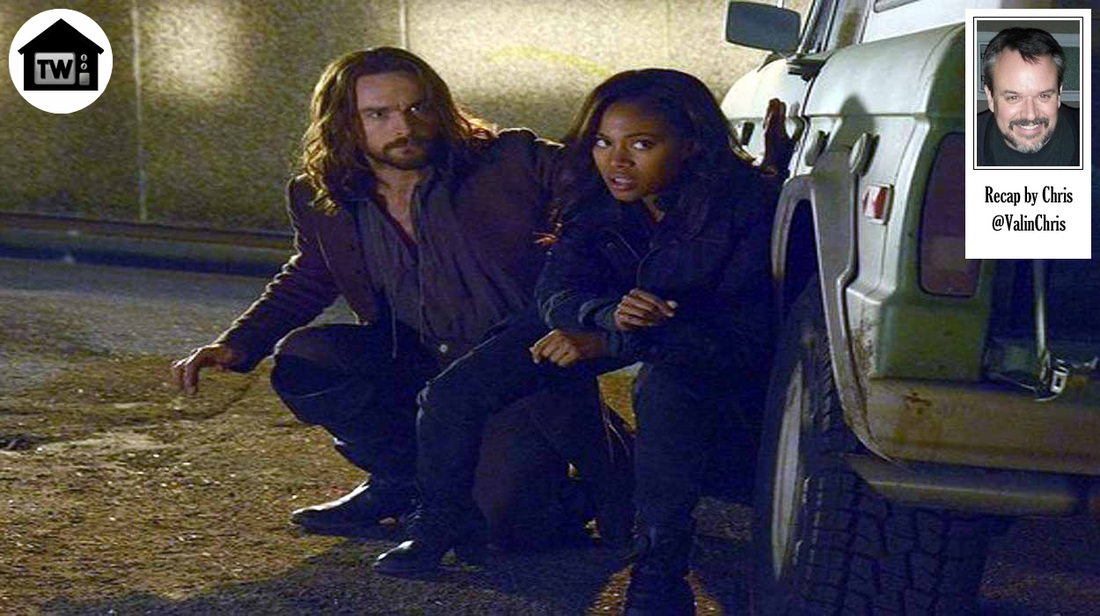 Henry pays the ultimate price for bringing his mommy over to the dark side. And she's not the only one ... Irving goes full-on evil and starts shooting at folks.
Previouslies: They're back. And they're all about Katrina and Irving. So guess who this episode's A and B stories are concerning?

A Bookstore: Ichabod is checking out A Connecticut Yankee in King Arthur's Court as the owner searches for a list of books that he and Abbie are trying to find. They were in Jefferson's collection that they blew up in last week's episode, so they figure they might be helpful. But no such luck. So they take a stroll in ...

The Town Square: The Liberty Bell! In Sleepy Hollow? No, it's actually just another bell made from the same cast. After all, the ACTUAL Liberty Bell is in Philadelphia, and has a big ol' crack in it caused by – guess who? Ichabod Crane! Because OF COURSE he cracked the Liberty Bell. Or, to be more accurate, caused it to be cracked later on, because it wasn't cracked until the mid-1800s. Anyway, it starts ringing, and certain people in the area suddenly have their eyes turn completely white as they begin to exhibit magical powers. Because, apparently, bells do that sometimes. But it ends quickly, and it's revealed that Henry is somehow behind it all. Down at ...

The Police Station: Jenny tells Abbie and Ichabod about what happened with Irving, and how Irving is turning evil again. They decide the best thing to do would be to get the Gorgon's head from the Freemason cellar, turn him to stone, then figure out how to cure him while he's incapacitated. Makes perfect sense. That's what you'd do in that situation, am I right? Over at ...

The Cabin: The increasingly unstable Katrina uses blood magic to find Henry, and he shows up there. He tells her about his plan to ring the bell, which will awaken everyone with witch powers, so they can start a new coven and she won't be alone anymore. He even offers her the Grimoire to prove he's on the up-and-up. Katrina falls for it, and agrees to ring the bell herself, which will make it more powerful. You know who's not going to be too thrilled by this? Ichabod and Abbie, who are shopping at the local ...

Home Improvement Store: Because Ichabod needs the tools to create the colonial version of C4, which he used to blow up the original bell that was going to be used by some witches back then. Why can't they just crack it with a sledgehammer or something? Stop asking logical questions! Once they have their supplies, they head over to ...

The Town Square: Where they knock down a wall leading into the tunnels, and prepare to take the bell in there to blow it up, since the tunnel walls can withstand the explosion (but apparently not Ichabod with a sledgehammer). But Irving shows up with a sniper rifle and tries to take them out. Jenny takes off after Irving while Ichabod and Abbie try to move the bell, but Henry and Katrina suddenly appear and use their powers to trap them in the tunnels. But not until after Katrina dumps Ichabod for being a mere "mortal man." Mom and son take the bell with them over to ...

Ye Old Towne Hall: Where they prepare to cast the spell and ring the bell at the point during the day when Katrina's powers will be their most powerful. Abbie attaches Crane's explosive to the bell, but she gets captured, while Crane is also taken prisoner out on the street while trying to distract them. They cut themselves loose while Henry and Katrina start the spell, and pull out their old-fashioned pistols with the burny-bullets.

Ichabod tries to shoot the explosive device, but Henry stops the bullet, which allows Abbie a chance to shoot Henry. Now that he's mortal, he burns up and disintegrates, which makes Katrina more than a little mad. She blames everything bad that's happened on Ichabod and says she wishes she could go back in time to before she saved his life and gave up Henry. Then she realizes she has the Grimoire and does the Traveler spell Solomon Kent was going to use, opening up a portal. As she opens up a portal, Abbie runs at her, and they both disappear. But what about Jenny over at ...

The Freemason's Cellar: Where Frank is demanding to know where his family is, and Jenny is about to show him the Gorgon's head. But she's hesitating, and then suddenly Frank vomits out a black cloud, and he's no longer evil, because Henry no longer has a hold over his soul. And, hey, let's visit ...

The Woods: What? You thought there would be an episode without them? Ha! But there's a twist: This is the woods back in 1781, and Abbie gets her revelation the same basic way Ichabod did in the pilot after she wakes up and is almost run over in the road by a horse-drawn carriage. Meanwhile, Katrina is on ...

A Battlefield: Where she's entered her olden-days body instead of just being transported back in time. Why? Why the hell not? Not much else makes sense half the time anyway. And she's preggers with Henry/Jeremy, so this time she'll be able to do things right. Right? Yeah, right. And in ...

The Town Square: Abbie wanders around trying to figure out what to do. And by the way, she's African-American and it's the Revolutionary War – let's take a guess as to how she'll be treated by the locals, shall we? Oh, big surprise ... she's talked down to, accused of being a fugitive, and arrested for talking like a crazy person after not being able to show "her papers." She tells her captors she has information that can help win the war ... but she'll only speak to Captain Ichabod Crane!

This should be fun.

Next Week: The season finale! Maybe even the series finale. I hope there's no cliffhanger.

​