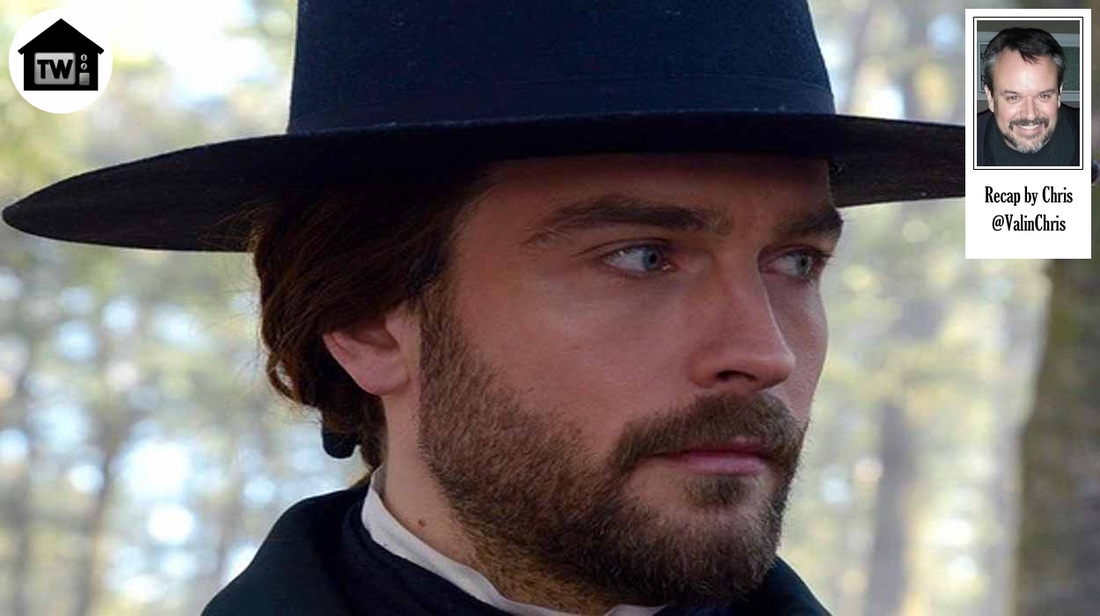 The season finale! Maybe even the series finale! Who knows? Either way, they upped their game and made it interesting. Heads will roll! But whose?
Previouslies: It's all about last week's cliffhanger, where Abbie followed Katrina back in time to 1781 after shooting Henry/Jeremy/War with one of her magic bullets and killing him. Then it's on to ...

A Battlefield: Ichabod is in the middle of fighting the Revolutionary War (which we all know he won single-handedly) when he gets a message that some runaway slave in the local jailhouse has vital information about his mission. He reluctantly visits her at ...

The Sleepy Hollow Jail: Where Abbie tries to explain how she knows about his mission and tries to get him to help her without sounding totally insane. Which, of course, is impossible because the past two seasons have been completely insane. She knows enough that he agrees to listen to her, but his commanding officer says she has to go to the camp for escaped slaves, and Ichabod talks the guy into letting him take her so he can get more info. And by the way, the colonel informs him that if he deserts again, he's going to be executed. Meanwhile, Katrina is at ...

A Battlefield Hospital (okay, really a tent – y'know, like MASH): Where she expects to find Ichabod lying near death like she did the first time she lived through these events. Except this time, she's going to kill him. But he's not there! Another soldier tells her he left with a slave woman. She tracks down the Horseman, who's not so headless because he never fought Ichabod, tells him she knows who he is, and enlists his help in killing the witnesses. Speaking of which, Crane and Abbie are in ...

A Carriage: Where Abbie convinces Ichabod to take her to someone who knows about them being witnesses and the secret war, but everyone important is in Virginia except for Ben Franklin, who just got back from Europe. So they take a detour to ...

Ben Franklin's Place: Where Ben is irritated at Ichabod as usual, but he's enchanted by Abbie, whom he believes immediately and agrees to help. He sends Ichabod to get a book, and asks Abbie who the witch is that's helping the Horseman and trying to kill them, and she informs him that it's Katrina. And, speaking of the witch, she sends the Horseman their way and he shows up to kill them at Franklin's.

Franklin says they need to find Grace Dixon, who can reverse the Traveler Spell and put everything back to the way it was before Abbie and Katrina came back. Then the Horseman shows up! But guess who gets in the way? That's right: The Horseman chops off Benjamin Freakin' Franklin's head! But Ol' Ben managed to light the fuse on an old-timey bomb (like you see on a Looney Toons cartoon) and the place blows sky-high, allowing Abbie and Ichabod to escape. Ichabod is NOT too happy, and takes her back to ...

Sleepy Hollow Jail: Where she's going to either be sent to a nuthouse or hanged (yes, hanged – hung is for non-humans). She pleads with Ichabod, who's been dismissed from military service for disobeying orders. One of the things she tells him to do is look at the "selfie" on her cell phone, and that the password is his birthday. Another is that Katrina is the witch she was talking about, and she's pregnant with her son, and that she has the Grimoire. He goes to pay his dearly beloved a visit at ...

His Own House (I assume): Where he notices roots and herbs that she gives pregnant women and a weird-ass book with a pentagram in it. When he asks Katrina some questions, she gets all dodgy, but before she can kill him, soldiers show up and says he's been ordered to return to Washington (the person, not the city, which won't exist for another 20 years). But before he goes, he heads back to ...

Sleepy Hollow Jail: Where, while he tries to figure out the magical device, his commander pays Abbie a visit in her cell to teach her a lesson about killing dudes who will one day be Founding Fathers of our country. But, as she explains to him while kicking his ass all over the cell, hand-to-hand combat has come a long way by her time. Ichabod figures out the phone and sees pics of himself and Abbie, including a video of him complaining about ... waffles? He shows up at the cell to "rescue her" after she's already knocked him unconscious and escaped, and they head out for ...

Fredericks Manor: To see Grace Dixon, Abbie's ancestor. Abbie is more excited about meeting her than she was about Ben Franklin, and Grace totally believes her story and figures out she's her Witness descendant. Grace has the book she needs to undo the spell, but it'll take so much power that it'll leave Fredericks Manor defenseless. Sure enough, Katrina and the Horseman (sounds like an '80s band, doesn't it?) show up and attack. Grace needs Abbie in the house with her to do the spell, so Ichabod goes outside to take on his estranged wife and former friend on his own. Grace and Abbie finish the spell just as the Horseman is about to chop of Ichabod's head. Katrina freaks out as we see the series' life flash before its (and our) eyes, and then they're back at ...

The Bell Tower (in 2015): And Katrina is really, really, really pissed. Her eyes turn white as her spell holds Abbie up by her neck and chokes her. She force-pulls her knife to her before Ichabod can grab it, but he runs over anyway and manages to stab the witch, killing her for good. From Ichabod's point of view, his son and his wife have just been killed within minutes of each other, but they were both evil as hell, so he's not too torn up about it. Then Jenny and Frank show up, Frank tells Abbie he's free now that Henry is dead, and we watch them walk away, possibly for the last time.

Next Week: Next week? Why are you even reading this? I told you this was the season finale. And if it doesn't get renewed, it was the last episode ever!