STEPHEN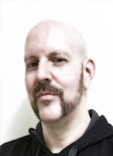 Stephen Lomer
has been writing books, novellas, short stories, and scripts for nearly a decade, and one day he plans to finish one of them. A grammar Nazi,
Star Trek
fan, and other things that chicks dig, Steve created Television Woodshed to continue the legacy of the late, great Television Without Pity. (All hail Television Without Pity.) He currently spreads his snark all over
Arrow
and
The Biggest Loser
. He's a fan of the Houston Texans, despite living in the Hub of the Universe his whole life, and has a secret crush on Dolvett. Which is not such a secret anymore.
---
Check out Stephen's recaps: