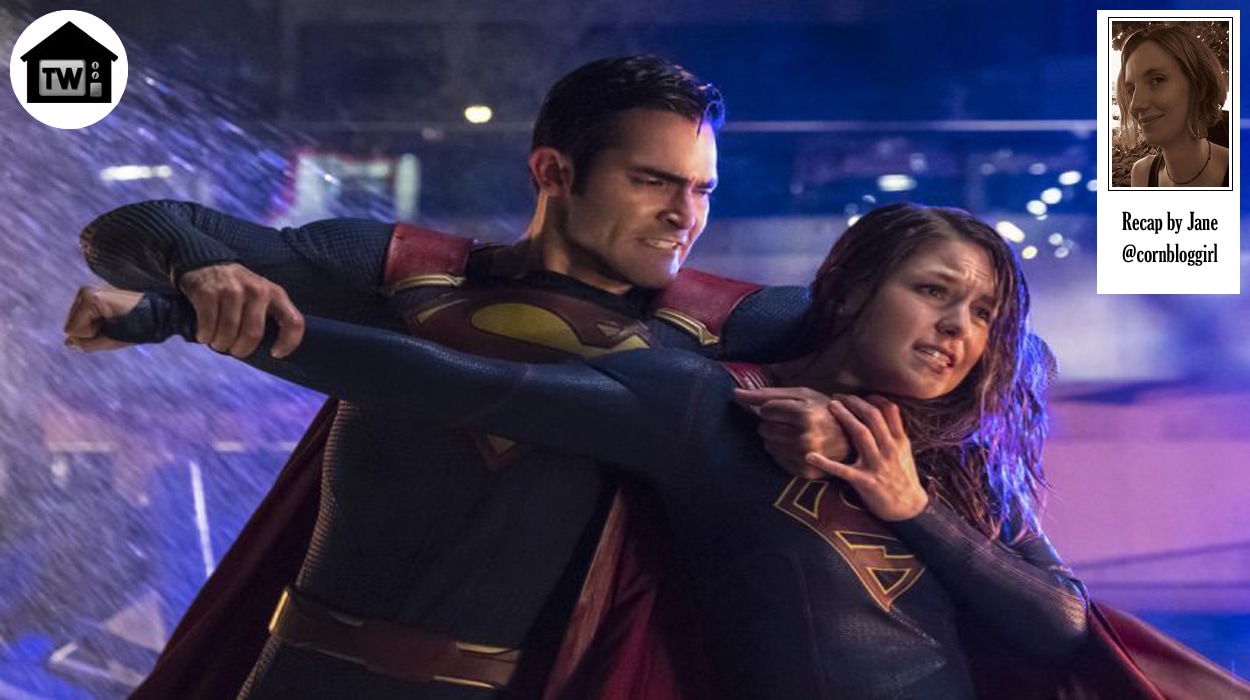 I know I could probably look it up, but it's more fun to speculate: Is Mon-El really gone? And if so, why did they write him out? Does Kara need to grow on her own as a character? Are they setting up a romance arc for her with Barry Allen? Or was Chris Wood just a dick to work with?

We pick up where we left off last time, with Superman showing up on the Daxamite ship. He's starts beating on Kara though, so that's no good. Apparently he's been hypnotized with silver Kryptonite to think that Kara is General Zod. I have questions about how this works. Does everyone under the influence of silver Kryptonite think people are General Zod specifically, and if so, what effect did it have on people before General Zod's time?

Superman and Supergirl take their fight to the streets, breaking stuff and scaring civilians. She eventually beats him, because girl power, and takes him and Alex to the Fortress of Solitude. Well, first they go to Alex's house so she can grab the snow parka she totally owns in southern California.

At this point, Kara has a very shoehorned dream/reminiscence of telling Mon-El about a necklace her Kryptonite mom gave her, and that she wears all the time. Has anyone ever seen her wear this necklace before? Anyone? Bueller?

Anyway, they go through the catalog of Kryptonian records or whatever, and find a good idea that they think might work against the Daxamites.

Lena and her mom have a heart-to-heart about how Lena has been the disappointing child up until this point, but she might just deserve love her after all if she can get Lex's alien repellant box to work.

Back at the DEO, no one can figure out how to get the Daxamites to go away now that the positron cannon has been blown up. Oh right. Isn't Alex in trouble with the president over that? Was that the president's only idea and now she's just checked herself out? Also, there's a slightly awkward moment where Clark finds out his cousin is dating the prince of Daxam, and oh yeah, John Jones is still unconscious. He can wake up soon though, because Cyborg Superman doesn't appear to be in this episode.

It turns out the big bright idea they found was an ancient trial by combat ritual where Kara and Daxamom will punch each other in the face a bunch, and whoever loses … I guess their whole species dies out? Seems like they could have looked through the records a little longer and figured something else out.

Clark goes to see Cat in her old office, begging the question of where does James work now? She makes her cougar eyes at him for a while, and then sends him away with Kara to go do a family reporting project. Or … a totally not family reporting project. Cuz they're totally not cousins. Amiright?

Meanwhile the Superfriends make another deal with Cadmus Lady (because that worked so well last time) to have the alien repellant device go off in case Kara loses the fight. Lena has rigged it to poison the atmosphere with lead, which is apparently deadly to Daxamites but not Kryptonians. Is it me, or is a bunch of lead in the atmosphere probably not awesome for people either?

So with these foolproof plans, Kara and Daxamom have their fight. It turns out Daxamom bleeds Kryptonite because of all the shrapnel from when Kryptonite blew up all over Daxam or whatever.

Megan Morris the Martian Maven shows up, with some White Martian friends in tow. I guess she's really turning things around there. They've probably decided not to build the wall and everything.

The Daxamites cheat, and start destroying schools and hospitals and stuff before the fight is even over. Mon-El chides his mom that she's dishonoring herself in the sight of the gods, but to be fair, our heroes had no intention of honoring the results of the fight either, so what was really the point?

Cadmus Lady wants to get trigger happy right away with the lead box, but Lena has given Kara the remote control so that they won't kill all the Daxamites until she's ready!

She basically is though, and after a brief "sorry bro" to Mon-El, so presses the button. This box the size of a Rubik's Cube is apparently so powerful that it permeates the entire planet's atmosphere with lead immediately, and Daxamom turns into a pile of dust.

Mon-El doesn't die right away because he's been under the influence of the yellow sun for a while (when it doubt, it's always because of the yellow sun) so he has time to get to a spaceship and fly away. Kara gives him the necklace to remember her by, obviously. They couldn't have inserted it even one episode ago? Come on now guys, what do you, get a completely new writing staff every week?

So Kara's really bummed that her boyfriend is gone, but everybody else is really excited that world didn't end, and they celebrate by all making out with each other, even John Jones and Megan Morris. Also Alex proposes to Maggie, which maybe seems a little premature, but I'll let it slide because #TeamMaggie.

James is strangely absent from the list of people in happy couples. Are we going to go back to the Kara/James well next season, or does he just not matter anymore? And why didn't we get to see any scenes with him and Clark? Is Clark too heartbroken that James has found bromance with Winn to even talk to him?

Kara comes into work sad the next day, and Cat gives her one of her classic "strong women" pep talks. This makes her feel so much better that she decides she's not going to actually be at work at all today, she's just gonna fly around in spandex. Cat doesn't care, because she apparently has figured out her secret identity after all. Or was the "Go get 'em, Supergirl" just a figure of speech?

Mon-El hangs out in space for a while, then goes through a wormhole or something, so maybe he's not gone forever after all. Oh and we flash back to when Krypton exploded and apparently some bad guys sent an evil baby to Earth too. So I guess that's the big bad for next season. Can't wait!

That's it for Supergirl Season 2, you guys. All in all I was pleasantly underwhelmed. Let me know in the comments section if I forgot to rag on your favorite part. See you in the fall!

​