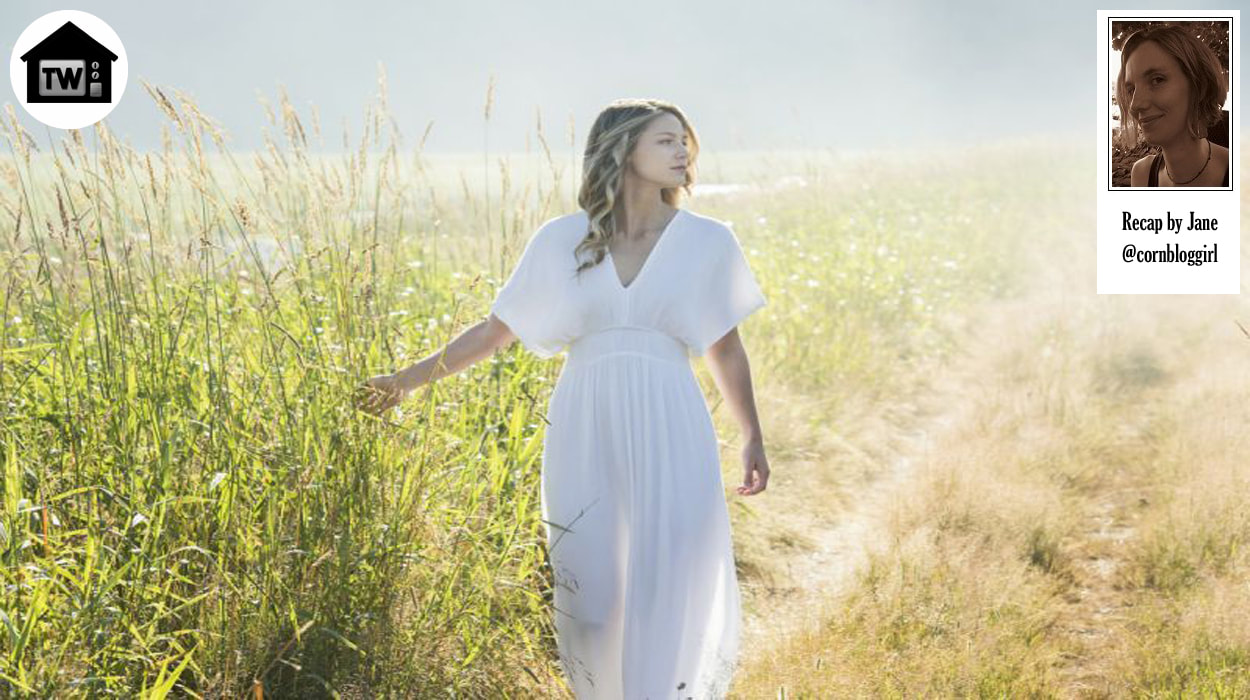 Supergirl is back in action, with a new darker, less cartoonish logo at the beginning, which tells us that this season: Means BUSINESS.

Supergirl can sleep-fly apparently. And ever since Mon-El left, her dreams look like Taylor Swift videos where they make out but then her mom shows up. Luckily Supergirl is woken up by a siren before this gets any weirder, and she flies off to save Alex and Maggie from one of those truck-on-a-bridge chase scenes that I'm pretty sure was just recycled footage from one of the lesser James Bond films.

Oh, and Maggie and Alex are partners now. In life, yeah, but also, like, professionally. I'm sure in the next episode they'll address why she quit the police force and went to work for the DEO. Right?

The next day at the DEO, Winn tries to figure out who the bad guy is using facial recognition software, because remember, he's the tech guy. Alex invites Kara to come taste hors d'oeuvres for the wedding, because remember, she and Maggie are engaged. Kara says she might be too busy, because she's all emo now that Mon-El is gone.

Then we go over to some sort of meeting. You know, the kind where people in suits sit at a rectangular table, and the douchiest one in the most expensive suit paces while pouring water and everyone else looks nervous.

Suit Guy in this particular meeting is all proud of himself for bringing National City back from the brink of ruin after the Daxamite attack through the power of capitalism. Lena Luthor is there, because she's rich, and reminds Suit Guy that it was Supergirl who saved the city. And we're unveiling her statue soon!

Suit guy says that's great and all, but he's still gonna build a high-rise. Lena and James (who has also been invited to this meeting for some reason) give the dissenting opinions, so we know that Suit Guy is Wrong.

Back at CatCo, James asks all the reporters what they're working on, as if he works there. Kara is apparently supposed to have an exclusive interview with Supergirl, but Supergirl has been, like, really busy.

Suit Guy from before is so impressed with all these reporters' mad reporting skills that he threatens to buy CatCo, which I guess isn't good because he'd just use it to write mean things about L Corp. This is the second worst thing happening to Lena Luthor. The worst thing happening to Lena right now is that her BFF Kara doesn't want to hang out with her anymore. Lena understands that Kara's all pissy because of Mon-El leaving. Which means that's Lena knows that Kara had an alien boyfriend. But … she doesn't think that's at all weird, or ask where they met, or ever try and introduce Kara to her other BFF, Supergirl.

Checks out.

Let's see; what else? Everyone meets up at the bar to complain about how Kara doesn't want to be their friend anymore. She bails on the hors d'oeuvre tasting thing, of course, but that's OK because they have to cancel anyway because DEO things happen.

They track down the guy from the truck from the top of the episode. He's ex-military and stole some bombs and stuff, so that's no good. Kara goes to his old military base or whatever, just in time to find it under attack. She neutralizes the threat, and then assures an injured guy that he'll be OK, which she knows because she used her X-ray vision on his internal organs. Boundaries, Kara. Come on now. Batman has gotten in trouble for way less than this. Watch yo'self.

Then she gets an emergency call on her secret best friends signal watch and has to fly back to CatCo and change back into her Kara Danvers clothes. Which is weird, because this is a Supergirl thing, not a Kara Danvers thing. But then she gets all butt-hurt at James when he tells her he used the watch to actually just tell her to do her goddam day job already.

This is way too much to ask, so she quits without even giving two weeks' notice, because that's what friends are for. Not sure how she's gonna pay rent and stuff, but maybe she thinks she's going on a quest to totally reject all human material possessions?

Back at the DEO, they all figure out that the guy who stole the weapons somehow made a cloaking device for them also, so he's got a nuke that no will see coming. Rad. Oh, also he's working for Suit Guy, so just in case you weren't sure how you were supposed to feel about Suit Guy … now you know.

Alex goes over to Kara's place to yell at her about how she should be tasting hors d'oeuvres with her instead of trying to save innocent people from violent crime, and her sister delivers the brilliant comeback "Kara Danvers sucks" before flying away. I just can't with this.

Kara manages to show up for her big statue unveiling, because come on, how do you miss something like that, no matter how emo you are? She and John Jones fight over whether you can still be a hero if you have feelings (spoiler alert: you can) while down on the ground Maggie and Alex look for lost dogs and suspicious packages, and Alex admits that planning the wedding is bumming her out because her dad can't be there. Also, Alex befriends a hot young single mom and her kid, I guess to build an exit strategy from her relationship with Maggie.

Things start exploding just as the statue is unveiled, obviously, and they eventually figure out that the weapon is underwater, which sucks, because Supergirl can't breathe underwater. Apparently.

The mom and daughter Alex just met get separated from each other in the chaos. The girl gets trapped under a heavy thing, and the mom lifts it off her using the power of stress-induced adrenaline and/or newly found super powers to be dealt with at a later date.

Meanwhile, Supergirl is drowning while trying to fight the nuclear weapon. Dream Mon-El tells her to wake up, which totally works, and then she's fine without surfacing to breathe more air. Yup. Makes total sense. She throws the nuke in the garbage or whatever and then everything is fine.

Also, if you were worried about what would possibly become of CatCo, Lena bought it out from under Suit Guy, which is a thing I'm sure you can do, just like that. After she gloats at him about his business victory, she goes all Jim Gordon on him, and leaves him to be picked up and left stranded by an extremely vengeful Supergirl.

Now that Kara's friend is running CatCo, she condescends to come back to work, as long as it means she doesn't have to actually do anything, and uh … everybody has dinner in slow motion to show that everything is fine now.

NEXT TIME: A psychic rolls into town to put a personalized fear plan in place for each citizen of National City. Anybody who couldn't be bothered to put pants on and shell out fifteen dollars to go see It will be riveted by this very original plotline.

​