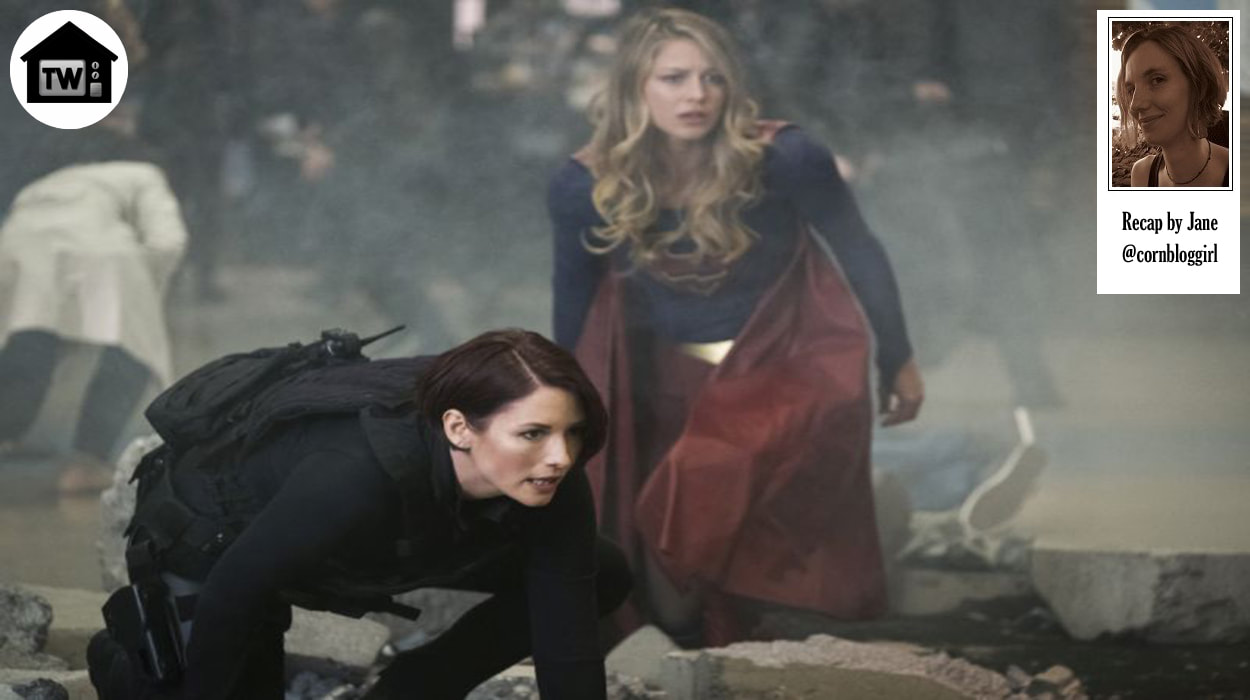 What would you call this? Season finale? Last episode before hiatus? Mid-season finale? Are they trying to break seasons into sub-seasons like them fancy AMC shows? I see you, Supergirl. You can't fool me with that.

Supergirl and a bunch of DEO red shirts go to find the world killers using their heat signatures. They barge into the apartment of that girl from a couple episodes ago who lived through a car accident. She's listening to Lisa Loeb so loudly that she doesn't notice her front door being kicked in.

Kara tries to make friends, but that doesn't go so well. The girl, whose name is Julia, has that thing happen where her eyes get all cloudy and then she makes everything explode. John Jones uses his alien powers to get her under control. Do people at the DEO know he's a Martian? I thought that was a secret.

"That could have been worse," quips Alex. I could say the same for the episode.

Over at L Corp, Sam and Lena have a friendly chat about how people need to get fired, and fight over who gets to do it. Lena is bored at Catco and wants to crack some skulls. Plus, Sam has a freaky time loss disease and should probably take some time off. Lena pulls rank and decides that she gets to fire people from L Corp while Sam is forced to spend time with her daughter.

The DEO analyzes a crystal that they found at Julia's house. Mon-El drops the non-sequitur that his spaceship doesn't work anymore, and he, Winn, and John Jones go off to play mechanic.

Kara and Alex play a little good cop/bad cop with Julia. Kara tries to get to the human inside the world killer, but Alex has no patience for that. The sisters get in a fight. It's emotional. The upside is they learn Julia's stripper name – I mean, world killer name – which is Purity. How perfect is that?

The boys go check out John Jones' sweet ride/spaceship, and he agrees to jumpstart the Legion's spaceship with his battery. Saturn Girl comes in and harshes the buzz, nagging Mon-El about something that will be expositioned later.

Winn goes back to the DEO and walks in on Alex being sad. Purity called out her sadness about Maggie and now she has an excuse to whine about it again. Luckily, before they have time to really delve into that conversation, the crystal starts glowing, and Purity escapes, throwing the DEO into chaos.

Sam and Ruby are enjoying some ice skating in matching hats when Sam's eyes turn red and she disappears.

While all this is going on, John Jones and Mon-El get drunk. I thought aliens couldn't get drunk? What are the rules? Is it some kind of alien alcohol from the alien bar? John Jones reminds Mon-El that he was married for 77 years, so he's had literally every marital spat imaginable, but Mon-El holds to the "you wouldn't understand how special my situation is" argument. John Jones does the "no really, try me" thing, and Mon-El eventually admits that he and Saturn Girl got married for political reasons more than for love, so now it's really awkward that he has to be around Kara all the time. John Jones tells him to be honest with his wife about how he feels, because she's going to find out anyway when your minds bond. Unless you're not a Martian, in which case you might actually be able to keep a secret, so maybe this advice isn't relevant.

When Ruby's mom disappears, she calls Lena, because she has her number, and this is all kinds of the most obvious course of action. Lena comes running, because what with all of Sam's work that she's covering for, she totally has time to do that.

Purity starts wreaking havoc in a subway car. When the superfriends confront her, she punches holes in the floor and takes the fight to the station, where a bunch of civilians get scared, and Alex yells at them. John Jones holds a heavy pillar in place so the whole building won't collapse. Purity and Supergirl fight. Mon-El comes to the rescue, sort of, but it's not long before he figuratively and literally falls on his face.

In the boss fight of the episode, Alex is the one to talk to Julia, trying to get through to her humanity, in a shocking turn of events. Julia/Purity's eyes go back and forth as her two identities fight each other and a bunch of the budget is drained. Julia eventually wins out, but then sacrifices herself to Reign so that Reign won't kill everyone, and the two of them fly away to the Fortress of Dark Side. John Jones places the heavy pillar back where it belongs and then walks away, which works, structurally, for some reason. Kara opines that maybe they're supposed to save the world killers rather than defeat them. How deep.

Remember when the spaceship was broken? They fix it. And somehow this has something to do with the fight that Saturn Girl and Mon-El had earlier. Mon-El takes John Jones' advice and comes clean about how he's confused about his feelings for Kara. She thanks him for his honestly, and then delivers some honesty of her own about the risks of the mission, and why they're really here in the 21st century, but we'll have to wait to find out what that's all about, because the scene abruptly changes to Alex and Maggie at the bar.

Alex reminds us that she misses Maggie. She and Kara debrief about friendship and sadness and hope. Pretty standard stuff.

There's a bit of trouble in paradise for a minute, when Sam and Lena get in a fight about nothing, but Lena quickly cuts through the BS and tells her that her episodes are coinciding with something. Has Lena figured it out?

We'll have to wait quite awhile to find out the answers. Supergirl goes on hiatus for awhile while Legends of Tomorrow takes its turn. See y'all in April!

​