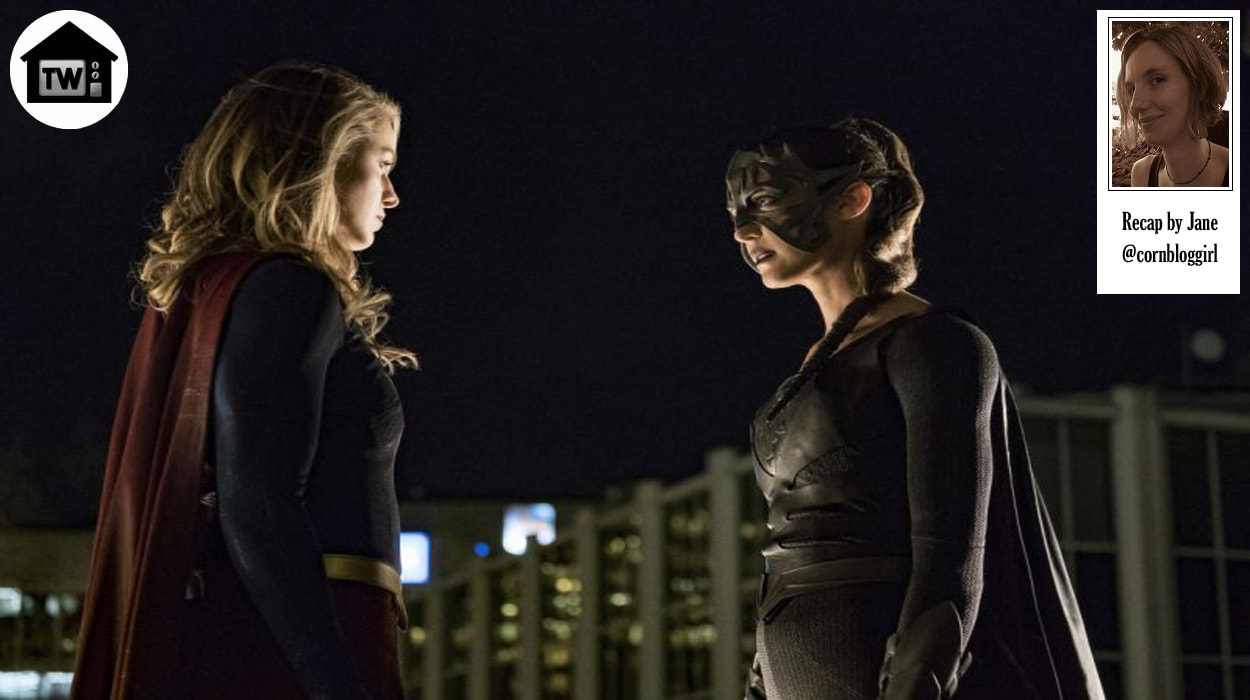 Happy Holidays, Superfriends! This episode is exactly like that time on Seinfeld where the gang goes to George's parents' house and learns about Festivus. Except instead of funny, it's wicked dahk, as we say in Massachusetts. And instead of Festivus, we learn about a pre-historic end times prophecy. Ho ho ho!

Single Mom Sam wakes up at pancake o'clock on a normal Saturday morning and asks her daughter if she wants chocolate chip or banana. Ruby's mad that Sam didn't wake her up when she got back from her trip. Sam doesn't remember going on a trip. Frankly, I don't remember either. That was two whole weeks ago. I've had to learn so many new characters and new planets and new bad guy motivations since then, I barely remember who Sam and Ruby are at all.

Meanwhile, at the DEO, Mon-El's wife – Enron? Is that her name? Tells Kara all about how their legion of superheroes in the 31st century was modeled after how awesome she, Kara, is. It was not modeled after the Justice League, which is apparently not a thing in this universe.

So the Legion was on a mission, riding around in their spaceship, when apparently all of a sudden they accidentally went through a wormhole and ended up in National City just months after Mon-El originally left! What are the odds?

The Legion decides to just put themselves into cryo-sleep and wake up when they get back to the 31st century. That's a pretty solid plan. Too bad their ship broke and Mon-El and the Mrs. are the only ones who woke up. Again, what are the odds?

Kara invites Mon-El and Enron to her holiday party, but they beg off, saying they need to work on repairing their ship. This is like when you invite people somewhere and they tell you they can't leave the dog alone for that long. You know they only got a dog so they would have an excuse not to do things.

Everybody else shows up at the Christmas party. John Jones likes terrible music. Winn wears an ugly sweater. Mr. Jones discovers hot chocolate with marshmallows. It's a real hoot.

For everybody who's not heartbroken, that is. Alex bitches about how Christmas without Maggie is unimaginable, even though it's exactly like every other Christmas of her life, seeing as they were together for like three months. "Same, but with Mon-El," says Kara redundantly.

Ruby and Sam show up with cookies. Sam points out that James is flirting with Lena. Kara expresses confusion at this Earth custom of mocking other people's feelings. Sam and Lena explain that it's what you do when you're BEST FRIENDS! "Oh my Rao," says Kara, flushing, "Are we all best friends? I had no idea! Hang on. I know I have some embroidery thread around here somewhere. We need to make bracelets so this can be official."

John Jones breaks up this declaration of love by telling Kara that they have to go check out a brush fire in the shape of a Kryptonian symbol.

When they get there, it turns out that it's, like, an ancient Kryptonian symbol, so Kara doesn't know what it means. She asks Hologram Mom, who shrugs, saying that when they switched actresses to play her, none of her knowledge transferred over, so Kara is basically on her own.

These symbols start turning up all over the city/country/whatever, and the news is so big that James not only shows up to work himself but actually calls a meeting of other staff members and asks them to do work! To emphasize how important this meeting is, he walks around the room in a big circle, holding a stack of papers. This scene must have been directed by someone who was fired by Aaron Sorkin before learning about the concept of hallways.

James and Lena (who's an investigative journalist now – just go with it) decide that the bad guy must be that rich white dude who hates Lena. I know, I know. I promised that if he showed up one more time, I'd learned his name. It's Morgan Edge. And he drives me to the edge of giving a shit about this show.

While the two of them are off on their weird mission, Kara stops by the bar and runs into Mon-El and his wife eating ribs. "But ribs were our thing!" yells Kara, burning a hole in the floor with her laser vision. Luckily, that guy who started the Kara cult is looking out for her, and calls her cell phone just in time to get her out of this awkward conversation.

She goes to visit him in prison, and he tells her that he knows what the evil Kryptonian symbol means, because he went on a walkabout with the Fort Rozz prisoners, who told him all about the Kryptonian Book of Revelation. Blablabla, Mark of the Beast, blablabla Darkness, blablabla Reign of the World Killer.

Speaking of which, it's Christmas Eve, but Sam tells Ruby that Mrs. Kweller is gonna come take care of her because Mommy is so behind on work. I hope Mrs. Kweller didn't want to spend Christmas Even with her family …

Back to Lena and James. They're running around in dark alleys for some reason. They start getting shot at, naturally, but James protects with them with his Guardian shield that he just had in his pocket the whole time. "No, I'm not happy to see you," he tells Lena. "Oh wait. You're not supposed to know my secret identity. It's totally a boner. It's true what they say."

A gang called the 1-7 then tries to sell Walter White's blue meth to some tweakers, but it's obviously just a bag of pencil erasers, so they get shot at too. They maybe also get eaten by something other-worldly. It might be Sam. She was last seen doing that thing Kryptonians do where they rip open a button-down shirt to reveal spandex.

"This is worse than the worst thing I could possibly imagine," Kara tells Mon-El, in regards to him showing up with his new wife. Really, Kara? Worse than Mon-El being trapped in some sort of space torture dimension for all eternity? Worse than his being dead? Worse than whatever end times nightmare is happening outside right now?

Lena and James drop in on Morgan Edge to sing Christmas carols. He tells them he's framing Supergirl for something. They go back to CatCo to drink Scotch and make out.

Kara and Reign eventually have a pretty bitchin' fight. Reign is wearing a mask so that people can't tell it's Sam. Cuz, ya know, that's important. Reign seems to win the fight, dropping Kara off a building, because her flying powers temporarily don't work for some reason. A medical team comes and gives Kara oxygen like regular people. Alex takes charge of the situation, intubating Kara like she learned from Meredith on Grey's Anatomy.

Christmas morning finally comes, and Ruby walks into her living room to find a scary surprise. But what is it? We'll have to wait to find out …

NEXT TIME: Reign is still out there. Never underestimate the Girl of Steel.

​