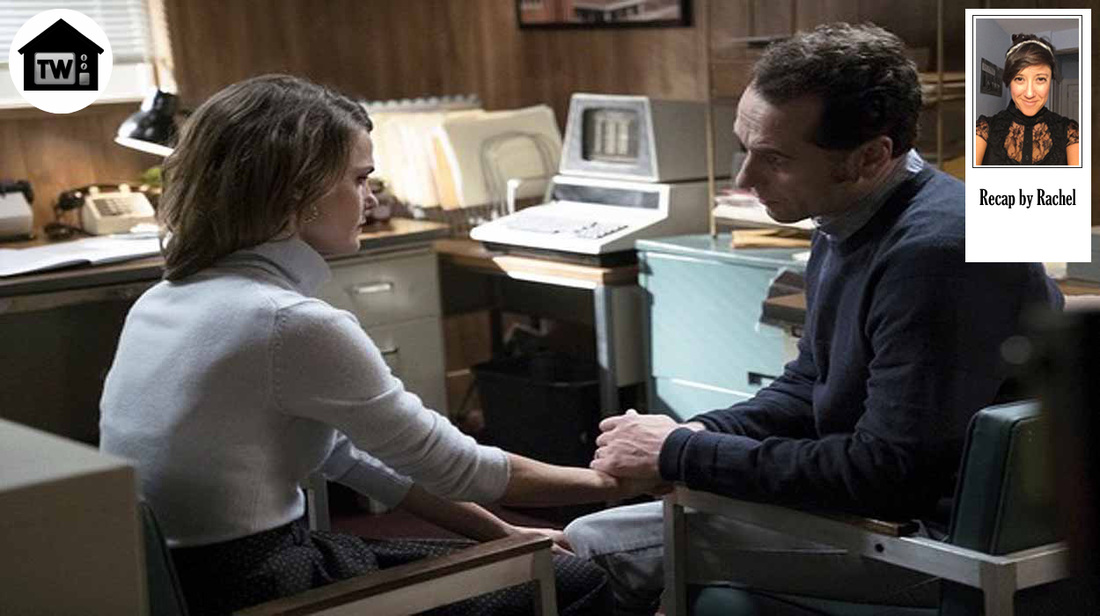 Season three starts off with a bang, and the series only promises to get better from there. We have lousy disguises, marital fights, and a dead woman who seems to think spying = sexing. What else could you ask for?!
We dive right in with Elizabeth in the bath, flashing back to a seminal moment where she teaches her daughter Paige to swim by tossing her into a pool. You have to appreciate how bad-ass Elizabeth is; she probably views this as heartwarming teaching moment. She then gets a drink with some lush CIA wanna-be, who clearly doesn't have balls as big as Elizabeth, since you can tell she feels bad about setting E. up. I just feel bad, because I hate it when E. hides her amazing hair under one of those nasty dish-water blonde mushroom wigs. After E. gets the names of the CIA operatives working in Afghanistan, she bounces before lushy can send her minions after her, but unfortunately it's not soon enough. Even with her impressive magic skills (aka turning her coat inside-out), she still has to beat two men practically to death just to escape.

Meanwhile, Stan and Phillip are attending some pathetic self-help, actualization seminar. Apparently now that Stan's hot piece Nina has been shipped off to Siberia, he seems to want to win back his (way too hot for him) wife. Yeah, good luck with that one. The best part is when they roll up to the Jennings house to find Elizabeth looking like she just caught a ride to the Grammys with Chris Brown, and she asks if they can believe she got hurt UNLOADING GROCERIES. No, Elizabeth, I can't believe that. I can't even believe that you couldn't come up with a better lie than that. Isn't lying straight up your livelihood?! How Stan isn't instantly suspicious just speaks to how bad he is at his job these days. Guess everyone is slacking ...

Next we see Stan meeting up with his boss, who's looking rough after Elizabeth broke his nose. He tells Stan that Nina has been convicted, and you can tell he's trying work out if there's any chance that a Siberian work camp would let an FBI agent have a conjugal visit. The answer is no, Stan, there is no chance.

Paige has somehow found a whole religious congregation full of losers as pale and vaguely ginger as she is, and now she's dragging her poor mom with her. It's clear Elizabeth hates everyone there, and really, who can blame her? Philip and Elizabeth then meet up with their old colleague Dracula, who immediately starts in on them on when they are going to start turning Paige into a spy. While Philip cries about how she's only 14, E. shows once again who wears the pants in the relationship by explaining that's why she's been joining her at church and laying the groundwork for Paige's true conversion. Why else did Philip think his wife was hanging out with their obnoxious daughter?

We see Stan giving Martha shooting lessons, and is it just me, or does Martha suffer from some serious two-face? In some lighting she looks like she's in her 20s, and then sometimes it like she's pushing 50. Meanwhile, back with the KGB folk, poor Oleg is being forced to accept that Nina was two-timing him, and may have had actual feelings for Stan. It seems both sides need to revise the curriculum in spy school, because they aren't understanding the algebra: undercover agent A bones undercover agent B, knowing that B is also spying on (boning) undercover agent C. B tells A that what they have is real, but somehow A is always surprised to learn B is pulling the exact same stunt on C.

Philip is off pumping his informant Annalise. For information. You know he must be doing something right when she starts off by going down on him, and ends by saying he deserves better. Later we see him trying some hands-free Kama Sutra stunt with old lady Martha while Elizabeth is listening to her mom dying via cassette tape, and I have to wonder, why does his job seem so much better than hers? When he's not hooking up for work, he's listening to other people hook up for work while she's just teaching some newbie how to trail someone.

The episode ends with Yusef killing ditzy Annalise, after her failed attempt to come clean during their love making. Doesn't she know you wait to confess until after the sex is over? Thankfully, though, Philip knows an opportunity when he sees one, and tells Yusef he can make this go away, clearly trying to recruit him. It'll probably work too. If this show has taught us anything so far, it's that people are particularly susceptible right after killing their mistresses.

Stay tuned as the season unfolds! Season three promises even more disgusting wigs, parents fighting over the future of the one child they pretend to care about while completely ignoring their other one, and apparently a stiff gets stuffed in a suitcase!
​