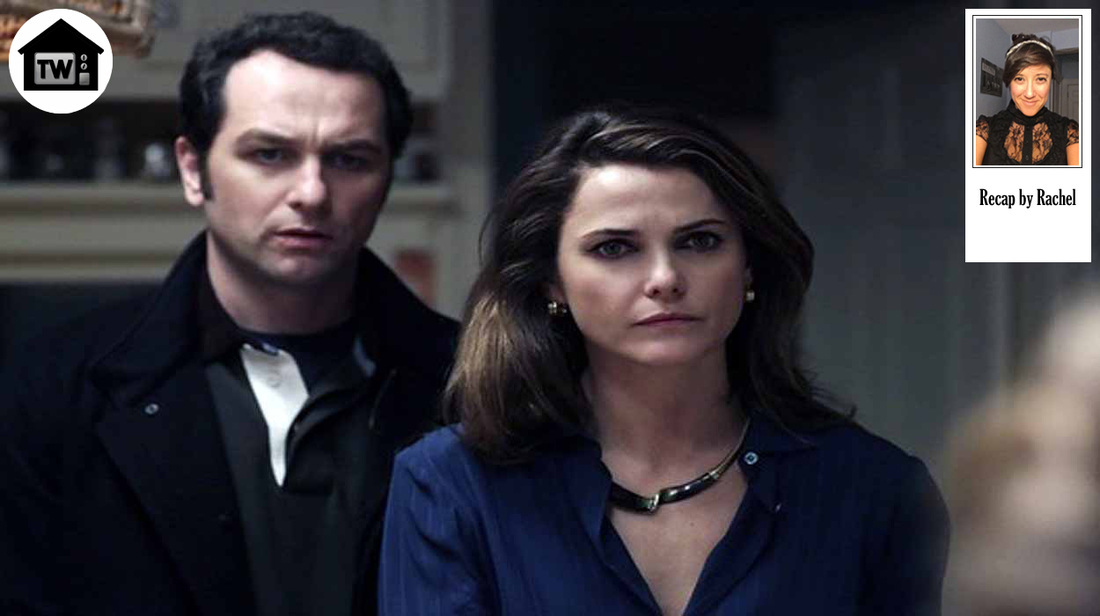 The episode starts with Paige's one and only friend, the god-awful Pastor Tim, coming in to see Sideburns at work. He claims he needs a travel agent for his annual missionary trip to Africa, but I'm pretty sure he just wanted to tell Sideburns what a terrible parent he thinks he is. Just what we all want.
Stan the Stiffy is still on babysitting duty with the annoying defector, and this is when we find out that he and Oleg were right, she is a Russian spy. Not that surprising, when you consider the premise of the show ... but still, it does make you wonder what could be on that tiny balled-up slip of paper she hides under the bathroom sink. A request for more Milky Way Bars?

Next we are at family dinz, and Sideburns gets a call. Some emergency filing that needs to happen this instant. Oh, the exciting life of a travel agent! Just kidding, he goes to a party to meet up with little Fro-lita, who's especially wasted. He takes her home so he can switch out the tapes and continue to lead her on without putting out. The tape reveals that someone from the Inter Service Intelligence is sending someone to meet up with a CIA operative. Ooh, new project!

Sideburns and Felicity go scope out the hotel, dressed in their hottest disguises to date. Sideburns has some sexy Clark Kent glasses, and Felicity is totally pulling off a dark bob. She's going by Ms. Luther; clearly they are comic book fans. Guess it makes sense that they are looking their finest, they know this operation will involve seducing a hotel worker, but they aren't sure who's up on seducing duty. Clark Kent's out of luck, it's a man! Sexy Ms. Luther goes to check in and start working her magic.

Meanwhile, Paige is so sketched out by daddy leaving so quickly the other night that she stops by the office to check up on her parents. You can tell she's just about had her full of all their BS. This is further exemplified when they come home after a long day's work, and she just calls them out on all their lies. She claims she's not stupid, but that part's debatable.

Though her other arguments are valid, the ones about their insane work hours, the no family, the constant lying. But I don't know, for super-trained spies, I feel like they didn't even try to come up with a legitimate excuse. Probably because Felicity didn't want to, and we know she has the final say in that household.

So they end up telling her the whole truth, which is just insane when you think about it. They easily could have come up with some sort of half-truth, but nope, they come totally clean. Paige takes it all in with the shitty whiny teenage attitude we've all come to hate from her. They tell her she can't tell anyone, but how can they trust that pasty ginger? They again make the poor choice of letting her stay home alone the next day, and of course she calls her one and only friend. It seems like she's just super vague and sketchy with him and doesn't actually reveal her big secret, but I guess we won't know for sure until next week.

Back in the office, it seems like Stan the Stiffy may finally have started to suspect ugly Martha. He then goes to dinner at the Jennings house, as he's incapable of feeding himself, and Paige almost loses her mind. The episode ends with Sideburns brandishing two large knives, ostensibly for cooking, but honestly he's staring right at his dumb-ass daughter and I'm going to interpret it as a very thinly veiled threat to keep her damn. Mouth. Shut.

Tune in next week as Sideburns continues to totally lose his shit!
​