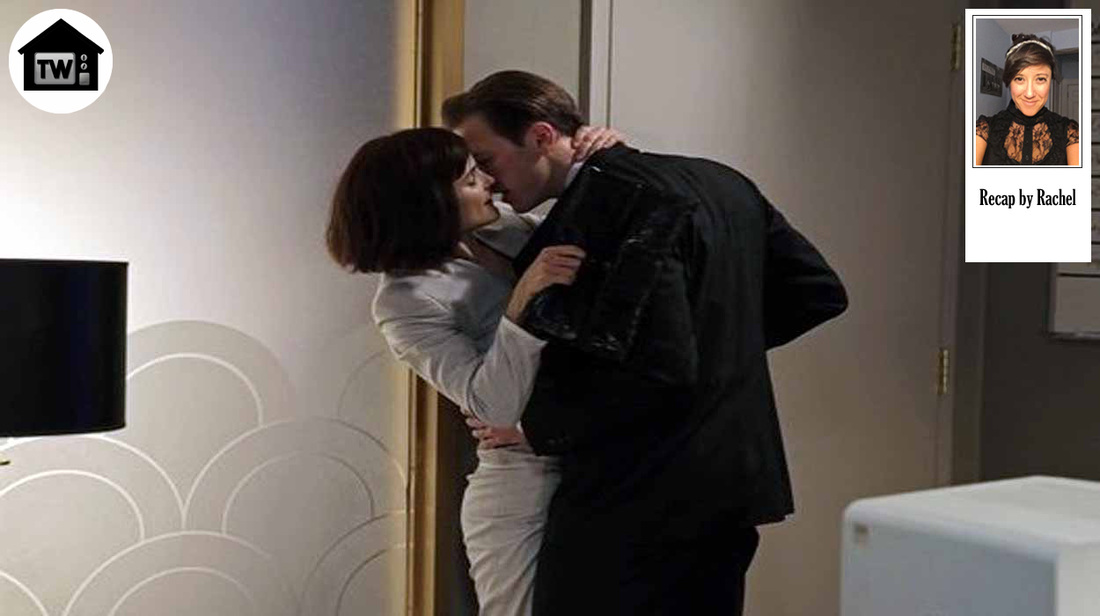 A lot of questions from one teen, but precious few from anyone else ...
This episode starts off with everyone's least favorite teenager calling her parents out on the absurd lies they've concocted to protect her, including last season's "vacation" in the middle of the night. Sounds like typical adolescent ungratefulness if you ask me. You just know Felicity never got to go on any vacations when she was growing up; vacations do not lead to being a bad-ass!

But instead of reaming her out, they continue to go easy on her and mildly tell her to keep her trap shut when other people are around. Later in the car, Felicity tries to lay down the law, but that kid's clearly a liability, and they should probably just kill her off now to be on the safe side.

Agent Gaad is throwing a pity party, and invites Stan the Stiffy in to join. I thought Stan suspected Martha. Why is he keeping that to himself? He may not be the only one – the blank-faced auditor told Martha to saddle up, that she would be having a long session with him next week. She understandably freaked out, since she knows she has no poker face.

Thankfully Sideburns happened to stop by that night, and gave her the opening lecture from SPY BULLSHITTING 101. I'm totally going to try that trick of staring at the tip of someone's nose when you are lying to their face. But overall, I'm surprised he doesn't spend more time seducing her. How is he so confident she won't just rat him out? Why isn't she grilling him more on who he really is?! Later on Martha's interrogation ends abruptly, and there's no way of knowing if she passed or not.

For those of you who can't remember, Anton is Mr. Science, the Russian scientist the Commies forcibly brought back to the Motherland to keep Nina's seductress skills fresh. He admits to Nina that prison is supplying him with fine food and free whores. Sounds rough. But poor Mr. Science isn't allowed to communicate with his soon, boo hoo hoo.

Nina breaks into his room to read the letters to his son, and there's something about a story he's writing? Honestly, is it just me, or does no one care about the scientist? It was more exciting when we thought Nina was going to get busy with Evie.

Felicity, or rather Ms. Luther, gives everything she has to seducing the clueless hotel manager. And thankfully for us, she has a lot to give. From there it's a quick follow-up visit to see the control room, and boom! Access to all the keys, and time alone to make a copy of whichever one she needs.

After she goes home, though, you can tell she's feeling dirty. Naturally she wants to bone Sideburns to emotionally wash away the kid from the hotel, because that's how these things work. Though based on Sideburns' face when she goes down on him, seems like she may need to work on those oral skills. The show then ends just like it starts, with Paige being inappropriate and annoying. What a surprise.

Stay tuned next week, only two more episodes in the season! We haven't had a meaningful death since they had to shove that spy into a suitcase, so I bet someone's time is up!
​