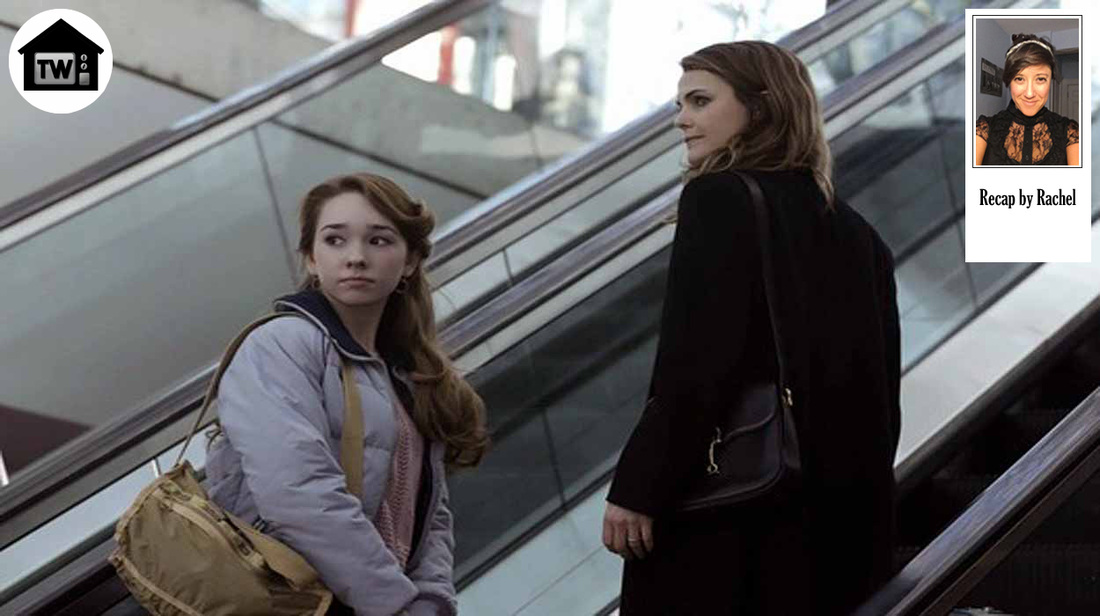 The season finale has some important reveals, but ultimately falls flat. It's almost as if the writers used up all their good ideas in the first 12 episodes, but then remembered they were contracted to come up with one more.

We start off with the whole family escorting Felicity and her annoying daughter to the airport for their trip to "West Germany." The son no one ever remembers is whining about how unfair it is, and you can tell he's starting to take after his sister. Paige promises to bring back presents, and is in effect becoming the liar her parents want her to be. We all know lying is the gateway drug to spying.

Yusef and Sideburns meet to go over their success, but Yusef is still feeling sad over killing Annalise in a fit of passion. He tries to guilt-trip Sideburns, but Sideburns is too far gone for that BS, and just shuts it down by explaining that "he feels like shit all the time." Ever the pleasant conversationalist, that one.

Paige and Felicity are lurking around West Germany while Felicity subtly tries to impart some spying skills on her useless daughter. She's smart enough to know she's wasting her time, but you can't blame her for trying. But back in DC, old man Gabe is not happy about the lack of protocol. He tells Sideburns to grow up, maybe he should get the "feeling like shit all the time" talk.

Stiffy Stan and Oleg meet in a car and discuss how their plan is working, as the Russian defector has proved herself to be working for the Motherland. They also speak of their lover Nina and what she would think if she knew the two of them were working together to save her, but neither has the balls to mention a threesome.

Stiffy takes his recording of Oleg to his boss Gaad, thinking he's going to get a pat on the back for all his scheming. He seems genuinely surprised to learn that Gaad isn't pleased he's been lying to everyone at the FBI. Gaad arrests the defector, but trades her for someone else than Nina, just to teach Stiffy a lesson.

Then the director comes in and basically tells Stiffy he has his back, and that he should keep working on turning Oleg. Of course, Stiffy says Nina is the best way to Oleg, but that gets shot down immediately because no one but Stan gives a shit about her. Can't he just hire a prostitute who can fake a Russian accent and move on?

Sideburns runs into Ex-Mrs. Stiffy at an EST training all about sexual awakenings, and it's just as awkward as you would expect. He quickly stops the conversation by explaining that "he's [there] privately." Think I can try that next time I run into some asshole from high school I never wanted to see again? Then they run into each other at the next seminar, and she comes up with the absurd idea that they should tell each other everything. He claims he can't, for obvious reasons, but leaves by saying he'll think about it. Their sexual tension is oddly hard to decipher. I can't tell if they want to jump each other or pretend their not ex-neighbors who've had the misfortune of running into each other a graduate sex seminar.

Felicity's mom shows up at their hotel in West Germany, and she doesn't seem nearly as tough as Felicity made her out to be. She's in a wheelchair, and seems mostly sad about all the time she's missed with her daughter. She also doesn't seem that old, but then again the life expectancy in Russia in '83 was on par with China. After she leaves, Paige just starts praying for her, since that's all she knows how to do. Felicity looks at her and you can practically smell her disappointment.

Meanwhile, while they are on vacay, Sideburns is taking care of business. He kills one of Martha's co-workers and makes it look like a suicide, while also planting a recording receiver so that everyone will think he placed the recording device in Gaad's pen. The suicide note is typed on his old-ass computer, and it's straight Doogie Howser styles.

When they get back to DC, Paige whines to her mom about how hard it is to lie to "all her friends," aka Pastor Tim. Felicity tells her that lying is a part of life, but again, I really think she needs to be more forceful with her, and by forceful I mean threaten violence. But she doesn't, so naturally the first thing Paige does after crying alone for a while, super-pathetically, is call up good old sketchy Pastor Tim. I swear, the relationship between those two would make more sense if they were at least having sex.

The season ends as you hear Reagan's speech calling the Soviet Union the Evil Empire for the first time as a voice-over. It seemed like Philip was about to confess to his wife how hard he is finding their life choices, while their God-obsessed daughter reveals their secret to her Pastor. Overall, a surprisingly underwhelming ending to an explosive season.