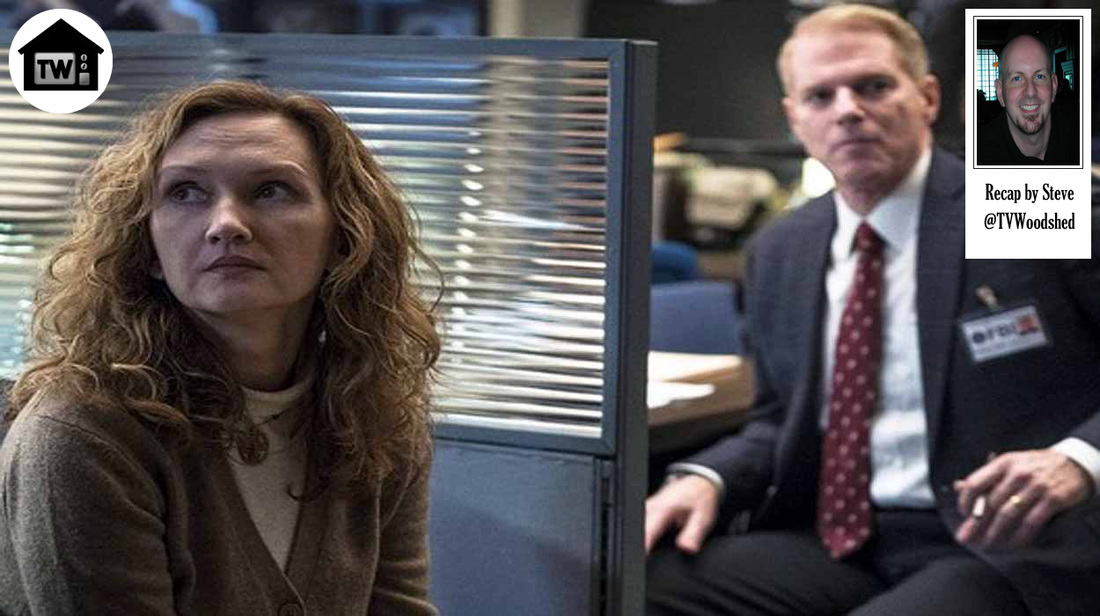 All right, comrades! While Rachel is away on a super-secret mission – seriously, don't even ask, it's For Your Eyes Only-level stuff – I'm going to be taking her place as recapper for The Americans.And the best part? I have never once seen the show. Let's boogie!
Previouslies. Whoa, there's a lot going on here! But since I don't know any characters, storylines, plot points, or really what the show's even about, we may as well skip right over them. But just so you know, a bunch of stuff happened.
Lefortovo prison, Moscow. A guard opens a door, turns on the light in the hall, and leaves. Did that guy win a contest or something? Inside a nearby jail cell, a young woman pees into a bucket. I suppose this being a Russian prison, we should just be thankful there's toilet paper. Ah, the glamorous life in the gulag. I don't know this girl, but she looks rather mopey. So I shall call her Mopey.
Hotel room. Hey, there's a dead chick on the bed. Housekeeping? I need this room turned ASAP. Two guys – one with crazy sideburns who has just inherited that nickname and a swarthy fellow named Yusef – close the dead chick's eyes and then leave the do not disturb sign up after they leave. So no housekeeping after all? The boys return to their room and Yusef has a beer while Sideburns goes to "handle things." Is this
Weekend at Bernie's 3
?
A tidy little house. Hey, it's Felicity from
Felicity
! Hi, Felicity! She's hanging out with her daughter when "dad" calls. Ah, dad is Sideburns. It's all coming together. Sideburns says he's got some extra work tonight. You know, disposing of corpses and whatnot. Felicity says she'll be right there, and her daughter – Paige – asks if Felicity ever suspects dad of cheating on her. No, sweetheart, of course not. He'd sooner kill another woman than cheat on me with one!
Hotel. Sideburns and Yusef are post-gaming, and I believe the dead chick is the wife of a Pentagon official. Well that can't be good. Yusef wants to know who Sideburns is, and Sideburns says his people are dying in Afghanistan. Well that's no answer.
Dulles airport. Or the dullest airport, amiright? A bunch of stiffs in trench coats receive a big, official-looking box that they can't wait until they get home to open. Inside is … a woman? One of the stiffs welcomes her to the United States. I had no idea that's how the whole mail order bride thing worked.
Hotel. Felicity shows up with a big ol' suitcase. Oh, they're not going to chop up the dead chick, are they? Oh, no, even better – they lay her on a tarp on the floor and start breaking limbs. Why did I agree to recap this show? Yusef doesn't want to help and I can't blame him, but he does grab a leg and make a wish. Ew.
Prison. Mopey is making her bed when she gets a new roomie – Mary, from Belgium. Hi, Mary! What are you in for? Eat too many waffles? I kid, of course. Mopey wants nothing to do with Mary so Mary hyperventilates while Mopey stares at the wall. Can two divorced men share an apartment without driving each other crazy?
Hotel. Felicity finishes stuffing the broken dead chick in the suitcase. You know, I recap
Monday Night Raw
,
Arrow
, and
The Biggest Loser
, and I've never had to type anything like that last sentence ever before. Felicity wheels the suitcase out – I hope they're flying Southwest or that thing's going to cost a
fortune
– and Sideburns tells Yusef to be at the pool tomorrow at 3 o'clock. Intrigue!
Washington, DC. A swamp that traded malaria for politics. At FBI headquarters, two of the stiffs from the airport are entertaining the woman in the box. Turns out she works at an institute in Moscow that reports on US and Canadian activity, and she
loves
Milky Way bars. She stares out the window and marvels that "it's over," but one of the stiffs reminds her that it's not really over. What are we talking about? Deflategate?
Russia. A mother and daughter argue in Russian about attending a memorial for their dead husband/father. Oh, was that a flashback? It think that was a Felicity flashback because it cuts right to her awake in bed, remembering a blue dress her mother used to have. Oh cool,
Arrow
is full of flashbacks, I'll feel right at home here.
Press conference. The woman in the box explains that she defected to the US because Russia does bad things. Well duh.
Pool. Sideburns meets up with Yusef and they discuss the dead chick. I think. Then Sideburns tells Yusef that he wants a private meeting with some CIA guys and wants Yusef to arrange it. Should we make Rice Krispies treats? Those are always popular.
Alleyway. One of the FBI stiffs is walking to his car when a Russian dude named Oleg gets the drop on him with a gun. They talk about a bunch of stuff I don't understand, not being a regular watcher, and then Oleg wants the guy on his knees. Screw you, Oleg! That's telling him, FBI stiff! He tells Oleg to shoot him in the back and then turns his back to him, but Oleg disappears. So far, not too impressed with Oleg.
Felicity's house. Felicity is having some serious tooth pain. I don't know if it's a plot point or not, but I figured I'd mention it. Sideburns picks a fight with her and they argue about Yusef, the dead chick, and keeping Paige out of trouble. Did you ever have that dream where you're in school and the teacher hands you a test and you realize you don't know any of the answers? That's kind of what doing this recap is like.
Phone booth. The FBI stiff – Stan, I think it is – makes a tough phone call and leaves a difficult message, but without context he might as well be ordering a pizza. A pizza that he loves, dammit!
Hotel parking lot. A creepy dude who looks just like Lt. Jim Dangle on
Reno 911
is taking pictures of the hotel. Not of anything interesting, though. I don't think.
Someone's house. Stan the FBI stiff needs to talk to some chick whose name I didn't catch. Sandra maybe? Stan tells her about almost getting shot and there's a shit-ton of tension between them. I'm guessing they're exes? Or divorced? Either way, Sandra's not coming back just because Stan almost got shot. You're going to need a better line than that, Stan.
Garage. Felicity is listening to some cassette tapes in Russian. Is this set in the '80s or something? Cassette tapes, pay phones, Ronald Reagan portraits – it all seems so horribly dated. Sideburns comes in and says that they could probably arrange for Felicity to sneak back into Russia to see her mom. So wait, Sideburns and Felicity are Russian? Then who are The Americans? Or do we not know yet?
FBI headquarters. Stan the stiff goes to meet with his boss. Hey, his boss is John Boy! From
The Waltons
! Man, that guy could shave his head and dye his skin purple, he'll still be John Boy till the day he dies. John Boy got beat up by some chick and I think he wants Stan the stiff to look into it. Will do! G'night, John Boy!
Someone's house. Felicity sits down for coffee with some old dude. I think it's Alan Arkin. I could check IMDB, but I don't care enough. Not sure of the relationship between these two, but they talk about Sideburns and Paige and all sorts of personal stuff, so my vote's either dad or therapist.
Prison. It's feeding time and Mary from Belgium wants to ask the guards a question, but nothing doing. For some reason, Mary gives some of her food to Mopey, and then tells Mopey that she's innocent. Me? Lawyer fucked me. Everybody in Shawshank is innocent. Don't you know that?
Garage. Felicity and Sideburns have a secret meeting where they look at pictures of the hotel from earlier and formulate a plan. Oh, it was Sideburns in the goofy
Reno 911
disguise? Bravo, Sideburns. I never would have known you. Upstairs, Sideburns is dismayed to learn that daughter Paige reads the newspaper. Why is this distressing? And what's a newspaper?
Hotel. There's a caper afoot! Felicity and Sideburns are using binoculars and headsets and cameras and disguises. Is this a
Mission Impossible
reboot? An old dude swings by and picks up Yusef, and Felicity gives chase. I wonder if I'm supposed to know what's going on, or if it's a mystery to everyone. Hm.
After a lengthy drive, Yusef and the old dude turn into a parking lot and head off to a bar. After Felicity and Sideburns compare notes about what they've seen, they decide to go to the bar too. Drinks for everyone! На здоровье! I mean – what?
Felicity and Sideburns blend in and order a couple of beers just like two average American Joes would, and then Sideburns takes clandestine photos of Yusef meeting with some CIA guys. Or FBI guys. I can't keep track. Ah, and Felicity's tooth pain is because she got her face slammed on the hood of a car, which we saw in the previouslies. Yep, it's all coming together.
Russian embassy. Oleg and a rather severe woman named Tatiana talk in Russian about Leonid Brezhnev's funeral and then about that defector chick and how much of a pain in the ass she could be.
Speaking of defector chick, she's still digging on Milky Ways and asks Stan the stiff if they can see some of the sights in Washington. Ooh, sorry, no can do. Someone might try to kill you and we certainly don't want that.
Prison. Some guards bring Mopey to another cell where a dude in a trench coat is waiting. Oh, this doesn't end well. The dude is Igor, and apparently Oleg sent him because he's in love with Mopey and he wants Igor to help her? Oh, now that sounds like a juicy subplot. And Igors have a history of being good helpers.
Felicity's house. Sideburns and Felicity are doing some paperwork and take some time to discuss Paige. Felicity says these "things" with Paige just won't go away. You mean like her reading newspapers and doing algebra? For shame, Paige! Felicity says that when she was 16 and she was "called," her mother didn't hesitate. So … then … what? You won't hesitate when Paige is called? Or you will? I can't tell if Felicity's mother not hesitating is a good thing or a bad thing. I guess we'll find out, won't we?
Next week! Look like whatever's happening with Paige is going to really start happening.
​