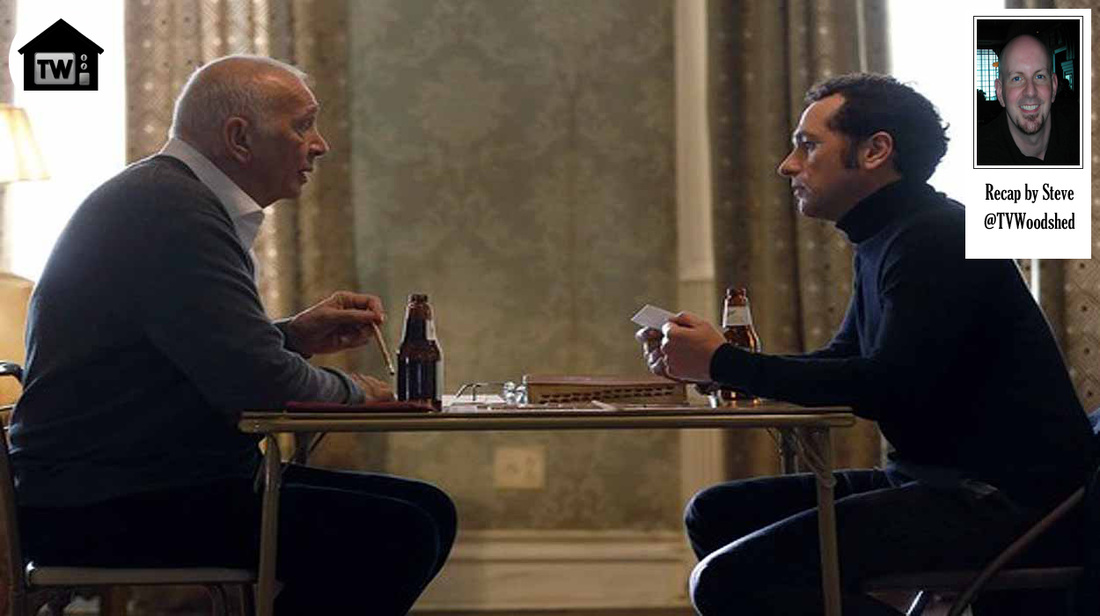 If you're a fan of really ghetto dentistry and watching people drive around, then brother, this is the episode for you! I continue my quest to figure out who all these people are, and get your DVR pause buttons ready, because we're treated to a shot of Felicity's bare ass. Ничего себе! Нифига себе!
Previouslies: Again, a bunch of stuff I really don't understand, but they do seem to focus quite a bit on Felicity's tooth pain, so let's see where that goes.

Someone's living room. The man who I thought was Alan Arkin, and also may be Felicity's dad, is playing Scrabble with Sideburns. Play PERESTROIKA on a triple word score! Not Alan Arkin gives Sideburns some pictures of a bunch of guys, and I'm sure they'll factor in later, but for now I don't know who they are or what they mean. Not Alan Arkin and Sideburns talk about Paige making her own decisions. God, everyone's so worried about Paige all the time. What about me? Have you seen how much snow I have in my driveway?

City streets. Some dude I don't know is taking a long autumn stroll. Oh, if only I knew who these people were! After a time, Felicity in an awful blonde wig approaches him and starts quizzing him about things he saw along his walk. It's just as annoying as any game on Lumosity. He apparently fails the game because he didn't notice a couple of tails he had on him. Bad commie! They chat about a bunch of commie philosophy, and then he announces that he kind of digs stone washed jeans. And … it begins.

Felicity's house. Felicity and Sideburns discuss what to get Paige for her birthday, but they're actually just fighting about Paige. Again. But I can't be too annoyed with them because Felicity's towel comes off and there's Felicity's bare ass! Oh, I like this show. I may not give up this recap when the time comes. Felicity and Sideburns argue a bit more and then go to bed angry.

FBI Headquarters. Some dude I don't know is flirting hard with some chick I don't know. Ah, so the FBI is the Future Boning Institute, is it? Nice.

Open house. Felicity and Sideburns are wearing some really awful disguises as they prowl around a house for sale. Sideburns sneaks off to rummage through a home office and finds a cell phone. And this being the '80s, the cell phone is a handset connected to a giant suitcase. Ah, the good ol' days. Does that thing have Angry Birds?

Felicity keeps the realtor busy while Sideburns does some spy stuff to the phone, and then the owner of the house pops in because he forgot something. Oh shit! Don't go in the office, Mr. Homeowner! You'll end up stuffed in a suitcase with all your bones broken! There winds up being no drama after all because, y'know, strangers are supposed to be wandering around during an open house. Sideburns and Mr. Homeowner exchange pleasantries and that's that. Except that Mr. Homeowner takes the suitcase cell phone with him. Aha! Right? Aha?

Felicity's car. Sideburns uses a Bond gadget to eavesdrop on Mr. Homeowner, who is listening to Air Supply. There are only two acceptable times to listen to Air Supply – when your heart is broken and at your high school reunion. Sorry your heart's broken, Mr. Homeowner.

Russian Institute. A couple of Russkies are talking in Russian about Russian things. You know, vodka, furry hats, nesting dolls, that kind of thing. The one Russian dude says the other one's shipping back to Moscow, unless he doesn't wanna. I didn't know the Russian government gave you a choice in these matters.

Felicity's car. They're still tailing Mr. Homeowner and are now listening to him plan a tryst with the babysitter. Yeah, I saw that video. The wife comes home and pretends to be outraged, but then she gets naked and joins in. Classic porn plots. Felicity and Sideburns figure out they're being tailed, probably by CIA goons. CIA goons? This show has everything!

Day becomes night and they're still being tailed. Sideburns does a bad-ass drop and roll out of the passenger door and into a parking lot as Felicity drives on. Damn, you'd think these two were spies or something.

Felicity's house. Paige is gathering up her brother's laundry when she finds a photo of a girl in a bikini. Well what the fuck did you expect? That's positively TAME compared to what you'd find if you looked under the mattress. Henry comes in and gets all hot under the collar, and Paige identifies the woman in the photo, so I guess it's someone they know. Whoa, that's hot.

Someone's house. A gal is doing her Jane Fonda workout when Sideburns calls. He gives her a coded message that tells the gal they're in trouble. I guess that helped somehow? It certainly didn't help her – she's going to have to start her side splits all over again.

Felicity's car. She's still being tailed? My goodness, the CIA is dogged, aren't they? Felicity turns up a side street and a guy on the sidewalk tosses a bundle into her car. I hope it's not an L. Ron Hubbard book. No, it's a walkie-talkie, which starts giving her driving directions. Early GPS!

Felicity's house. Sideburns comes home and everything's cool. Or is it? Yeah, turns out it is. Paige is still up and watching infomercials because she can't sleep. Sideburns chats with her for a bit, and then she decides she's tired after all and goes to bed. Teenagers, right?

FBI Headquarters. John Boy is heading up the manhunt for Felicity. Apparently both the FBI and the CIA want her. It must be nice to be so popular. The flirty guy from before pleads with John Boy to set up a roadblock before they lose her, and John Boy agrees. Run, Felicity! Run!

Felicity's house. Sideburns is drinking coffee, watching the news, and checking his watch. If Felicity doesn't get home soon she'll miss Johnny Carson!

Felicity's car. Still driving. How much gas does she have in the tank? A bunch of other cars start moving into position as exciting music plays. Someone jams the CIA's walkie-talkie signals which results in a smashup, and Felicity bails out and runs for it. See? I told her to run and she did. I got this spy stuff covered.

Felicity's house. Felicity finally gets home and she and Sideburns share a tender moment while the TV station, signing off, plays the American national anthem. Irony! He kisses her and she jerks, her tooth still hurting from the slam on the car trunk. Sideburns nods and leads her off. Oh, is it sexy time?

Um … no, I guess it's not, unless sexy time happens in the garage. Let's see, there's booze and an array of pliers. Oh fuck. No way. No fucking way. I sat through all those bones breaking last episode, I am NOT recapping a yanked tooth. Oh shit. Oh shit. Oh shit! EEEEEEWWWWWWWWWWWWW!

Okay. Tooth is out and I need a drink.

FBI Headquarters. Flirty guy and Stan chat about this and that, and I'm not really sure what it means or why it matters. Frankly, I'm still trying to keep my groceries down after the tooth scene. So yeah.

Clark and Martha's house. Who the fuck are Clark and Martha? Whoever they are, they discuss adopting a foster child. You know, with some back story here, I bet this would all make sense. She wants to adopt and he doesn't. What else is new, right?

Town common. A band plays patriotic music – irony! – as Felicity in her awful wig meets up once again with the strolling guy to play I Spy. Felicity tells the kid that she'd be fine having sex with him, but there's someone important in her life and she doesn't want to screw it up. Wow, that's some serious fidelity right there.

Not Alan Arkin's house. Sideburns is checking in and wants to pursue the guy who may or may not be tapping the babysitter and may or may not have uploaded the video to XHamster. Not Alan Arkin tells him no, don't go after the guy or the babysitter. And then the conversation turns to Paige. Again. Sideburns yells that Paige is 14 and isn't equipped to be a spy, and then storms out. Without drinking his tea. That'll show Not Alan Arkin!

Russian Institute. Some guys replace the portrait of some Russian dude with the portrait of another Russian dude, and if I'd paid the slightest bit of attention to politics in the '80s instead of feeding endless quarters to Donkey Kong, I'd know who these Russian dudes were. After a quick meeting about American stealth planes and whatnot, the one Russian guy tells the other Russian guy he's decided to stay and not get sent back to Russia. Don't ask me which Russian guy is which, I just got here, for Khruschev's sake!

Cable access show. The Russian woman who got crated into the U.S. last episode is talking about how much Russia sucks and how she'd be willing to die to retain the freedoms she now has. Oh, don't worry. That can be arranged.

Felicity's car. Felicity and Sideburns are still listening in on the dirty talk between Mr. Homeowner and the babysitter. They hear something distressing – I can't hear shit, it's so garbled – and it inspires them to do a drive-by. They discover the babysitter's dad is the head of the CIA. That certainly won't lead to any problems down the road. Wait – what?

Next week! If the producers of The Americans have read my tweets, next week's episode will be 60 minutes of Felicity's bare ass and ZERO conversation about Paige. The power of social media!

​