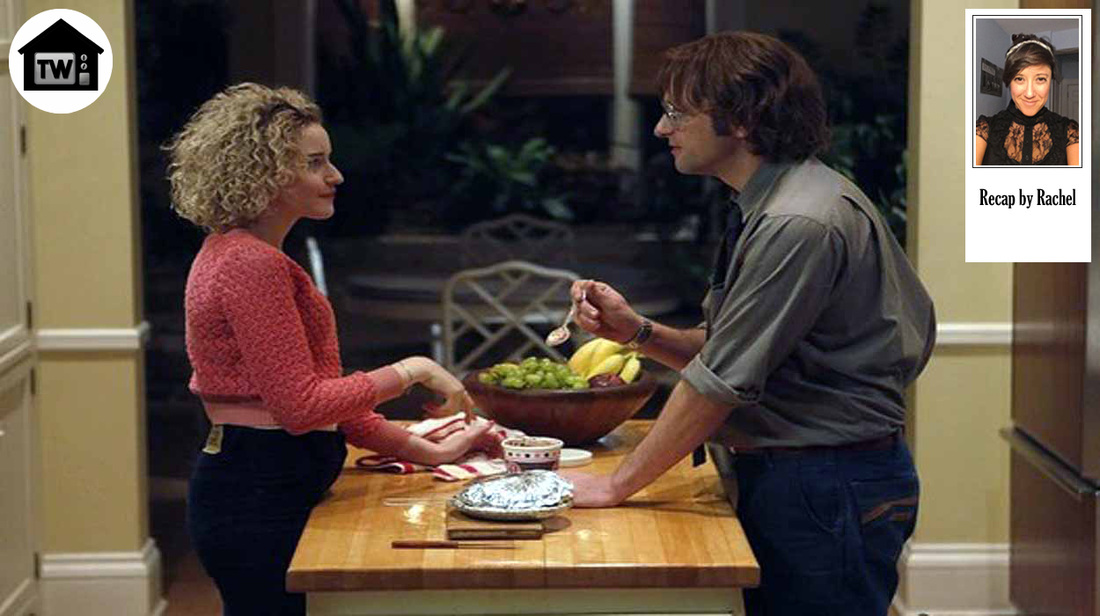 Teenagers going shopping, partying and hooking up? It's almost like I'm watching an '80s version of Beverly Hills 90210! Oh, but also, there's murder and lots of lies …
Special thanks to
Steve
for stepping in while I was on my secret mission. He did a great job, especially considering he had never seen the show! And I like his nicknames for Elizabeth and Philip, so we'll keep on calling them Felicity and Sideburns.
We start off with Martha continuing her efforts to adopt a new puppy, err, take in a foster kid. Does she not remember that "Clarke" is never around and can barely stand her? One more tragic woman falling into the trap of believing a kid can save her doomed marriage. It's no surprise later on when Sideburns tells his real wife that he's considering letting Martha adopt a kid just to shut her up for a few minutes.
Meanwhile, "Michelle" offers Lisa her mom's place to stay, since Lisa's husband Maurice is off the wagon again. But Felicity's mom lives in the Motherland, so who's place is this? It can't belong to our main couple, they never work! I don't even see how they can afford the few things they do have …
Whoever used to live in that house was hopefully killed off last season, because later in this episode Felicity ever-so-casually drops a car on the no-good Maurice, ensuring Lisa will want to stay in her new digs permanently. And she got the transfer to the new factory, making her commute only 15 minutes! No deadbeat husband, short commute, kids still MIA, person you are supposed to be sponsoring hooking you up with a free house – I guess I see why Lisa considers "Michelle" her lucky charm! Though based on the intimacy they shared over bleu cheese, I see their relationship moving to the next level in the near future. Really, though, how useful is this factory worker going to be?
Now that Oleg showed just how much of a pussy he really is by not shooting stiff-ass Stan, Stan wants Oleg to help him prove the defector is actually a Russian spy. Doesn't he know Oleg works in technology? All he knows about is beta versions of the Internet and sharing Stan's sloppy seconds. But since they are both smart enough to realize Nina was the hottest piece either of them could ever get, they are going to look into it in hopes they can swap the defector for her. You have to appreciate the efforts Stan is putting into getting back both his wife and his mistress, while still accepting dates from new chicks. It's almost as if he never learned anything at all.
Sideburns "Jim" is still macking on Fro-Lolita, the head of the CIA's daughter, and seriously, how does she have such a big blonde 'fro? He learns that she's only 15, aka his daughter's age, and you can see him cringe mentally. She invites him to her house to toke up, and he of course has to jump on the opportunity to lurk around her house, but you can tell he's hoping to avoid actually jumping on her.
He goes and gets her super baked on some Afghan weed (how did Old-man-Gabriel get the hook up?!) but the whole scene feels like the one in the
Back to the Future
where Marty has to force himself on his mom and you can tell he'd rather do anything else. In Sideburns' case, maybe
stuff another chick into a suitcase
?
Pull out some more of his wife's teeth
? Anything but hook up with this fro-child.
He escapes with just a make-out, but clearly he will need to give her the goods soon. Fro-Lo is an empowered, weed-smoking teenager, so Put Out or Get Out. "Jim" skulks around taking pictures of briefcases and coats, and maybe puts a bug in the suitcase? It looks like he does, but then later tells Felicity he will next time. Why would he lie about that?
Fro-Lo's parents come home and he has to run out the back door like the inner teenager he's been harnessing all night, and the last thing he needs is Felicity to get on his case for being stoned! You can tell he's so sick of this shit he's starting to really question his life choices. He clearly hopes he can balance out his pederast karma by buying Paige some atrocious yet somehow pricey lacey old-lady frock for her upcoming stupid Baptism. Understandably, Felicity is not impressed.
While Sideburns is busy keeping up appearances with his wife Martha, his real daughter Paige, and his new lovechild, he's also working on his bromance with boring Stan. See what I mean about how they never actually work? The men are still going to EST and hanging out in the evenings. Stan gets invited to an insanely awkward dinz at their house, where their horndog of a son inquires about Mrs. Beeman, and everyone cringes. And when Stan says he agreed to go on a date with the EST MILF, Sideburns graciously offers to host them at his place. Worst. First. Date. Ever.
The episode ends with some romantic pillow talk regarding the increasingly sketchy undesirables they had to sleep with during the "Boning as an Act" portion of spy school. Apparently in Sideburns' case, they started with an attractive young female, and from there moved down the ladder to super-old granny, fatty, and finally culminating with fat old man. I shudder to think who Felicity's training consisted of … When she asks him if he "has to make it real with her," he says "Sometimes." Way to really sell it, bro.
Next week: Sideburns shows Fro-Lo his salty surprise, and creepy old Gabriel tells Felicity to start lying to her husby.
​