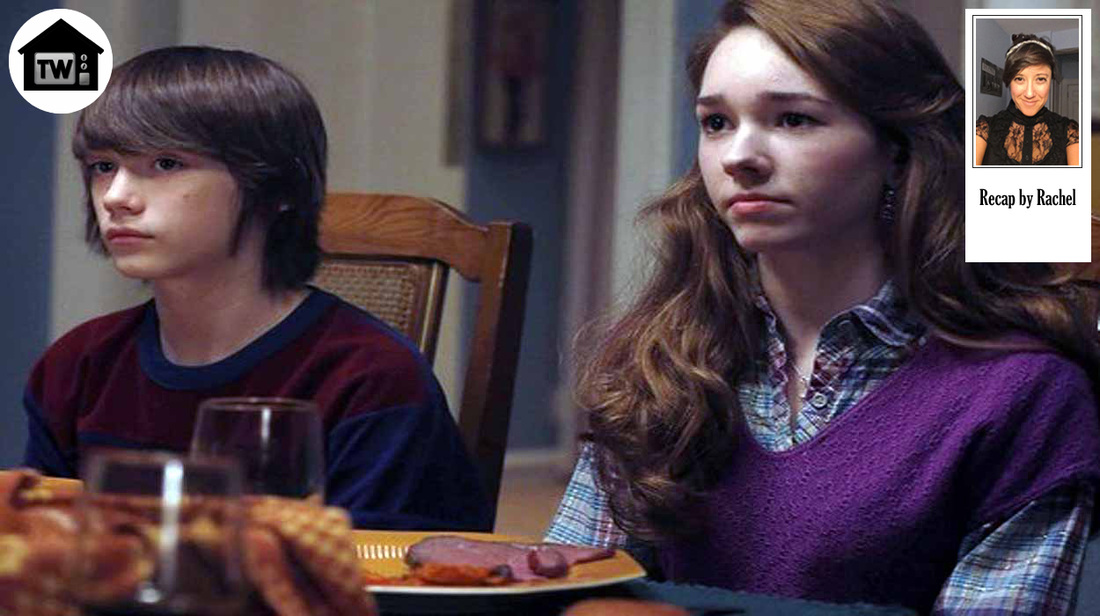 This week we learn just how many uses prayer can have, and Felicity finally gets to enjoy the high life.
We start off with Paige's baptism, and I don't get why she needed a new dress, seeing as she's wearing the same lame white robe as the Pastor. It's like when you buy a new dress for graduation, but no one even ends up seeing it. While Felicity is doing a good job of playing the proud mom, Sideburns looks like he's holding a fart in, and it's a big one.

As for their other kid, he didn't even get invited! Afterwards, Sideburns tried to warn her to "stay true to herself," but he doesn't have the balls to explain he's warning her about her own mom, as opposed to the Church. She promises she won't drink or do drugs, but that much is obvious, since no kid would want to waste their goods offering to share with her.

Felicity's newest boy-toy, the South African she's been training, lets her know there is another spy among them. What a surprise. Then we jump right to Stan's insanely awkward first date at his neighbor's family house. Henry has tons of personal questions, probably in hopes he'll scare her away and Stan will get back together with his hot wife, giving Henry more opportunities to take creepy pictures of her in a bathing suit. Not like you can blame him, poor kid probably doesn't even know porn exists. What did teenage boys do before the Internet?! Seriously though, what was going on the '80s that all these female 10s are going for these dude 6s? Later on, Stan finds out some dude he used to know has died, and of course again tries to use it as an excuse to get his wife back, but she's not having any of that.

Back in the Gulag, Nina and Evy discuss love and lovers, and it seems like the perfect lead-in to a little lady action, but sadly no. Instead Nina rats Evy out like the cold-hearted bitch we've all come to know and love. She gets a feast afterwards and even some red wine, and you can tell she has zero regrets.

Jump right to Lolita's lair. Sideburns is trying to distract Fro-child with his walkman of Pink Floyd, but his weed must not be strong enough, because she's not feeling the music. She tries to seduce him with a bath, but he's too smart for that shit and instead convinces her to take a solo bath while he invites some unknown colleague in to place a recording tape in daddy's office.

When she gets out, though, she's ready to go, and he's only able to hold her off by invoking the transformative power of Jesus. I get why he doesn't want to bone her, we all get it, but why doesn't he just give her a hand job? A little loving would go a long way. But instead, they pray together, and you just know she's going to look back on this whole thing in a few years and wonder WTF was wrong with that creeper James.

Meanwhile, Felicity takes a smoke break in her garage, as opposed to outside like a normal person, and her absurdly annoying daughter catches her. She's not like other moms, she's an Amy Poehler cool mom, minus the fake tits. They try having a heart to heart, but it doesn't get that far since Paige has actually found a way to become even worse, by becoming a missionary. Sideburns comes home, joint in hand, and the two spies blaze up in their room. They talk shit about the respective 15-year-old girls they spent the evening with and the lame way both of them care about Jesus, giggling all the while, and it's honestly the most heartwarming scene in the whole series.

Sideburns goes to visit Gabriel, but is pissed to learn that the Center wants him to swap out his tapes from Fro-child's daddy's office weekly. Gabriel reminds him that he has to "forge a real bond with her," and it seems like he may need to draw a diagram of what that looks like, because Sideburns seems to have forgotten what sex looks like.

He's so upset about having to switch these tapes weekly, can't he just sneak in when everyone else is out? He is a spy after all, isn't he? And what kind of handler is Gabriel anyways? Their old one used to meet them out and about, in cars and other clandestine spots. But old man Gabe doesn't seem to do anything but eat and play Scrabble, and he definitely doesn't leave the apartment.

Gabe meets with Felicity later, since he can't meet with them at the same time if he's going to suggest Felicity turns on her husband. He gives her a hard time for not being proactive enough with Paige's conversion; he must not have met her and therefore probably has no clue how obnoxious she is to be around. But Felicity actually cares about the cause, so she picks her god-awful daughter up from school and takes her a "diverse" part of town and begins to plant the seed of dissent. She tells her "I'm more like you than you think," but the part about her being prettier, tougher, and way more of a bad-ass goes unsaid.

Stay tuned, in the coming weeks we see both Paige and Martha finally start to question all the weird shit going on around them.
​