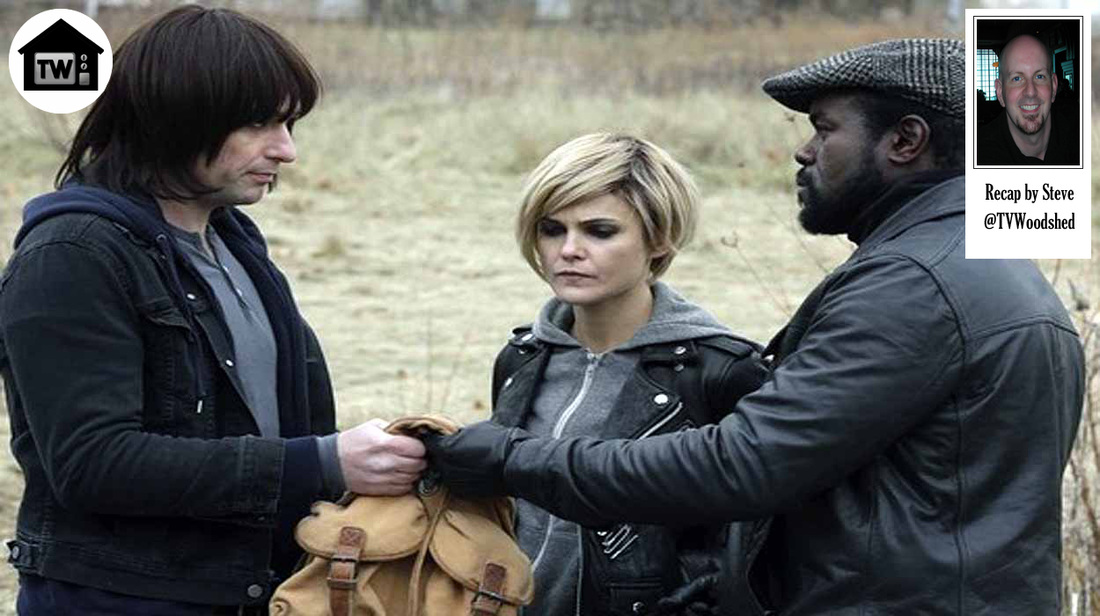 With Rachel once again away on a super top-secret assignment in Siberia – wait, pretend you didn't hear that – I'm stepping in this week to recap. I'd just like to renew my objections to any plot points that don't result in us seeing Felicity's bare ass, and to question the "sexual situations" that the network warned us about before the episode. I didn't see any. Did you?
Previouslies: Somebody put a bug in John Boy's favorite pen, Felicity hits some poor shmoe with a van, and if I'm not mistaken, they've added insufferable '80s comedian Yakov Smirnoff to the cast. Oy.

Depressing town. Some young fella is having a look through his binoculars. Ah, pre-Internet Peeping Toms. You just don't see them anymore. As he watches, a van pulls up and two guys strong-arm two other guys into a warehouse while Felicity – or possibly her stunt double – brings up the rear. Wot's all this then?

FBI headquarters. Martha – whoever she is – is chatting in the hallway with a couple of guys when John Boy pops in and says someone wants to have a word with her. Oh boy. Off to the principal's office with you!

Warehouse. Sideburns in a terrible Beatles wig is offering a poor beat-up Russian dude a million bucks and a new life in a new country. Hey, can I grab that deal? The beat-up Russian dude doesn't want the deal, so Sideburns takes out a pair of gloves. Are those a consolation prize?

Russian prison. Jesus Christ, we're three minutes in and we've been all over the goddamn globe! That shady Russian dude congratulates Mopey on getting a confession out of her roomie and BFF, Evi. Does that mean Evi's dead? I'm guessing Evi's dead. Mopey's reward is a reduced sentence – 10 years! Um. Yay? Ah, but here's the rub – the Russkies have a scientist and they want Mopey to get inside his pants. Er, head. Get inside his head. They promise to release her if she succeeds. And if you can't trust the Russians, who can you trust?

FBI headquarters. Martha's being interrogated about office supplies. It's the least exciting interrogation ever. Oh, I see where they're going. They want to know if Martha planted the bugged pen. The conversation narrows down to just pens. It's as riveting as it sounds.

Warehouse. Felicity, dressed for some reason like Justin Bieber, has a guy named Todd all tied up and wants him to answer some questions. Is this whole episode interrogations? I thought I requested for all episodes to focus on Felicity's bare ass. Nobody listens to me.

Russian institute. The head Russkie gets a call from Oleg's dad at the KGB. Oh, this can't be good. Oleg's dad wants to know why Oleg hasn't been shipped home to Mother Russia. It's because Oleg is doing important work, like not shooting guys he's supposed to shoot. Oleg's dad implies that Oleg's a doofus and needs to come home before he hurts himself running with scissors.

FBI Headquarters. Martha's going about her daily routine, because that's what INNOCENT PEOPLE DO. Stan gives her his entire fucking itinerary for his trip to Chicago before he leaves. What is she, a secretary? Oh. Right. The guy who interrogated Martha approaches but passes right on by and grabs the only black FBI agent in the office – I think he calls him Ivanhoe – for a little chat. In the interview room. Well, the guy's black and it's the '80s. Guilty!

Interview room. Interrogation Guy goes over Ivanhoe's entire life story. He had a dog named Snuffy. That's sweet. Ivanhoe hands over the pen he carries and then they talk about office resentment. If there is any, I'm guessing it has to do with Ivanhoe's mustache. Thing is awful. Like something you'd buy at a novelty store.

Warehouse. Justin Bieber unchains Todd and takes him outside to join Didn't Take the Deal Dude in the courtyard. She pulls out a pistol, but the black dude wants to do some killing, and his way involves a gas can and an old tire. I may have to watch the next few minutes the same way I did with the suitcase girl – through splayed fingers. Yep, he sets Didn't Take the Deal Dude on fire and everyone watches him burn alive. I would not want to be Todd right now.

Library. Paige is looking something up on MICROFICHE! You kids wouldn't understand microfiche if I spent the rest of the recap explaining it, but trust me, it puts your iPhones and your Google Glass to shame. She's looking up violence involving black victims. It's unclear if she's for it or against it. Paige can be hard to read, what with that single facial expression she has.

Warehouse. Todd is begging Justin Bieber not to hurt him. He's a Belieber! Honest! Under threat of a bullet in his head, Todd admits that he was supposed to set up a bomb on a campus. Like that George Lucas animated film? That thing was a total bomb. What was it called? Eh, whatever. Turns out Todd is a total pusswad and never set up the bomb. It's in his dorm room. Sounds safe.

Justin Bieber and the black guy move Todd back out to the van, and they spot the young lad with the binoculars running away but don't bother chasing him. Me? I'd chase him. But I'm not a Russian spy, so what do I know?

Power plant? Another prison? Either way, Mopey's got her track suit and her suitcase and is making her way through hallways, led by a perfect representation of what we thought all Russian women looked like in the '80s. They arrive at a dank little room, and Mopey looks at all the manly stuff about. The heck?

The wrong part of town. Justin Bieber meets up with Ringo, who has Todd's bomb. Apparently it's a literal bomb, not a film that performed poorly at the box office. Still. Black dude wants to kill Todd for being part of the plot, but Justin Beiber and Ringo want to give Todd a chance. All we are saaaayyying … is give Todd a chaaaaance. They let Todd go. Bye Todd! Poor Todd's all like, "Where the fuck am I?" Check Google Maps, Todd! Oh. Right.

Sad little room. Mopey's all dressed up nice when Milton from Office Space comes in. Is this the scientist she's supposed to be working on? They seem to know each other, and Milton claims he'll never forgive her. For what? Oh, it would have been so helpful to watch this show from Season 1.

City street. Sideburns and the black dude are sitting in a car, chatting. Black dude misses his wife, and says that marriage and war don't go together. He obviously hasn't been married long. Zing! Another car comes by to pick him up, and off he goes. Bye, random black dude! Best of luck with … whatever it is you're doing.

FBI Headquarters. John Boy wants an update from Interrogation Guy, who says that John Boy fucked everything up by not installing video cameras in the office. Well geez, John Boy is a poor country bumpkin from Walton Farm, how was he supposed to know?

Bedroom. Sideburns is listening to news on the radio when Felicity comes in. She asks him his son's name, and Sideburns tells her it's Mischa. Wait, what? His son? The fuck does that mean?

FBI Headquarters. John Boy wants some report, but Martha says it's stuck in the "mail robot." Oh this I've gotta see. Yep, it's just what you'd expect an '80s robot to look like. This thing delivers mail? John Boy tries the key but is unable to get the goddamned robot open. We can't have nice things!

Felicity's house. Felicity and Paige have a long, dull discussion about Felicity's friend Gregory, who I assume is the black dude. Seems like he might have a bit of a checkered past. Maybe he's set fire to more that one white boy in his time.

Computer room. Filled with big ol' beige computers and cancer-causing monitors. Yakov Smirnoff is typing away when Mopey comes in with some tea for him. Oh, so he's the scientist? I am so lost. She says she's there to help him in any way she can, but he rejects her immediately for her lack of scientific knowledge and her inability to put lemon in the tea. Dude. Any way she can. Russian scientists can't read between the lines, apparently.

Martha's place. Martha's having herself a glass of wine when her husband comes home. This guy looks familiar. Wait – that's Sideburns in a disguise! Does he have more than one family? Oh shit. It looks like he does. Ha! Awesome. Martha tells him that she met a guy yesterday, and that guy was Sideburns in his Sideburns persona. So she knows he's a fake. Busted! Polygamy will bite you on the ass every time.

Apparently this iteration of Sideburns is Clark, which I hope to God is a nod to Clark Kent, and he manages to smooth-talk his way out of trouble and back into Martha's heart. Hey – Martha Kent! It can't all be coincidence. Just as an aside here, I don't know why Sideburns has to have two wives, but the idea of stepping down from Felicity to Martha? Yeesh.

Not Alan Arkin's house. Felicity pops in and asks Not Alan Arkin for a favor. She wants him to help get Sideburns' son safely out of Afghanistan. Oh, sure, no sweat, I'll just make a couple of quick calls and – wait, what?

The final shot is of Clark Sideburns in bed with a half-naked Martha. Thanks for that. I didn't need my lunch anyway.

Next week! Um … I honestly have no idea. They showed a preview, but everything went by so fast I couldn't make heads nor tails of it. So I'm gonna guess … Russian spy stuff?

​