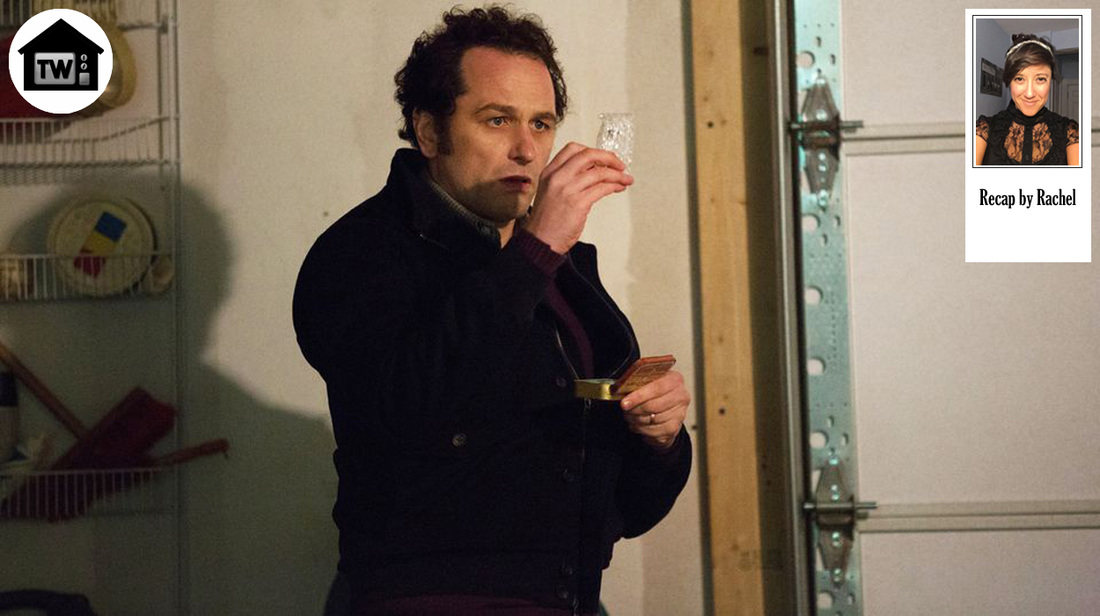 Welcome back folks! It feels like it's been forever since Felicity and pale-ass Paige got back from East Germany, but don't worry, she's just as obnoxiously annoying as ever.
The season kicks off with a heartwarming flashback of Sideburns as a child, viciously beating another kid to death with a rock. What's the opposite of rose-tinted memories? Later on he questions if his experiences as a kid turned him into the (cold-blooded murdering) person he is today. Seems pretty obvious to me.

Somehow this flashback sequence convinces him now's the time to tell Martha Dumptruck about when he framed and killed her colleague. Suffice to say, she is freaked the eff out. He apparently spends the evening creepily lurking on her while she sleeps, mostly so he can talk some sense into her in the morning.

He explains that he won't be able to come to her apartment anymore, but they can see each other just as often (aka hardly ever) at his place (which we've seen once) and nothing will change (aka he will continue to be MIA most of the time and emotionally absent even when he is around). Sounds fun. Poor Sideburns has to find the exact sweet spot of getting Dumptruck to trust him and still spy for him, but also scare her enough so she keeps her mouth shut. Good thing she doesn't have any other prospects.

Whiny little Paige spends the episode asking questions she doesn't want to know the answers to, betraying her parents' misguided trust by confiding in her one and only friend, and crying outside in the hall while the rest of her class recites the pledge of allegiance. GROW UP. Her life just got a billion times more interesting and worthwhile, but she's too naïve and self-centered to see it that way.

Meanwhile old man Gabe is looking closer to death than ever. Apparently he came out of retirement to be Felicity and Sideburns' handler, and I have to wonder, how much are they paying him? There's no way it can be enough to deal with their strained family dynamics.

But he has a new mission for them: Glanders! According to Google, it's some horse disease no one's ever heard of, but thankfully he vaccinated our favorite spies against meningitis. That'll probably keep them safe enough. It seems both the U.S. and the Soviet Union have been breaking treaties, playing around with biochemical warfare. So, you know, just a typical day in 1983.

They pick up the pathogen in a bottle, and it almost gets broken all over Sideburns' man-boobs when Stiffy Stan starts roughing him up after hearing he was on a date with Stan's (ex?) wife. They weren't actually on a date, but I can see why Stiffy would be suspicious. Given the insane discrepancy between Sideburns' and Felicity's hotness, everyone must assume Sideburns is packing some serious moves in the bedroom.

Back in the Motherland, slutty Nina and the Scientist continue their surprisingly asexual friendship. I keep waiting for him to confess to being gay, but maybe he just prefers blondes? Either way, the Russians build an airplane based on his design that has a "low radar signature," so he's safe, for now. Nina, meanwhile, puts in a request to see her hubby — who knew she even had one?

Overall, the first episode of the season was somewhat underwhelming. Lots of Felicity asking Sideburns if he was OK, him claiming he's fine even though he's clearly on the brink of a meltdown, and people having quiet conversations where they explain they can't talk about anything. Oh well, the rest of the season looks sure to pick up!

Next week: The show admits they have reneged on their contract with kid Henry, and they bring in a Mexican kid in an effort to diversify the cast.
​