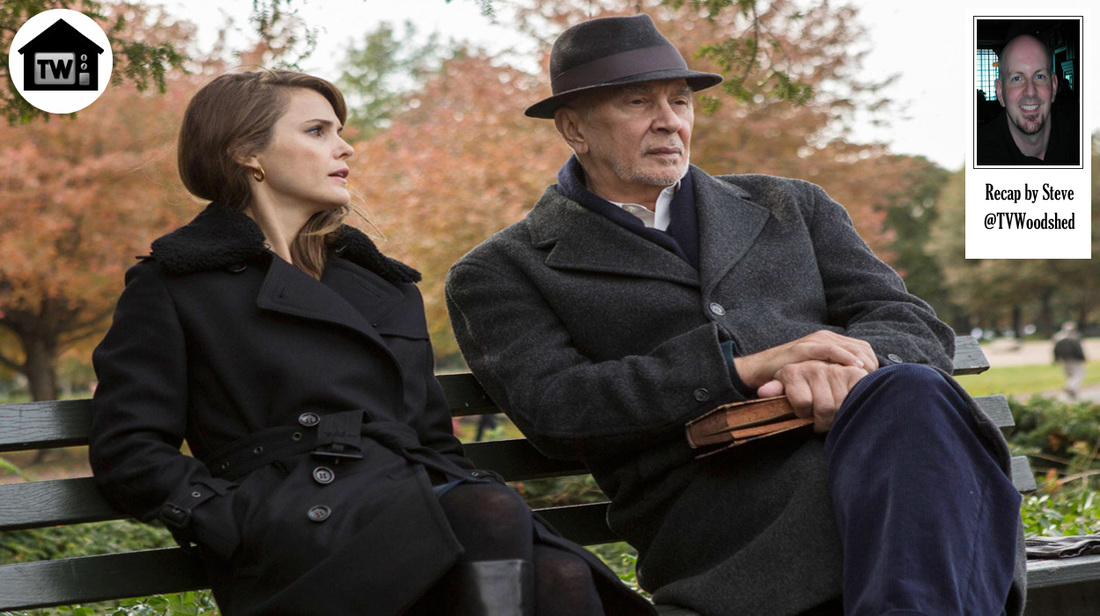 Zdravstvuyte, comrades! While Rachel is off globe-trotting, I'll be taking care of this week's The Americans recap. I haven't watched since about mid-Season 3, but I'm hoping that there's less breaking bones to fit dead women in luggage and more Felicity's bare ass. So, pour a glass of vodka and let's dance!
We start off right after Stan the Stiff gives Sideburns a shakedown, not knowing there's a biological agent in his pocket. Is that a biological agent in your pocket, or are you just happy to see me? I kid, I kid.

Sideburns and Felicity take the agent down to the basement and put it in a cooler behind the dryer. Eh, seems safe. Then they have a long, sincere discussion about Sideburns' primal scream classes, or whatever they are, and Felicity asks if he'd like her to come along sometime. His mouth says sure, but his eyes say nyet!

Felicity and Sideburns meet with the guy I always thought was Alan Arkin, but sadly, is not. Not Alan Arkin tells them there's even nastier stuff than the pathogen that Sideburns has been carrying around. Hey … the stuff is on the table! Didn't we just put it behind the dryer? Why bother hiding it if we have to drag it out every other day? Sideburns and Not Alan Arkin argue over who should move the stuff out of the country. Where's it going? Canada?

Not Alan Arkin surprises Sideburns and Felicity with a computer that they're to gift to the kids. Oh, I hope it's a Lisa! Don't forget your floppies.

And now we've got two Russian guys in a very Russian-looking room discussing Russian things. I don't know who they are, but somebody's brother is dead. I'm sure we'll be back to the main storyline soon enough.

And we are! Felicity is listening to phone conversations between Paige and I assume, since his name is the title of the episode, creepy Pastor Tim. Everyone's favorite pedophile. It seems Paige has told the good pastor about who her parents really are. Oh, she's gonna be so grounded! Felicity confronts Sideburns with this information when he gets home. Can't a guy just have a glass of whiskey after a long hard day of spying? Felicity wants to kill Pastor Tim. Sideburns offers up other ideas, but things aren't looking so good for ol' Tim at this point.

Over at FBI headquarters, Stan and John Boy are talking about things that someone who watches the show might understand. I hope those people enjoyed that short scene.

Sideburns breaks into someone's house, looking for something. He finds an address book, which for you youngsters is where old people used to keep their contacts. You kids, with your iPhones and your Spirographs. You don't know nothin'.

Sideburns comes home and tells Felicity that Pastor Tim goes to a religious retreat to write his sermons, and that he'll be there the day after tomorrow. So pack up the hacksaw, we're goin' on a road trip!

At a factory (?) Boris meets up with Nina and they get caught up on one another's lives in Russian. I have no idea who Boris is, but I vaguely remember Nina. Wasn't she supposed to get in some Russian scientist's pants to get a reduced sentence or something? Anyway, it seems like Nina and Boris were once a thing, and now they both regret that they're no longer a thing. Nina asks Boris to give something to some other Russian guy, and Boris agrees. So there's that.

Sideburns, in one of his terrible trademark wigs, watches a bus and waits for the driver to go have a smoke and for a pilot to get on. He boards the bus himself, passing a teenager with a Walkman playing Soft Cell's "Tainted Love." Because it's the '80s, that's why! Sideburns sits by the pilot and slides him the little box with the biological agent. The pilot's nervous because he thinks his co-pilot knows something's up, and he gets even more nervous when a security guy boards the bus and sits nearby.

Security guy starts asking a lot of questions, so Sideburns seizes the opportunity and chokes the guy to death. It takes a really long time. Thankfully the teenager has been grooving to Soft Cell and doesn't see or hear a thing. Sideburns has to ride next to the dead guy, which I'm sure for him is just another Wednesday night.

Felicity, dressed like pre-afro Greg Brady, sneaks into Pastor Tim's retreat cabin, looking for creative ways to kill him that will look like an accident. She seems to settle on gas and fire. Mmmm, roasted Pastor Tim. Them's good eats!

Sideburns and the pilot ride the bus to Terminal 4, where the pilot and the teenage girl disembark. Sideburns looks over and sees that the pilot left the biological agent behind. Sir? Pardon me, sir? I believe you forgot something! Sir? They roll back to where they started and Sideburns, taking advantage of the driver's really frequent smoke breaks, sneaks off the bus.

In some horribly dank Russian cafeteria somewhere, Nina tells some scientist dude that she thinks she has a way to let his son know he's alive. Why are they speaking English with Russian accents? Is it for our benefit?

Stan the Stiff meets with the Russian dude from earlier in his car. You know, the Russian dude whose brother got killed? It sure would help for me to learn some names here. Anyway, there's some prisoner exchange that isn't going to happen now, and Stan tells the dude how sorry he is about the dude's brother. So there's that too.

Sideburns and Felicity have a chat in their '80s-style bathroom. Felicity isn't happy that the bio weapon is back in the house, but Sideburns points out you can't just leave it on a bus seat. Sideburns tells a sweet story about killing a kid with a rock when he was 10 years old. Yeah, we all did that when we were young, it's no big deal.

Sideburns has a walk-and-talk with some guy about the biological agent. Sideburns wants to do a drop with it, but the guy paints a grim picture of what might happen if some kid or dog happened upon it. Man, you can't even give this stuff away!

Felicity meets with Not Alan Arkin on a park bench. NAA says that the bio weapon will be taken care of, then breaks the news that Felicity's mother died with all the softness and compassion of a water cooler. NAA says that Felicity's mom said she loved Felicity and Paige before she died. Felicity I can believe, but Paige, not so much.

In a crappy office, assumedly in the Russian factory, Nina meets with an older gentleman. Man, Nina gets around, doesn't she just? Nina did something wrong and the older gentleman is disappointed. I think it has something to do with that scientist's son. I don't know, I'm just a scab.

Paige and Felicity have a moment in the kitchen over Felicity's mom's death while Henry — that's the other kid's name, right? — has dinner at Stan's. The heck? Henry confesses to Stan that he's got a crush on his big-titted science teacher. Stan notices that Henry's wearing cologne and offers him a free bottle. What in the name of Lenin's beard is going on here?

Back at home, Paige is very sad. So what's new? She confesses to Felicity that she blabbed to Pastor Tim, and Felicity gets mad. And then she gets understanding and sympathetic. We've really got a full range of emotions in this kitchen.

Sideburns comes home and Felicity joins him in the garage to get him up to speed. Felicity says they're in trouble. Um, you're Russian spies living deep undercover in 1980s America. Of course you're in trouble!

Another week of The Americans and no bare-ass Felicity. Translation: another week wasted. Sigh.

Next week: Paige runs off to Pastor Tim's retreat and joins his secret cult, becoming his 17th bride. Sideburns gets a wig so convincing that he's able to go on tour as Conway Twitty. And Felicity finally confronts all the haters who blasted her when she cut her hair in '99.
​