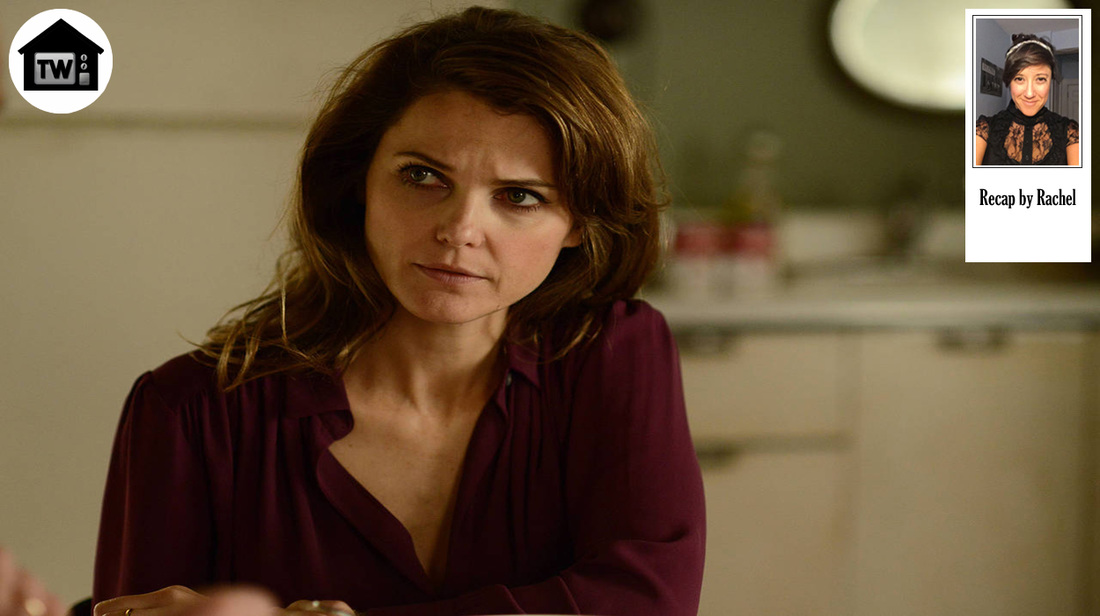 This week's episode is titled "Chloramphenicol," which I googled, and it's apparently an antibiotic. That's the second time this season I've had to google the title of the episode. And people say TV isn't educational!
This week's episode picks up right where the last one left off, with everyone's fave power couple making plans to wait out their quarantine period with Old Man Gabe and their new bestie, the epidemiologist turned spy. Not only do they need to ask annoying Paige to look after their other kid, what's his name, but they also have to cancel the hit on Pastor Tim and his wife; an activity everyone would prefer to just get over with. And why is that he must always be referred to as Pastor Tim? It's not like they know any other Tims, nor are they in the habit of using anyone else's job as a first name. Oh well, PT it is.

We jump across the ocean to the Motherland where Oleg is visiting his father, since his bro died recently. Oleg usually comes off as a smarmy, condescending, '80s version of Rich Kids of Instagram, someone who only got to go play in America due to his daddy's connections. And now we get to see him in all his spoiled brat splendor, whining to Daddy that poor traitorous Nina was left to rot in prison, and how she's too pretty to be treated like such a commoner. But Daddy knows how to play the manipulation game well (after all, Oleg had to learn from someone!). He essentially bribes Oleg into sticking around and looking after his depressed mom, by promising to help Nina.

Back in DC, little Henry is clearly starting his awkward phase, made all the more awkward by the fact that Stan the Stiffy seems to be his only friend. I swear their scenes together would almost make more sense if Stiffy was trying to diddle him on the side, but instead we have to presume they are simply two lonely losers, willing to overcome convention and the 40-year age gap for the sake of having someone, anyone, to talk to.

The majority of the episode takes place in the old dude's incredibly grim apartment. Does he know he's not in Soviet Russia anymore? Did they have maids back in the '80s? What about IKEA? The spies pretend to care for half a second about Henry and his biology test that no one helped him prep for, but Epi Guru shuts that shit down ASAP and tells them to refocus on their priorities, primarily washing their hands a lot and trying not to die.

Felicity has a bad reaction to the antibiotic, aka I assume they just filmed her experiencing her normal morning sickness since she's knocked up in real life by her co-star. (Just imagine, once that kid is born they can watch romance in action as their dad holds their mom's hair back while she pukes in the dirtiest toilet ever. Lucky bastard.) Ultimately, Felicity thinks a lot about death, and what little shits daughters can be no matter what country you're in, and somehow in the end the spies decide they can't kill PT, and should instead try to turn him. Ambitious, those two.

In the office, Token Black Agent finally gets the balls to ask out Martha, and she agrees either in an effort to keep her secret hidden, or out of sheer desperation. Either way, it's not a good look on her, but then again, what is? She tries stalking her hubby Clarke by calling a billion times and threatening to date a co-worker, but of course Phillip couldn't care less and doesn't get back to her.

She goes on the date, and it's so jarring seeing someone actually express romantic interest in her. She feigns too cool, and ultimately explains it's because she's dating a married man. She tries to justify it by saying it's the most honest and simple relationship she's ever had, and that they provide each other with comfort and companionship. You can practically see the wheels turning in her head as she tries to lie to herself while fabricating her dream relationship; so pathetic.

At the same time, Stiffy is finally doing something interesting and lurking through Martha's apartment. You can just see how peaked his … interest is when he finds her gun, condoms, and Kama Sutra book. I mean come on, who wouldn't be turned on by that combo?

In the end, we see Daddy Oleg's promise come to life. Or rather, the exact opposite of that. In a shocking ending to an otherwise slow-moving episode, poor gorgeous Nina gets casually shot in the head at point blank. Apparently the USSR has enough good-looking spies that being a piece of ass isn't enough to save you. RIP Nina.

Stay tuned next week as our fave spies have to hide their disdain for all things religious and try to talk to PT, and Philip tells Martha he loves her in the most deadpan, unconvincing tone of all time!
​