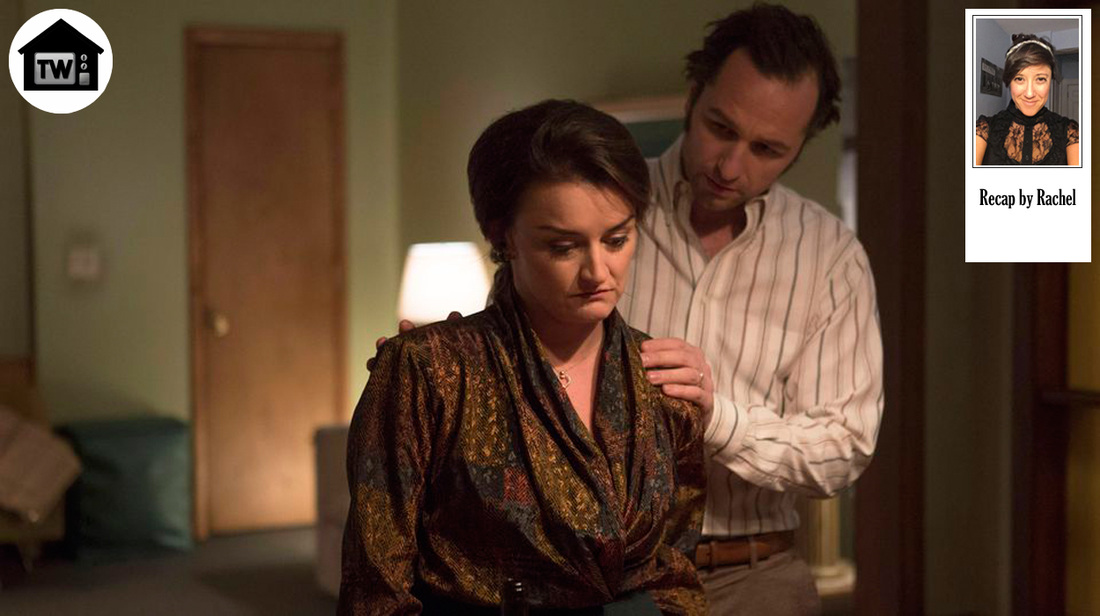 Martha, Martha, Martha! Man, if you thought Paige was annoying (and she is), at least she's easy on the eyes. Wait until you suffer through this entire episode of equally annoying Martha and her fugly mug.
We start off with Martha drinking alone and popping pills, and that sort of sets the tone for the whole episode. Martha's role seems to be growing exponentially, in tandem with the bags under her eyes and the likelihood of her committing the sui.

She cries to her fake husby about how he wasn't (and is never) around when she needed him, and he apologizes like always, same old same old. However since Phillip is skilled at reading people, he can tell she's about to implode. To appease her, he gives her a phone number she can only dial from a payphone, where he can be reached at all times via a third-party unknown woman. And by gives, I mean lends her so she can memorize, explaining he will need the slip of paper back in the morning. Totally norms.

Pale-ass Paige wakes up her MILF to whine about how she needs more information, and inadvertently tips Felicity off to the fact that Stan the Stiffy was asking about where they were last weekend. She tries to demand the truth, and Felicity essentially tells her to STFU, explaining that telling her the truth hasn't done anyone any favors.

Oleg finds out that Nina's been executed, and immediately peaces out back to the land of the free. He literally couldn't give two shits about his recently dead bro. He later meets up with Stiffy to share the tragic news, and the two sit in a car, mourning the death of their boners. Can you still be Eskimo Brothers if the girl gets executed?

The spies go visit PT and his wife Alice, bringing along "Father Rivas," some hired Salvadorian who pretends to be a priest, telling horror stories that paint a very altruistic picture of the Commies. Then they go back to work on their annoying daughter some more, and it's very impressive the way they convince her to do what they want without her even realizing it. Not sure if that speaks to how stupid she is, or how good they are at their jobs …

Martha takes the bus to her fake husby's apartment, completely oblivious to the fact that she has two tails; what an ignorant peasant. Phillip gets warned and has time to escape, and by the end of the episode he knows Token Black Agent is the one dating and stalking his fake wife. The interesting part is that he almost seems to care about her well-being.

At the end of the epi, Stiffy's son Matthew comes to visit, and I'm glad people are finally starting to realize how suspect Henry and Stiffy's relationship is. Felicity calls out how often Henry goes over there, not to mention the fact that neither of her kids have a single friend their own age. And lil' Matthew looks about as comfortable in his dad's house as a transgendered person who really has to pee in North Carolina. But Stiffy and Phillip make up, so that's good. Wonder how you say bros before hoes in Russian?

At the end, we get an excellent use of the late great Bowie's "Under Pressure," as Felicity realizes Token Black Agent is working with Stiffy, dating Martha, and is the same dude she beat up last season in an effort to defend their Afghan list of comrades. Things are getting tense, so they wisely decide to bang one out in a hot montage, while poor old Martha cries herself to sleep, all alone except for her stalkers.

Come back next week! Old Man Gabe is about to kick the can, and Martha finally seems to finally realize she's in over her (unattractive) head.

​