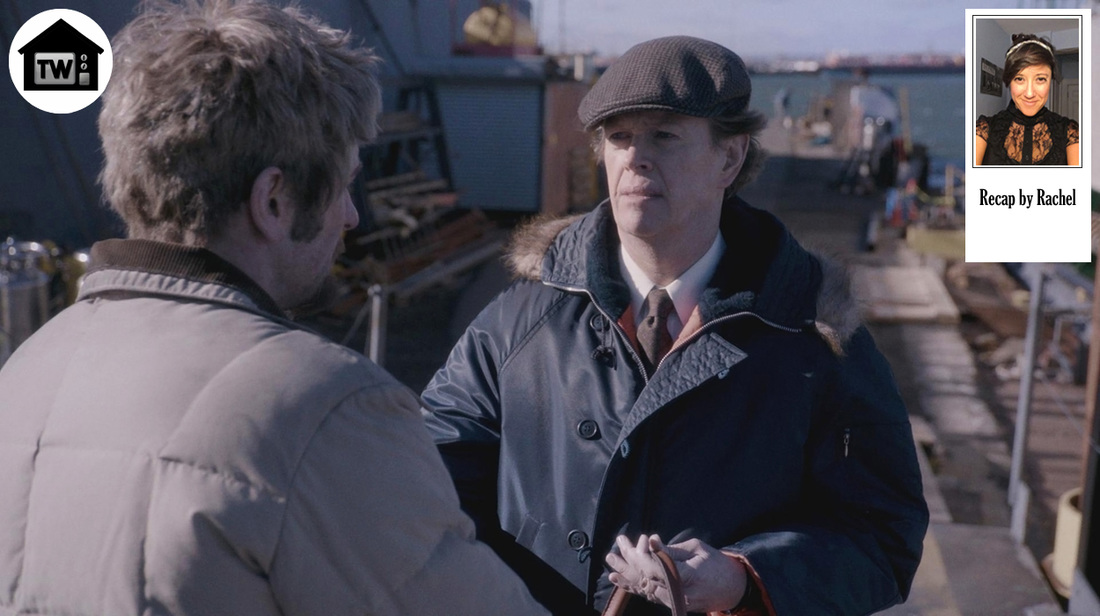 No, it's not a reference from The Depahted ; it's a slow-motion character study of everyone's least favorite secretary completely becoming undone. And for those of you who thought Martha was ugly in this show, just check her out in Confirmation as Ms. Clarence Thomas … yikes!
The show starts with Martha getting ready for work: putting on the most marmish outfit she can find, popping pills, grabbing her gun JIC, the usual stuff. When she gets there, she doesn't realize that Stiffy and Token Black Agent are prying into her sad past, but she's starting to suspect.
Meanwhile, Sideburns is meeting up with the Epidemiological Guru, asking for another Glanders sample. You know Mother Russia is scratching the bottom of the barrel when you have these two sad sacks trying to convince themselves and each other that they still care about the mission. They're both so half-hearted about it all, you're just waiting for one of them to come and out propose they ditch their current shitty lives and go bro out somewhere warm and sunny. But instead, Epi Guru tells him that Glanders is so two weeks ago, and he'll get him some Tularemia (read: new gross weaponizable bacteria) instead. Tularemia is the new black.
Unfortunately now it's not only Martha who's coming undone. Sideburns is freaking out also, which means a lot more than when it was just unstable Martha. He picks her up off the street, and takes her to Old Man Gabe's decrepit apartment, without offering much of an explanation. TBH, I would be freaking out also if I was her — you just know this apartment reeks of sadness and death.
Meanwhile Sideburns, O.M.G., and Felicity keep talking about her in fevered whispers when she's 10 feet away, as if she can't tell something is clearly wrong. Sideburns admits to everyone that he gives zero shits about all the rules, and that's he revealed his true self to Martha. It's almost endearing the way they all act like a shitty blonde toupée and cheap pair of non-prescrip glasses is some master disguise … but there's no mistaking it, he has betrayed his country (and more importantly his hot wife) by letting Martha see the real him.
Felicity offers to take over for the next shift, but Sideburns pushes her further away by insisting he stays with Martha tonight. They both know some sketchy, dramatically tense sex is the only hope they have of putting Martha to bed that night, especially after he tells his fake wife that he's been working for the KGB. The whole uncomfortable scene is a vivid reminder that unseemly manipulation sex was a very important upper-division class back in spy school.
In the morning, things have gone from bad to worse. Martha can't pull her shit together so she calls in sick to work, prompting her stalker agents to kick their prying into high gear. They lurk through her apartment, as well as the one she and her husby "Clarke" use to meet up. From that lease they get his fake name, and start a full-on national search to try and find the scumbag.
Meanwhile, she's coming to the realization that she's never going home, and has no upper hand in this situation. She actually pleads for things to go back to how they were, seemingly forgetting how miserable she was only two days ago with her old life. Hindsight is always 20/20 and all that …
O.M.G. tells Sideburns he needs to go meet up with Epi Guru to get the latest in biochem warfare, even though things are so tenuous at his dumpy apartment. Martha is still resting from that gross sex they had, and instead of leaving her a note explaining he'll be back soon, he just takes away her gun. It seems like a good idea at the time, since even he can sense how close she is to offing herself.
However, it (the plan, not the gun) backfires because when she wakes up, she is even more sketched out than ever. Her husby is gone, and there's only a skeevy old man in the flop house with her, and you can tell she's starting to feel like one of those nameless kids in
Texas Chainsaw Massacre
who never makes it out alive. She walks out on him, probably figuring life on the streets is better than ending up a part of Leatherface's mask.
Come back next week, as the manhunt for Martha continues! We see Sideburns holding a gun, and Martha begging for it all to end, so I think some of our dreams just may come true …