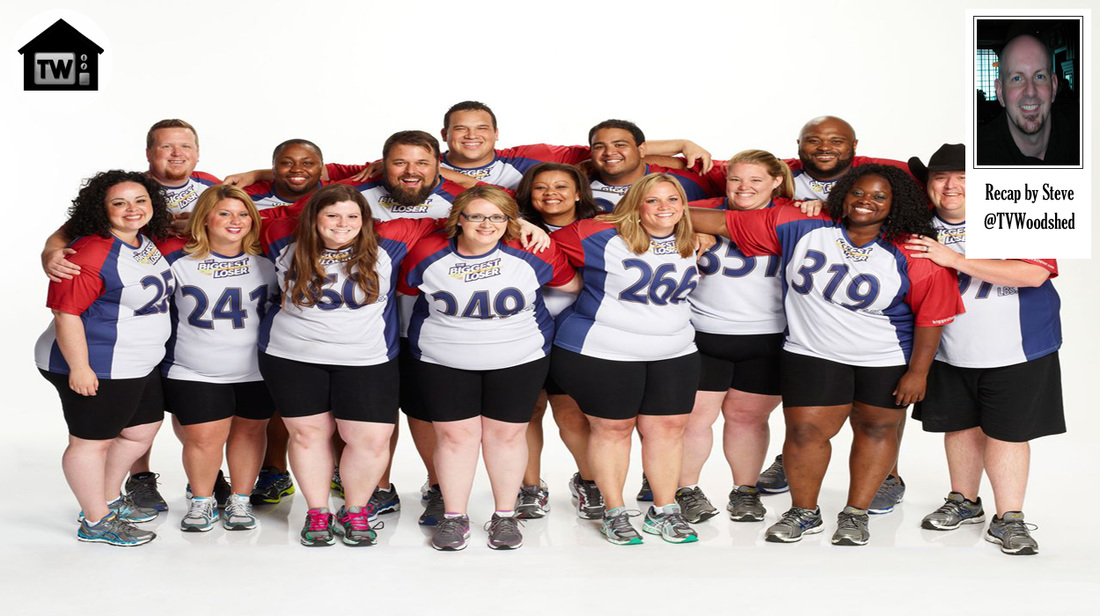 It's Makeover Week! Or, more accurately, "You Can Look Pretty for a Day and Then It's Back to Sweats and Spanx for You, Fatty" Week.
The remaining contestants head off to Beverly Hills to meet with Tim Gunn. This guy again? Seriously? This is the only pseudo celebrity interested in dressing up the mid-season Biggest Loser cast? The guy with him, I swear to God I thought he was Tim's houseboy, but apparently he's famous because he cuts the hair of famous people. I trim my own beard and I get squat. Thanks, Obama.

Tim gets a hold of the contestants first and dresses them up in what he feels is finery. They're all thrilled with how they look and being able to fit into smaller sizes, but let's talk about the gorilla in the room, here. They've worked hard and lost a shit-ton of weight, yes, but they're all still pudge-pots. There's only so much new clothes can do to hide the jelly rolls, amiright? Why they don't do makeover week as a reunion show is beyond me, but I just work here.

Next the contestants are off to houseboy Ken Paves' salon for hair, makeup, and possible happy endings in the back room. There are lots of close-up shots of hair cutting and coloring, which honestly could be footage from an entirely different show and we'd never know it. It could all be a montage from an old Mary Tyler Moore episode. Don't we all feel stupid now?

And then, suddenly, Orange Marie is all, "Oh no, you're not giving me one of those short haircuts." I thought this was the week the contestants looked forward to all season? And you're in a Beverly Hills salon and you're balking? Bitch, please. Turns out Orange Marie has issues with her hair, so houseboy Ken takes her into the alley – which is actually a pretty nice alley, as alleys go – and talks her down. And she gets the short cut anyhow. What a twist!

Then the contestants are whisked off to … a brightly lit garden path. Bit of a letdown after 90210, but hey, Ali's there with her winning smile and her sparkling blue eyes. Looks like she let NBC pay for her makeover as well. You go, Ali! Stick it to the man! One by one the contestants reveal themselves and then wait for their families to clear the hedge so they can get a good look at the relative thinness underneath the relative glamour.

Admittedly, Gray David looks COMPLETELY different without his big ol' beard. I was quick to point out his eerie resemblance to Steven Richards but was met with a chorus of blank stares. Turns out Biggest Loser fans and WWE fans are not in the same demographic. Who knew?

The contestants join their families for a lovely dinner of lettuce wraps and parsley before they're shipped back to the ranch to be made to feel guilty for their makeovers. Bob, Jillian, and Sexual Chocolate lead the gang in a last chance workout, and as hard as it may be to believe, there's lots of screaming, sweating, and positive reinforcement. Oh, that's original. Just once I'd love to see the trainers gathered around a bucket of KFC while the contestants sang their favorite show tunes as their last chance workout. If only to hear all the Biggest Loser fans across the country say, "Thefuck?"

And then it's weigh-in time. There's a lot going on here – two people will be sent packing, the Final Five will be doing something … on a tricycle … I don't know what's going on, I'm too busy admiring my one brightly colored package of Reese's Hearts and my other of Reese's Eggs and marveling over what an amazing time of year this is.

Aqua Bobby weighs in and loses 6 pounds. Red Tanya (is she still here?) loses 4 pounds. Pink Chelsea loses 4 pounds as well. Green Rachel with the 4 pounds too. What is it with the 4 pounds? You weigh them in beforehand, Biggest Loser, mix them up a little bit! Orange Marie – with some seriously blonde locks that are going to root out in no time – loses 3 pounds, and that just ain't gonna cut it. Cue Price Is Right sad horns. Then Blueish/Purplish Jennifer weighs in and loses … yeah, you guessed it, 4 pounds. Last up is Gray David, who must have lost 10 pounds in the beard alone. He actually drops 7, so Orange Marie and Red Tanya (is she still here?) get their walking papers.

So with that we have the Final Five, who will be doing a triathlon – not a tricycle, as reported earlier – next week. And I will happily root them on from my recliner.
​