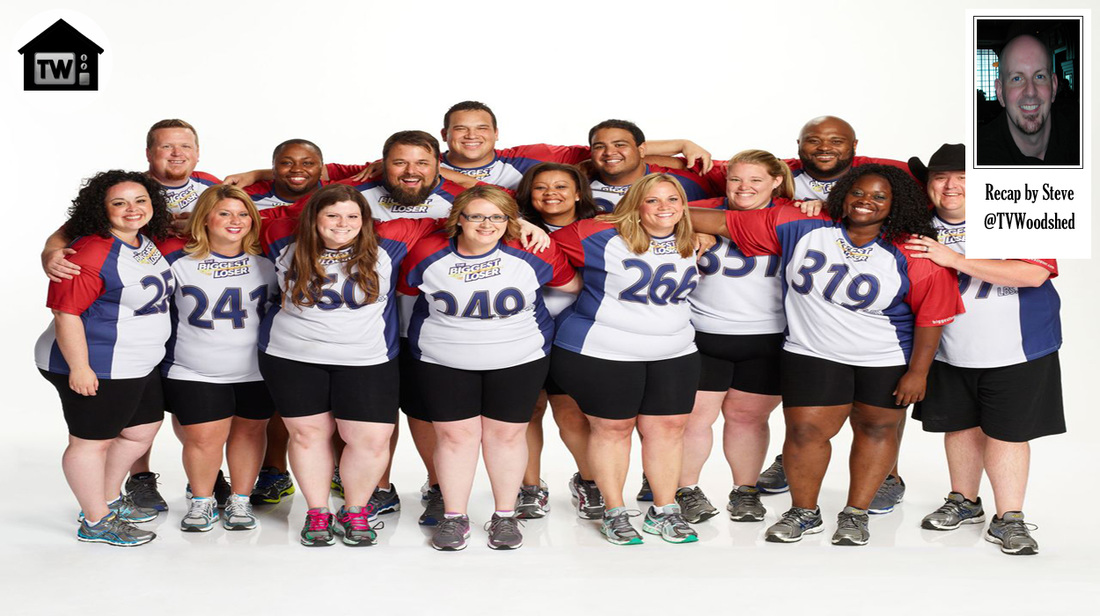 And as a gift to all the Biggest Loser fans out there, this, the penultimate episode of the season, is only an hour! Huzzah! Thank you, Biggest Loser. We'll all miss the crass commercial placement and endless padding of a two-hour episode, but we'll get by somehow
We start right in the gym, where so many drops of sweat and buckets of chunder have been spilled, to catch up with the Final Five. There's a ton of introspection and blather about changes and second chances and journeys interspersed with footage of the contestants as former full-on fatties and as current semi-fatties. It's all to kill time since there are only five of them left, and man, does it show. The only moment of note is Jillian telling Aqua Bobby that he needs to face his fear or live with regret. Remember that, it's important later.

After a brief "Where Are They Now?" with Red Tanya, we move on to the moment we've all been dreading – the tryathlon. Oh, but this is no ordinary tryathlon, no! It's a really, really short tryathlon with the swimming and biking and running distances all greatly reduced. Okay, I call bullshit. They've been hyping this thing up for weeks and the contestants have gone on and on about how intensely they've been training, and now it turns out the event is something a six-year-old could do? Weak. Lame. Bored now.

Anyway, the winner of this walk in the park wins the gayest car known to man. It's black with a big pink … something on the hood. Actually, it could be a vagina. Okay, not quite so gay. The winner, no need to call spoiler alert, was always going to be Green Rachel, but let's go through the motions anyway.

The contestants sprint for the water and they're all decent swimmers, except Green Rachel, who was an award-winning swimmer and takes off like freakin' Namor the Sub-Mariner, and Aqua Bobby, who swims like a retarded yak.

Just as Aqua Bobby (whose name is pretty ironic at this point) is about to drown, he has a flashback to his one-on-one with Jillian and somehow finds the strength of will to swim the requisite 20 feet. Or maybe he got pulled along on the safety kayak they had for each swimmer, it's hard to tell with all the editing. Either way, everyone survives the water.

Then after a quick wardrobe swap, it's off to the bikes! Once again, Green Rachel takes a huge lead, and once again, Aqua Bobby pulls up the rear. Then they have to run for a little bit, and really, the order never changes. Green Rachel wins the thing by an emotional mile, followed by Gray David, Pink Chelsea, and Blueish/Purplish Jennifer, all with reasonably respectable times. Aqua Bobby finishes in a week and a half.

Back on the ranch, the trainers sit each contestant down and make them watch highlight reels of their time on the ranch. Everyone's all weepy and "Oh my God, I can't believe it!" when they see themselves, but seriously, how else are they going to react? Emotional music plays, everybody has a good cry, and on we go.

I'd breeze right over the "Where Are They Now?" bit with Orange Marie, but holy shit does she look good now. Still sporting the platinum blonde locks they gave her on Makeover Week too. Rowr.

And here we are. The final weigh-in. Time so separate the wheat from the chaff. Or in this case, the chocolate from the marshmallow filling. Green Rachel weighs in and loses a pound. One pound! But for realz, it looks like she can't possibly lose any more weight at this point without cutting off a limb. Pink Chelsea weighs in and loses 7 pounds. Blueish/Purplish Jennifer loses 3 pounds. Aqua Bobby loses 17 pounds, like you do, and Gray David loses 16. That means – drumroll, please – the final three competing for the title are Gray David, Green Rachel, and Aqua Bobby! Two guys and a girl. Eh, well, a guy, a girl, and Aqua Bobby.

And that sets up next week's live season finale. Who's going to have silver confetti rain down on them from heavenly air cannons? Tune in next week to see!
​