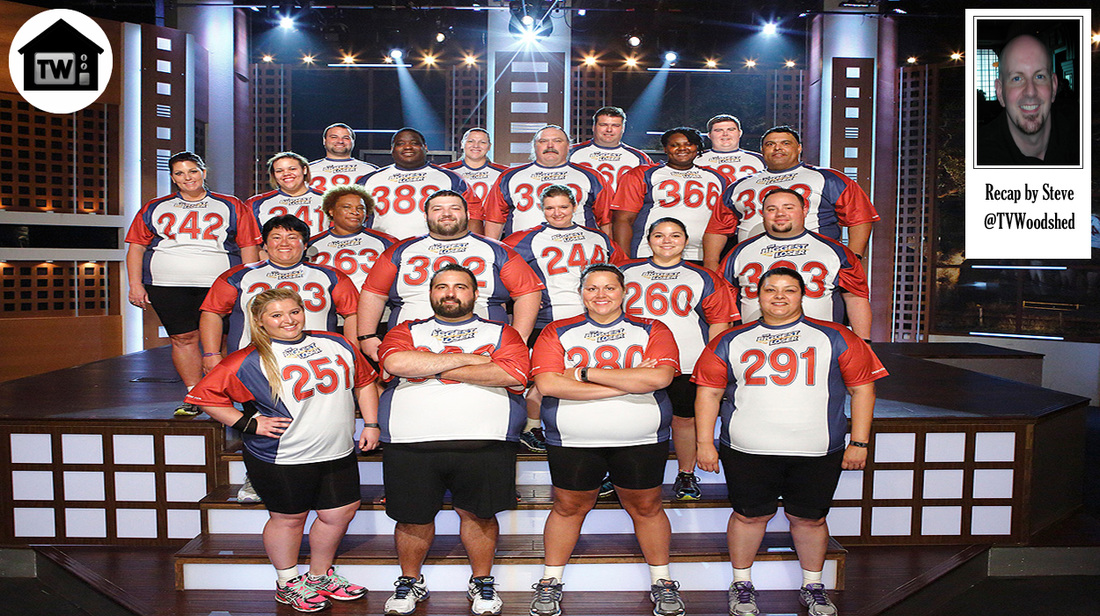 New contestants. New trainers. New opportunities to get back on the ranch if you get kicked off. Same old blubber.
Ah, here we are. A fresh start, a clean slate. It's like the first day of school. We're all in our places with bright, shining faces. We have a brand-new season ofThe Biggest Loser. New night. New trainers. New crop of fatties to keep running on the treadmill until they puke up their socks. I love the smell of puked-up socks in the morning! What are we waiting for? Let's do this!

Dramatic opening music plays as we circle high over a football stadium. Oh, shit, sorry, I'm watching the Steelers/Ravens game. Okay, here we go. Dramatic music plays as we circle high over a football stadium. There's a stage set up at center field where we find Ali – hi, Ali! – resplendent in a canary yellow dress, telling us that the contestants, all former athletes if you haven't heard, are on their way to the stadium. We see them in the Official Biggest Loser Bus and they sure don't look happy.

They arrive at the stadium and first off is Zina, who claims she once played the finals of Wimbledon. Yeah, sure you did. You look nothing like the picture, toots. She was ranked number 4 in the world, and now she's 260 pounds and wants nothing more than to get back into that tennis skirt again. Not that she couldn't now, we just really wouldn't want to see it.

Then there's Damien, a former football player with two Super Bowl rings and seven kids! And he's 36! Looks like the flab hasn't kept him from all forms of exercise, know what I'm sayin'? Damien is followed by Gina, who was a former cheerleader. Um, I thought this season was all former athletes? How did Gina slip by?

Then there's Lori, who won three Olympic medals in softball. Olympic softball? That's a thing? She and all the others line up about 100 feet from Ali's platform, though they can hear her just fine, and she congratulates them all. For what? Eating Twinkies?

Ali gives them all a pep talk, then introduces the trainers, who walk up through a dramatically backlit tunnel. First is Dolvett! Sexual Chocolate! Yow. They cut to interviews with JJ and Scott, who seem stunned that the show has two new trainers. Have you guys seen this show before? All they do is come up with swerves to try and keep it fresh! So shut up, Scott and JJ.

We then meet trainer Jessie, who has cheekbones you could grate cheese on, and who apparently had a bowl of cocaine for breakfast. They show him running with a parachute. He's that fast that he can't stop on his own? He says he wants to figure out what's cracked in the contestants' heads that made them get all lumpy. So he's kind of a Bob/Jillian hybrid. Let's call him Billian for now.

The chick trainer is Jen. She says that people either operate from fear or love. Oh Jesus, who hired the goddamn hippie? They show shots of her running down the beach Baywatch style … and … I've lost my train of thought.

The trainers come running down to meet their victims. There's some back and forth with Ali about changing lives and whatever, and Dolvett makes me lose a little love for him by repeatedly referring to the contestants as "ath-a-letes." Oh, Dolvett. You're killing me. Jen and Billian make their speeches, and make it abundantly clear they're no Jillian and Bob. Not that that's a bad thing.

Oh boy, now it's time for cellulite and stretch marks! First weigh-in! They start with Scott, a former NFL quarterback, who is 366. Blake, who gets no story, is 251. Toma is 336. Lori is 301 and it makes her very sad. Cheer up, buttercup! You'll be back in the 200s in no time! Jordan is 323. JJ is 392, and also very sad. He says his mom told him to watch his weight or he'd wake up and be 400 pounds. What a dope his mother was. He's only 392.

Vanessa is 366 and looks like she might have been born as a boy. Oh, she was in the WNBA. 'Nuff said, then. Damien is 388. Zina is 263. Matt is 386. Where my 500-pounders at? They show some younger pics of Matt, and damn, he was fine. Now he has stretch marks on his belly that look like flames. Which is, y'know, kinda cool. Rondalee is 280 and is missing a space between her first and second names. Jackie is 291. Are we about done here?

Andrea is 244 and, again, very sad. Buck up, sister! Have you seen some of these other weights? Gina, Chandra, Mike, and Rob weigh in with such quick succession that I don't even see their weights, but I'm guessing they probably don't make it too far in the competition anyway. Woody is 398. My God, we need to start eliminating people! This is taking forever. Woody's wife died of cancer nine months ago, so we'll no doubt be hearing that story again half a gazillion times before the season is done.

And we're off to the ranch! The contestants are forced to wear their starting weight on their shirts, which seems unconscionably cruel. Hester Prynne would not approve! But they seem happy enough. It won't last. They pile into the gym, and after a lengthy Planet Fitness plug, the beatings begin! Dolvett, Billian, and Jen shout out orders and encouragement and the Crisco starts pouring out of the contestants' pores. Who's gonna gakk first? Place your bets, folks! Who's your horse?

Gina professes some deep-fried love for Jessie, whom she refers to as "Yessie." Is that how it's pronounced? Really? Okay, that's absurd. You're stuck with Billian, dude. Jen works with Gina and spouts the "fear and love" bullshit again. Stick it in your bong, Flower Power.

We meet Mike, who is a former wrestler. Was he Jake "The Snake" Roberts? He sure looks like him. Mike's son died in the military, so we'll probably be hearing that story too.

They keep showing shots of Vanessa working out and I keep asking myself, "Who is this dude?" But, y'know, WNBA.

And we have our first collapse! JJ is on the treadmill and the Biggest Loser special effects guys are kind enough to add a wobbly blackout filter so that when he tumbles to the ground, it's excessively dramatic, instead of a big fat guy on the floor sucking wind. Doctor H is there to help. We don't normally see Doctor H this early in the season, and it's never good news when he's around. Maybe he'll tell JJ his fat percentage while he's down.

Someone had a semi-gakk moment, but I couldn't tell who it was. Sorry, gamblers, I don't think we have a winner just yet.

Trainer Jen and JJ have a heart-to-heart on the gym steps, but it's nothing you haven't heard or seen a thousand times in previous seasons, so we'll move along. The contestants settle into their rooms, and trainer Billian shows up to chat with Lori. He wants to know why she was so emotional, and she confesses that she had a miscarriage, then a baby, and then seven more miscarriages. Oof. Billian tells her that she's gonna succeed and all the usual stuff. Hooray!

Beach challenge! But it's a weird beach. It's a hill beach. And there's a highway at the foot of it, so everyone can see these poor lumps compete. That's not nice at all. Anyway, the trainers are in attendance for the challenge. The trainers are never in attendance. Something's up!

It's a volleyball challenge that doesn't resemble volleyball in the slightest. The fatties have to move an oversized ball through a maze and plop it by the net that corresponds to the trainer they want. And the two people who finish last are eliminated, and incur my wrath for making me learn their names. It's an ugly race, but the contestants get the trainers they want, for the most part, except Zina, who completely collapses at the finish line – like, medical attention collapses – and the WNBA dude, who goes out with an injury. Did I say the race was ugly? It was bowling shoe ugly.

Back at the ranch, Zina and Vanessa are packing their bags. Ha! Losers! They hug all the other players goodbye and hop in the limo. But hey, there's a camera in the limo. Shouldn't we have written these two off by now? The limo goes off the beaten path, and now it looks like they're taking Zina and Vanessa someplace remote to kill them. And that's not far off – they've found Bob!

Bob is hidden in a place called Comeback Canyon, where losers are sent to try and win the title of loser. So, if I'm understanding this right, Bob will keep training the weekly castoffs and keeping whomever is losing the most weight, and then he'll return to the ranch with the last contestant standing. Way to keep it simple, Biggest Loser!

Just as an aside, Vanessa is wearing the biggest hoop earrings I've ever seen. Seriously, grown parrots could be sitting in those things.

So Bob trains the hell out of Vanessa and Zina, taking a few minutes to psychoanalyze Vanessa and tell her that all of the problems are in her head, not her freakishly large and masculine body.

Back on the ranch, everyone is wearing their team colors and drinking from their water bottles when the trainers stop by for a visit. The celebration is cut short when Dolvett spots Jake the Snake, who has all kinds of medical gear on and around him. Jake tore his meniscus in a house show against Ravishing Rick Rude, but Dolvett is only inspired to train him harder.

Last chance workout! Screaming, sweating, and crying ensue! Fear, emotion, and doubt rear their ugly heads! I can't believe we still have 45 minutes left in this episode!

And, at long last, it's weigh-in time. Wait, first it's Comeback Canyon weigh-in time? This doesn't seem very official. It's just Bob, Zina, and Andrea the Giant, after all. But whatever, let's get it over with. Zina goes from 263 to 255, losing 8 pounds. The big guy needs to lose more than 12 pounds. She loses 14. Bye Zina!

Back at the real scale, the piles of flesh line up to get weighed. You know what's weird about this? Since the show was filmed so long ago, all these people are skinny now. Or at least skinnier. The show would be a lot easier if they showed the contestants arriving on the ranch, and then cut to the finale for the final reveal. Don't you think?

So the white team is first. Sonya, who looks like a miniature Sumo, loses 23 pounds. Matt loses 23 pounds as well. Rondalee loses 14. Toma loses 20. Woody loses 10. What's up with that, Woody? He feels like he failed. He did. JJ loses 14. Total percentage is 5.01%.

Red team is up next. Emmy loses 6 pounds. Dude. Weak. Blake loses 16 pounds. Jordan loses 22. Boom! Scott loses 23. Boom! Rob, the biggest guy on the ranch, loses 33 pounds! Christ almighty. Jake the Snake, he of torn meniscus, loses 38 motherfucking pounds! And red team is safe! Total percentage, 6.63%.

Blue team. Gina loses 14 pounds. Andrea loses 14 as well. Chandra loses 7. Jackie loses 8. Not looking good. Lori loses 9 pounds. Erg. Damien needs to have lost more than 38 pounds to save the team. And he loses … 7. Nice work, everyone. Blue team's gotta send someone home.

Hey, it's the return of the dinner platter elimination! Sweet! Everyone heaps praise on everyone else, but ultimately it's Andrea who gets the axe. But ho! She's taken down the bumpy road to Comeback Canyon! We'll see where that goes.

And now to check in with Zina. She's lost 40 pounds and is back on the tennis courts. She's training the girl who's going to face Serena Williams in the US Open. And we all know how that turned out. Hopefully it doesn't drive Zina back to Pop-Tarts and spreadable cheese.

Next week: More of the same!
​