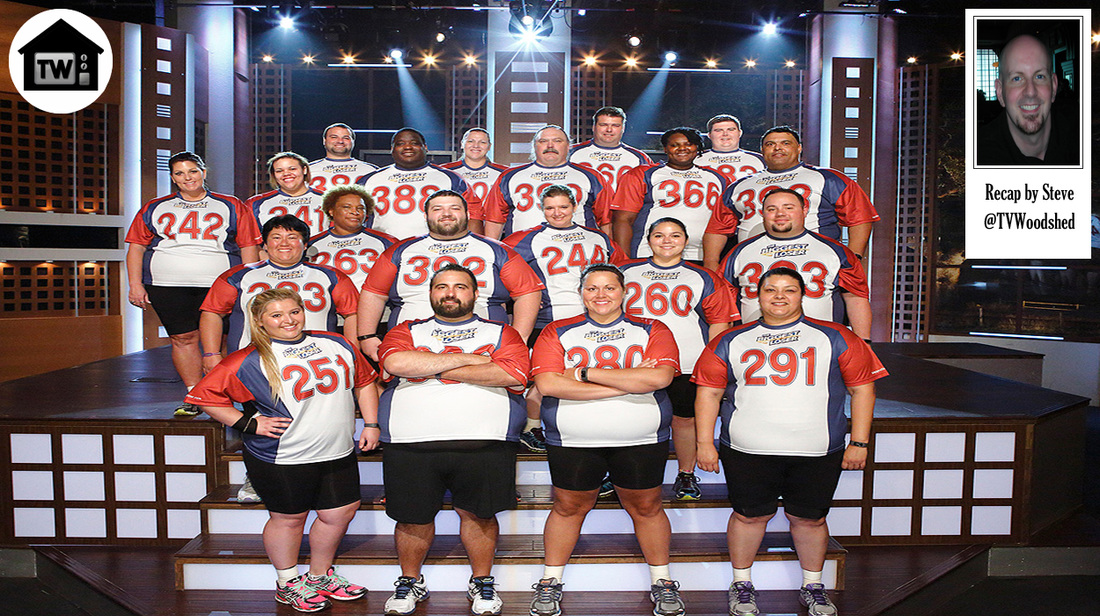 The lopsided teams get a much-needed reshuffling as most of the players get new trainers. And, you guessed it, whine about it. You're on the show to lose weight! Who cares who's screaming in your face at the gym?
Comeback Canyon. I see a bad moon rising. Damien arrives and his reaction tells me that he was looking forward to going home and trading in burpees for Slurpees. He's game for Bob's plan, though, so we'll see how that all works out.

Gym. The contestants and their trainers arrive to find Ali standing there. Run! Ali always brings pain and misery and swerves! We're meant to think that the contestants were arriving for a workout, but none of them are carrying water bottles, so they knew they weren't working out. See, Biggest Loser? You can't fool me. I'm on to you.

Ali shows the contestants the rack of kettle bells (which to me look like neither kettles nor bells) in front of them and each one has a color on the bottom. One by one they're going to grab them and whatever color they get is the team they're on. C'mon fuchsia!

The World's Littlest Sumo Virgin is first and goes from red to white. She walks over to Dolvett like she's headed for the gallows. Scott goes from red to white. Toma goes from white to red. Jordan goes from red to blue. I wonder if a mathematician could figure out the odds against everyone staying on their original team. Unless the producers rigged it and told them which kettle bells to pick for the most drama. Rigging on The Biggest Loser? Heaven forfend!

Rob goes from red to red. You're killing the drama, Rob! Rondalee goes from white to white. You're killing the drama, Rondalee! JJ goes from white to blue. Lori goes from blue to white. By default, Woody goes from white to blue. Ali, having ruined everyone's life, departs.

Blue Team, now a complete sausage fest, sits around and talks about how great they are and how wonderful it is now that they ain't got bitches all up in they grills.

Gym. New trainers, new teams, same old gym. Sweating and screaming and such. Billian makes sure to get a few tears flowing by mentioning Woody's dead wife to him. It's a whole new opportunity to bring up the dead wife!

The World's Littlest Sumo Virgin is having a tough time embracing Dolvett and letting go of Flower Power. Okay, I'm just going to have to float it out there: she loves Jen, she doesn't love Dolvett, and she's got Jerry Seinfeld's old haircut. I'm calling gay. So Dolvett sits down with The World's Littlest Gay Sumo Virgin to get her head on straight and teach her to embrace change. Sounds to me like she already has. Wink, wink.

Comeback Canyon. Damien and Jackie are throwing balls against the wall. I know that sounds like slang for something else, but that's actually what they're doing. Then they're running and rowing and lifting and sweating before Bob takes Damien outside for a one-on-one. It seems like it's the show's subtle way of denouncing lap band surgery, since Damien says it was the worst thing he ever did and Bob agrees. The problem wasn't Damien's belly, it's that he was fucked in the head. So the lesson here is that you can't do anything right so don't try.

Kitchen. The teams arrive to find Ali – run! – with a celebrity chef named Rocco DiSpirito. There was a wrestler once who went by the name of Rocco Gibraltar, which is just too awesome for words. I wish they'd gotten that Rocco for this segment. This Rocco claims to have been on the show before and that he's written best-selling books and stuff, but I've never heard of him. Hear that, DiSpirito? Never heard of you!

Rocco gives a pep talk where he tells the contestants that he used to be a fat guy and the show cuts to an old picture of him where he looks EXACTLY THE SAME. Nice try, Rocco. Anyway, he's going to be the judge and the teams are going to make him dinner. Because he's cheap. Whichever team delights him the most gets a one-pound advantage at the weigh-in.

I remember previous seasons where they had contestants prepare food and it was like watching an old Three Stooges short, but these guys are all business, which makes for bad TV. They finish their dishes – Blue Team serves an egg white frittata and French toast. Red Team serves a turkey burger with sweet potato chips. Apparently they put an entire jalapeno in the burger. I don't know what that means, but Rocco doesn't seem to care for it. White Team serves a salmon & egg white omelette and French toast. That French toast sure is popular.

Rocco calls Red Team's burger almost inedible – Rocco's a dick – so it comes down to Blue Team versus White Team and White Team wins it. And off they go.

Last chance workout. If only there was something fresh and interesting to say about a last chance workout. But there isn't, so here we are.

Comeback Canyon weigh-in. Jackie loses 4 pounds. Damien needs to lose 6 pounds or more. He loses 8. Well, we're back to the incumbent losing the election. Bye, Jackie!

Weigh-in proper. Ali's in her third outfit of the episode and the thing is only an hour. They spot the White Team their 1 pound and start with Scott. He loses 9 pounds. Lori loses 4 pounds. Rondalee is hoping for 7 pounds and gets 3. That's what you get when you don't space out your first and middle names. Let that be a lesson to you kids out there. White Team loses 17 pounds total.

Red Team. The World's Littlest Gay Sumo Virgin loses 6 pounds and is denied one-derland by a single pound. SumBITCH! Rob loses 8 pounds. Toma loses 9 pounds and is happy. Red Team's total is 23 pounds and they're safe.

Blue Team. JJ loses 8 pounds. Jordan fucks everything up by only losing 2 pounds, but Woody saves the day by losing 15 pounds! Goddamn! Of course, he somehow owes it all to his dead wife, so he mentions her yet again. Oy.

So White Team loses and Rondalee is outta here. Hey, Bob? While she's at Comeback Canyon, can you make her Ronda Lee? Or ideally, Rhonda Lee? Thanks, buddy!

Hey, how's Jackie doing? Well great, as a matter of fact. She's lost 83 pounds total and is helping her fellow Native Americans to lay off the Twinkies and Mountain Dew. Her kids now call her the Outside Mommy instead of calling her the Inside Mommy. Hey, as long as you don't call me late for dinner!

Next week! Somebody GAINS A POUND and it's a scandal that rocks The Biggest Loser to its very foundation!