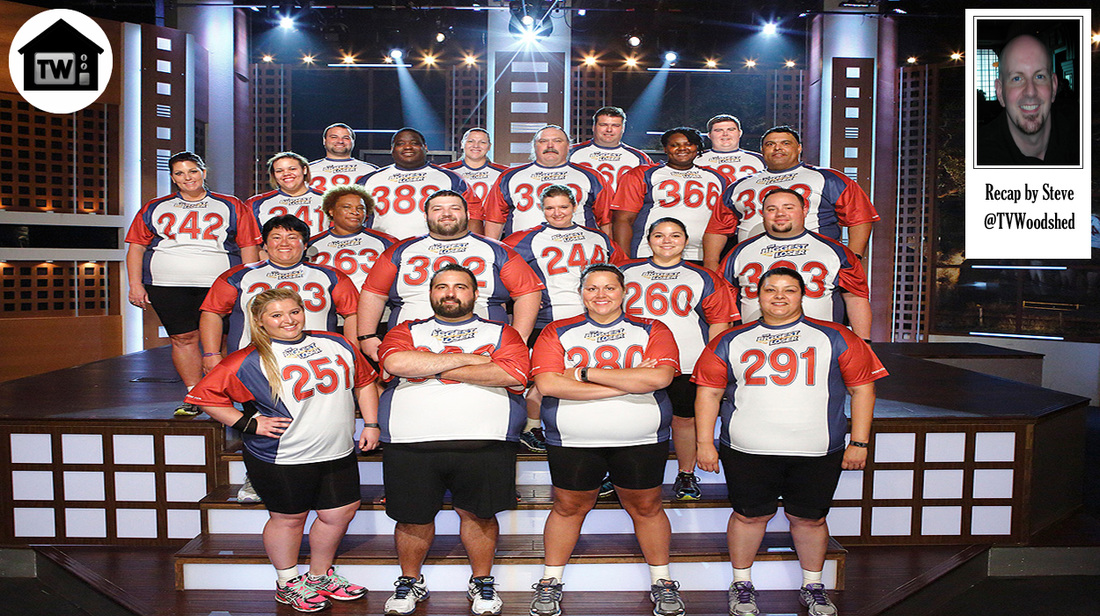 President Obama thought talking about immigration law was more important than watching a bunch of semi-porkers sweating Crisco in the gym. So without knowing the theme this week, we'll just have to wing it.
Lousy immigrants. Ruining my recap. How am I supposed to get my Biggest Loser groove on without knowing what we're doing? Rrrrrgh!

Okay, where are we? Comeback Canyon? Comeback Canyon. Which is where we likely would have started if not for the interruption. Thanks, Obama. Bob is putting Damien and Rondalee through their paces. Rondalee is 221 and wants to get under 218, and Bob is determined to make that happen. Lots of spinning and grunting and sweating follows.

A Joshua Tree in the desert somewhere. The trainers have brought the contestants to a peaceful little sun-scorched patch of sand for some kind of ceremony. Oh God. Whatever this is, you just know it was Jen's idea. Each contestant is given a butterfly in a box. Wait, butterflies in boxes? Does PETA know about this? They're each supposed to announce their intention, and then release it in the form of the butterfly. Oh wow, man. That's beautiful, man. None of the contestants have any idea what their intention is supposed to be, so they all make up some bullshit about change and positivity and transformation, except for Woody, who of course makes it all about his dead wife. Give it a rest with the dead wife already!

And just like that, we're at Comeback Canyon weigh-in. I need to speak to the President, this is completely unacceptable. It's like starting an Agatha Christie novel in the middle, for fuck's sake. Anyway, it's Rondalee versus Damien. Rondalee loses 4 pounds. Damien loses 11. Rondalee gets unexpectedly emotional. C'mon, you silly girl! You know how this works! One week and out you go.

Ranch proper weigh in. Ali says that everyone was supposed to work as a team and lose 50 pounds together this week, but thanks to their victory this week, the goal weight was dropped to 40. You see? You see what I missed? All because Obama thinks it's more important to discuss sharper razor wire at the Mexican border. You could have made the announcement anytime! You're a lame duck with nothing to do! Why did it have to be prime time?

Whatever. The World's Littlest Gay Sumo Virgin loses 3 pounds. Jordan loses 4 pounds. Dude, there's no way these slobs are getting to 40 pounds this week. JJ loses 3 pounds. Ali says it's time for them to step it up. Okay, first, fuck you, Ali. Why don't you go back to your soap and step it up there? And second, how are they supposed to step it up now? They were weighed in beforehand and there's nothing they can do! Sigh. Sorry, Ali. Sorry, everyone. Just so frustrated. And I voted for the guy! Twice!

Woody loses 2 pounds. Jesus Christ. Billian says that this week Woody celebrated something he was afraid of, and that's what's important. See, if Obama hadn't screwed everyone's night up, we'd know what Billian was talking about. But we don't. Moving on.

Lori loses 2 pounds. What the frak? Rob loses a single pound, and seems to be the only person genuinely frustrated by this week's shitty losses. Toma gets up there and GAINS A POUND. Sneaking Twinkies, Toma? Scott loses nothing. Zero. Zip. This is agonizing. So they needed 40 pounds and got 14. I would say they didn't train hard enough this week, but I can't since we didn't get to see any training because Obama hates Mexicans. Scott and Toma are below the yellow line, and the rest of the contestants have to serve up steaming bowls of rich, creamy elimination.

Elimination room. One vote for Toma, one for Scott. Two votes for Toma, two votes for Scott. Three votes for Scott. Four votes for Scott. See ya, Scott.

Scott gets shipped off to Comeback Canyon, and I swear to God, has no idea who Bob is when he opens the limo door. Ha! Bob is yesterday's headline. Speaking of yesterday's headline, let's check in on Rondalee. She's lost 91 pounds and looks awesome. She skipped out on nursing school because she felt like she was too fat, but now she's studying gross anatomy books full of squelchy things, and she's also back at her old high school, playing volleyball with the kids there. She claims she still has a killer serve, but no one ever watches women's volleyball, so who can tell?

Next time! Everyone gets individual colors, and that can only mean one thing – we're coming into the home stretch, baby! Unless Obama's got more shit to say.
​