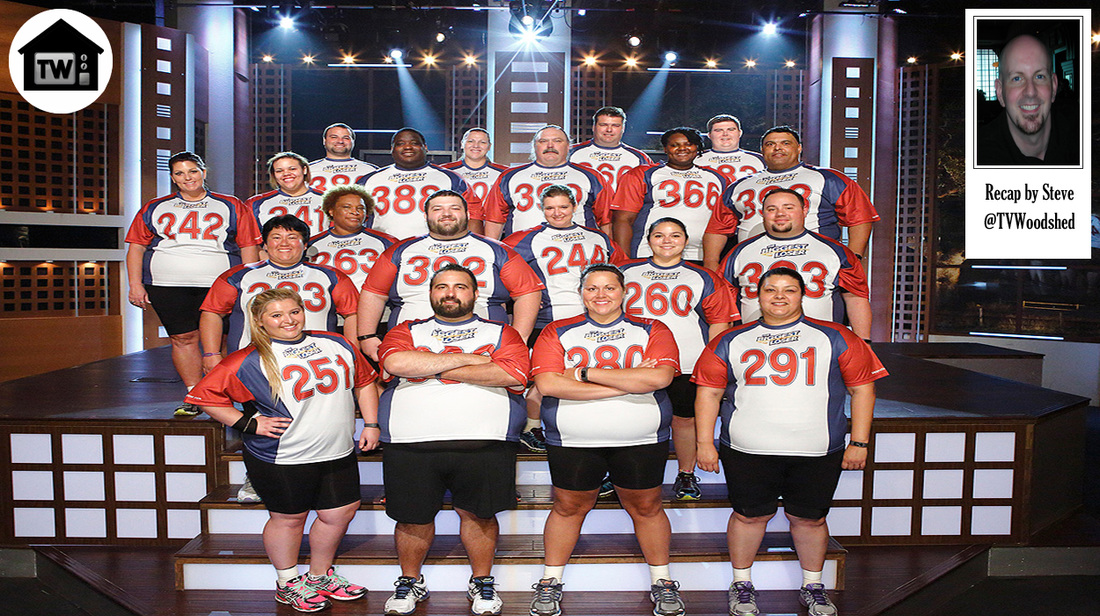 Hm? What? What do you mean Biggest Loser is back? They've been off since mid-November! Why would they come back during the holiday break? It makes no sense! Well, okay, I'll recap it, but I won't like it.
Okay, so, who are all these people again? Ali's voiceover tells us we're coming off a devastating weigh-in, but it's hard to feel an emotional connection to something that happened nearly a month ago. I don't even remember who I like on this show. I guess we'll just get into it and see what happens.

Moonlight over a limo. Scott? Is that right? Yeah, Scott arrives at Comeback Canyon. Oh, that's right, I remember saying that he had no idea who Bob is. I stand by that. They interview Scott and he's all like, "Bob Harper??" Only someone who's just learned Bob's name uses Bob's full name. Scott, not a fan of the show. Bob goes over the rules and introduces Scott to his opponent. Damien? I think? Bob is in heaven at the notion of training two former NFL athletes. I'll bet you are, Bob. I'll bet you are.

Ranch proper. Ali waylays the contestants and the trainers on their way to the gym. This is great because the contestants have reached the point where they see Ali and expect pain. B.F. Skinner would be so proud. Ali's next to a giant blue box. It's probably filled with rabid wolverines and the players have to run from them. Oh, no, it's individual t-shirts. Well the box was a little overdramatic.

So Lori is team gold. Looks kinda mustard to me. JJ is maroon. Sorry, JJ is a maroon. Woody is aqua, which is not at all gay. Rob is green. The others end up in their own colors, but we're not privy to the presentation. It's like the Professor and Mary Ann all over again! I think Toma is orange, the World's Littlest Gay Sumo Virgin is purple, and some dude whose name I don't recall is gray. Time to sweat through those colors. To the gym!

Gym. Typical, if much more colorful, workout. The trainers are salivating because they have fresh meat to haze. The beatings will now begin!

Muddy field. It's challenge time! The contestants have to make their way through one of those obstacle courses that have a hundred different names but are all the same thing – Tough Mudder, Spartan Run, Warrior Dash, you know the drill. The only wrinkle is that there's a color pattern at one end that they have to memorize and then re-create at the other end. My brain hurts! Lori has a stress fracture, so she can compete but she can't run. Well then she can't compete, can she? Anyway, the contestants are off to the races, and after many failed attempts at duplicating the test pattern, Lori wins immunity. What a swerve!

Comeback Canyon. Bob thinks he's clever by creating a Comeback Canyon Combine. Damien competed in the NFL Combine in 1999 and Scott in 1990, so surely they're ready for this. Lots of running and jumping and stuff. Hey, I hear the Oakland Raiders are looking for some talent. Mind if the scouts sit in on this?

Ranch. We haven't had any tears so far this episode, so the trainers come to the house to show the contestants videos from their former fellow athletes and coaches. It's pretty much what you'd expect, and we get some tears! Score! Lori gets a message from her old teammate and she is hot. Damn, Lori, can you invite her to the finale? Dolvett squeezes a few tears out of Toma, and decides to take him to a soccer field to get a workout in. Dolvett, I love you man, but couldn't you have picked a more charismatic contestant? This guy's got the personality of a turnip. Dolvett shows the world that he may be a gifted ath-a-lete, but he sucks as a goalie.

There's a quick "let's get caught up with some contestants you won't remember" segment that turns into a commercial for the vivofit. Aw, man, you'd think I would have learned by now! I guess I'm rusty from my month off.

Comeback Canyon weigh-in. Bob's wearing his ridiculous hipster glasses, I guess so he can see his contestants' skeletal structures? They're x-ray specs, right? Scott gets on the scale and loses 9 pounds. Damien needs to lose 10 pounds to stay. He loses 2. Well that's not 10, is it? See ya, Damien. Bob tells Scott that they're just weeks away from returning to the ranch. Haven't they always been weeks away? It just depends on how many weeks you mean.

Ranch weigh-in. Ali's wearing a hot pink dress that's so bright it's painful to look at. Does that thing have batteries? Can you take them out, please?

Lori's got immunity, so weighing her in is moot, but let's see how she did anyway. She lost 3 pounds. Oh yeah, she coasted this week. And who can blame her? Save it for when it matters, Miss Mustard!

Woody loses 9 pounds. JJ drops 6 pounds and is just shy of getting under 300. The World's Littlest Gay Sumo Virgin loses 8 pounds and gets a hug from Ali. And enjoys it. Rowr.

Jordan – that's the guy in gray, that's right, I remember now – loses 9 pounds. Toma loses 11 pounds. Damn! That pushes JJ below the yellow line and we get more tears, the only accepted currency of The Biggest Loser. So either Woody or Rob will fall below the yellow line as well. Rob has to lose more than 10 pounds. He loses 15. Sumbitch! More tears! Hooray!

So it's Woody and JJ up for elimination in the Dining Hall of Doom. And by elimination, we mean a limo trip down the street to Bob's Place. Toma votes for JJ. Jordan chooses JJ. The World's Littlest Gay Sumo Virgin votes for JJ, and that's all she wrote.

JJ arrives at Comeback Canyon and after a moment of being stunned by Bob's crazy glasses, finds the whole thing absolutely hysterical. This is gonna be fun!

Let's catch up with Damien. He's lost 107 pounds and looks awesome! I don't think he'll be getting a linebacker gig anytime soon, but he could be a punt returner at this point. Instead, he's working on-camera as a football analyst, and all his co-workers are stunned by the transformation. Aw, way to go, Damien!

Next week! It's a vacation to Hawaii, Biggest Loser style! In other words, no fun whatsoever!
​