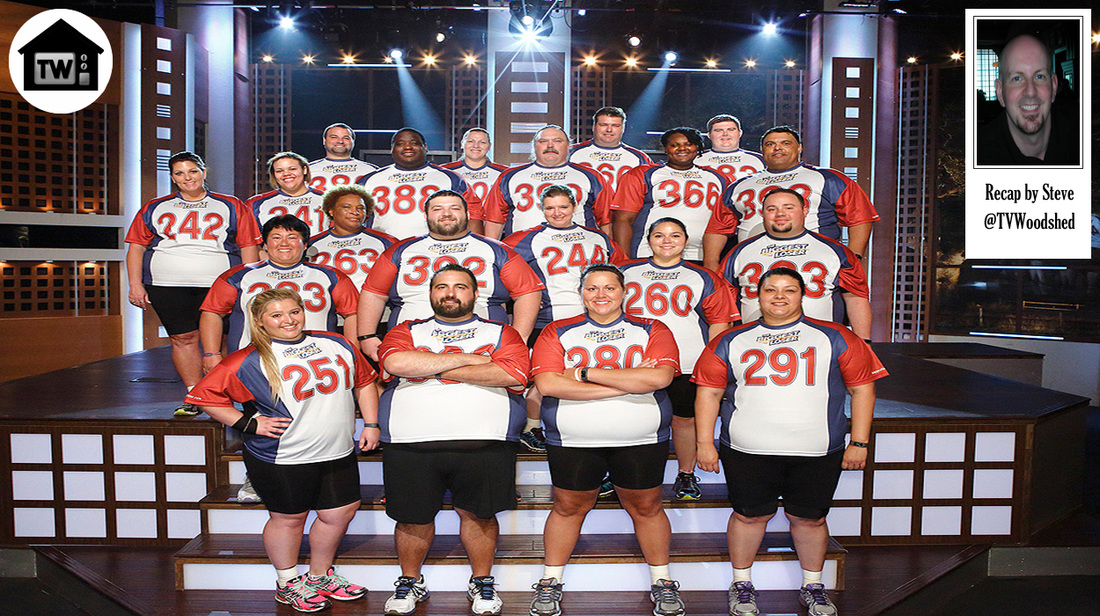 Ah, Hawaii … the surf, the sand, the ice addicts, and now that the Biggest Losercrew is headed there, the beach burpees. That sounds much better than sitting poolside and watching the sun set. Much better.
Moon. Limo. You know the routine. JJ arrives at Comeback Canyon and is initially tickled at the sight of Bob. Or perhaps Bob's glasses, it's hard to say. JJ's mirth slowly gives way to tears as he realizes he's not done with wall squats for at least another week. Hey, at least he doesn't know he just missed out on a trip to Hawaii. Those would be bitter tears indeed.

Speaking of Hawaii, we're treated to assorted shots of contestants telling us and each other that they're going to Hawaii. Then we see a quick shot of them on the plane – they flew commercial, I guess the Biggest Loser jet must be in for repairs – and then we see stunning vistas that could have been lifted from the Travel Channel. The contestants and trainers meet Ali at the top of a mountain somewhere. I can only assume the plan is to throw them off one by one.

Ali prods Jordan to make a connection to Hawaii, and Jordan says, "We came here on our honeymoon." Jordan and Ali did? Well this is certainly news! Call E! There's a little more blather about Hawaii, Biggest Loser style, and then Ali kills the contestants by strangling them with leis. Nah, she just threatens them with the red line at weigh-in. Almost as bad.

Beach. Instead of dipping their toes in the sand and sipping on a Mai Tai, the contestants are forced to run and crab-walk and goose-step and dig holes and throw rocks. This is a vacation? Flower Power says she had grandiose workout plans for these poor slobs, but then decided to just use nature against them. Sinister! Dolvett puts Rob and Woody in a makeshift sumo ring and has them shove blubber until Rob is near death. Shake it off, Rob!

Turns out Rob needs some TLC from Sexual Chocolate. He's crying because he's so upset about being in Hawaii, and he's worried about heat stroke, heat exhaustion, and sunburn. Also, he's got sand in his vagina. Dolvett tells him – gently and with great sensitivity – to stop being a pusswad, and he does. Well, that was easy.

And now it's time for this week's challenge! The contestants arrive on another beach and Ali has a series of kayaks set up. Ah, so it's to be death by drowning, is it? Ali explains that they have to paddle out to some buoys, retrieve some puzzle pieces, come back, and put the puzzle together. Hm. It sounds like they had two different challenges in mind and just decided to combine them. Either way, the puzzle holds the secret to the reward. Intrigue!

So they hop in the kayaks and paddle out, and Jordan and Lori are the first out and the first back. Poor Rob is way behind, and I think the World's Littlest Gay Sumo Virgin has managed to float her way to Fiji. Eh, she'll be fine. By the way, all the contestants are wearing cool, hip sandals, but the World's Littlest Gay Sumo Virgin has added white socks, which is a truly stylish look.

Anyway, the editing makes Lori and Jordan look like they're neck and neck with their puzzle assembly, but whether the really are or not we'll never know. Jordan finishes and discovers the prize is a helicopter ride. Oh. Great. That's much better than a one-pound advantage. Thanks. Jordan can choose someone to join him in the skies and he chooses Toma, because that's not gay at all.

Back in LA-LA Land, Bob decides to make Scott and JJ run to the top of a mountain. Or maybe a hill, it's hard to be certain. Anyway, there's lots of uphill running and huffing and puffing, and some truly uncomfortable butt-to-butt squatting, which has to have been Bob's idea. Then he gives Scott and JJ pictures of themselves when they were total fatties. Um … where are we going with this? Ah, the pictures are printed on seed paper, so they're going to bury the pictures and water them, and then big fat trees will someday grow.

Back in Hawaii, Jordan and Toma have their helicopter tour of the island, which isn't at all gay. The helicopter they're in has a rainbow paint job, which again, is so totally not gay. Jordan and Toma exchange a long, meaningful look before they lock lips in a passionate kiss, which is still not gay. No, they don't kiss, really. Well, we only see a minute or two of the tour, I don't know every little thing they get up to.

To kill some time, and to give Woody an opportunity to bring up his dead wife, he and Flower Power and the World's Littlest Gay Sumo Virgin go out on a boat to do some snorkeling. Woody is terrified and so is Flower Power. The World's Littlest Gay Sumo Virgin doesn't seem to have an opinion one way or the other. Anyway, in a triumph of the spirit, they all go snorkeling, Woody cries that his wife was looking down on him from heaven, and we all learn a valuable lesson.

And with that, we're back in the continental U.S. for the Comeback Canyon weigh-in. JJ weighs in and loses 8 pounds, which gives him a total of 100 pounds lost and puts him under 300 pounds, for all you stat freaks at home. Scott's turn. He also loses 8 pounds, which is enough to send JJ packing. He's crying. Hard. There's no crying! There's no crying in the Biggest Loser! No crying! Oh, who am I kidding? There's nothing but crying on the Biggest Loser. JJ heads out. Go get some more tattoos, champ. You deserve 'em.

Back to Hawaii for an idyllic seaside weigh-in. Mmmm, relaxing. The World's Littlest Gay Sumo Virgin weighs in first and loses 6 pounds. Lori drops 10 pounds, her first-ever double-digit number. Billian is thrilled and tells her she looks beautiful. Well, now, let's not get carried away here. Toma loses 10 pounds. This Hawaii thing seems to be working well! Rob loses 12 pounds and also his composure. Pull it together, weepy boy. Hey, Rob? Since you're going to be staying in Hawaii another week, why not work on that Farmer John tan you've got going on?

Jordan weighs in and loses 6 pounds. Oh, that ain't gonna cut it. I smell blood in the water! Woody loses 12 pounds and thanks his dead wife. Nice! A two-fer! So Jordan's done. Now how does this work? He flies back to California and then they put him in a limo to Comeback Canyon? That's kinda cruel, isn't it? I mean, with the other contestants, it seems like they only have a few minutes of thinking they've been eliminated, but Jordan's gotta sit in the airport and mull it over and think about it on the flight back. Poor Jordan.

We catch up with JJ, who's lost 131 pounds! Damn! He's now working out with his mom, who looks to be the same age as JJ, and his kid brother, who is 17 years his junior. Um, no offense JJ, but can we hear your mom's story? It sounds way more interesting than yours.

Next week! More Hawaii, to make those of us living in cold climates feel bad about the decisions we've made in life. Hooray!
​