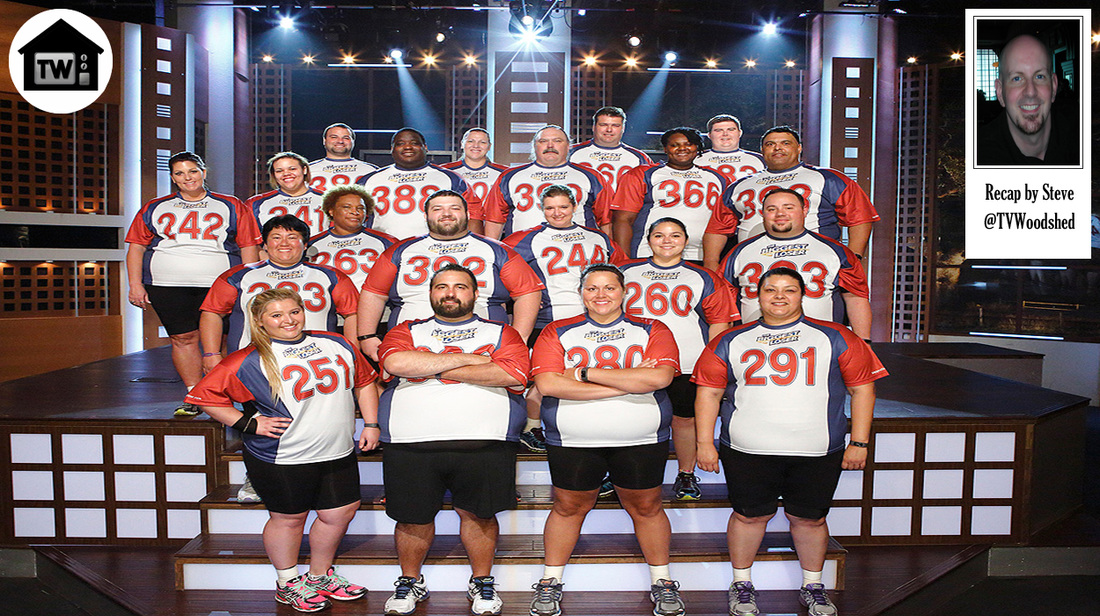 There seems to be an obsession this week with making the contestants climb up on top of really tall things and then leap to certain death. Maybe the trainers are hoping to have a little poolside time while they're in Hawaii and killing off their charges is the easiest way. Smart.
Heyyyyyyy, waitaminute! By doing a Part I and a Part II, those ne'er-do-wells at theBiggest Loser are trying to sneak a two-hour episode past me! Shenanigans!

Anyway, they start off by showing the super-fatty contestants when they first arrived on the ranch and introducing the trainers. Oh shit, are we starting over? Please tell me we're not! Oh, quick fast-forward and we're in Hawaii. Are you new viewers all caught up now? Good, off we go.

The remaining contestants meet up with their trainers in a lush green field under coconut trees and talk about this being a brand-new year. Bitch, please. We know how long ago this was filmed. The contestants are probably like, "Wait, what? It's late September, isn't it? Ohhhh, right. Sorry. New year. Right. Got it." After a few inspirational words, it's off to start throwing some logs around to get dat burn, baby!

Back at Comeback Canyon, Bob is all about the New Year (wink, wink), and tells Jordan and Scott that this isn't Hawaii anymore, this is Comeback Canyon! Scott's like, "You guys went to Hawaii?" Bob forces the two of them to make New Year's resolutions (wink, wink) and just an observation, but Scott looks phenomenal. He doesn't even look like a contestant at this point.

Back to the island, which they insist on captioning "Kaua'i, Hawai'i." Oooh, just like a native! You're so well-traveled, Biggest Loser. Pronounce the names of some towns in France, would you? Swoon.

Dolvett wants Rob to hurt himself really badly, maybe even die, so he surprises him with a day of rappelling down a waterfall. Dude, I wouldn't even recommend that with a healthy person. Rob is all nope, nope, nope, nope, nope, nope, well, okay.

He gives it a whirl on the bunny slope, and that's where things get really cringe-worthy. He starts blubbering helplessly and begging the rappel guys to pull him back up. I bet Rob was sitting at home watching this episode, praying they wouldn't show this footage. But there are tears! How could they resist?

Rob manages to get his hand caught between the rope and the rock, which looks and sounds like it really fucking hurt. Rob's done. See ya, wouldn't wanna be ya. Honestly, if that had happened to me, I'd be done too.

Dolvett gives Rob a pep talk and reminds him that nobody lives forever, and Rob is suddenly all like, "Yeah, sure, let's go do it." I say "suddenly," but I have a feeling there was a really long stretch between the first attempt and the second. Either way, Rob ends up doing it, triumph of the spirit, yadda yadda, good job Rob.

Not to be outdone, Billian takes Lori into the jungle and hoists her up on this crazy swing contraption. There isn't nearly as much drama as there was with Rob. Lori says she can't do it, but then does. Kinda like my prom date. Ha-cha!

Since no one has fallen and really hurt themselves yet, back at Comeback Canyon there's a balance beam 25 feet in the air that Jordan and Scott need to climb up to, walk out on, and jump off of. Oh yeah, someone's gonna die for sure.

Despite protestations that heights don't bother him, Scott gets feet of clay when he's on the beam. Jordan goes halfway out to meet him and Scott eventually makes his way out, and they jump off together. Wait, why are they helping each other? Aren't they competing?

Back in Hawaii, The World's Littlest Gay Sumo Virgin and Lori sit on the beach for a while and talk about having newfound confidence that allows them to wear bathing suits in public. TWLGSV tells a story of wearing a bathing suit in the past and making her cat puke. Yeah, I can see that. Hearts warmed, they move along.

Then Ali presents one of the most convoluted challenges I think I've ever seen. It truly makes you wonder if theBiggest Loser people tried some ice while they were on the island. Contestants have to reel in some rafts loaded with coconuts, then carry them with a lacrosse stick (!), walk on a balance beam, throw the coconut over a bar and catch it on the other side with said lacrosse stick (!!), walk on another balance beam, and then whip the coconut into a net. All in the rain. First contestant to throw three coconuts in wins.

As you can imagine, the whole thing is a complete debacle. There are many MANY attempts to do this, and I have to believe that they finally just let Lori win so the whole thing would be over with. I mean, Lori gets three coconuts in, Toma gets one, and NO ONE ELSE gets ANY. Lori wins a one-pound advantage, and all the other contestants hug her. As I said, I think they're just happy it's done.

And with that, it's time for a Comeback Canyon weigh-in. Jordan weighs in and loses 8 pounds. He's well pleased. Skinny-ass Scott has to lose 9 pounds or better to win. He loses 9. Boom! See ya, Jordan! Oh, dry your eyes, he wanted to go home and see his kid anyway.

Ranch proper weigh-in. The contestants come in, tanned and chill as fuck. Lori is up first and loses 3 pounds. Four pounds, really, with the lacrosse stick coconut pound. It's a bad number, but Lori says she's happy. Ali barks, "What are you happy about?" Hey, back off the woman, Ali! If she's happy she's happy. All right? Geez!

Toma loses 8 pounds, and Ali says he's taken 2015 by storm. Well, he will, in 2015. Which is about four months off from where you folks are. The World's Littlest Gay Sumo Virgin weighs in next and loses 5 pounds, which she's thrilled about. Rob loses 6 pounds and manages to hold it together.

The last contestant is Woody, and Ali says it's time to get Woody on the scale. Ooh, yeah. I'll bet it is, Ali. I'll bet it is. Woody needs to lose more than 5 pounds. He loses 3. Red lined! But he totally doesn't care, and he doesn't even cry about his dead wife, though he makes sure to mention her. I think everybody must have smoked some fine herb in Hawaii because they're all totally cool with everything, man. With everything.

The limo whisks Woody off to Comeback Canyon, and it's hard to tell if Woody laughs or cries when he sees Bob. I'm gonna go with cries. 'Cause that's sorta Woody's thing, you know?

Let's catch up with Jordan. Jesus Christ, he's lost 128 pounds! He looks fantastic, but I'm going to go ahead and point out the 800-pound gorilla in the room – Jordan's got a comb-over, and it's really not flattering. I mean, what comb-over is, right? But seriously, dude, buzz it. Anyway, he's got his new baby and he and the wife are happy, so good for everyone.

Next week! Yes, you guessed it – it's Makeover Week! Some new threads, some makeup, and a new 'do and you former fatties are gonna look like a hundred bucks!
​