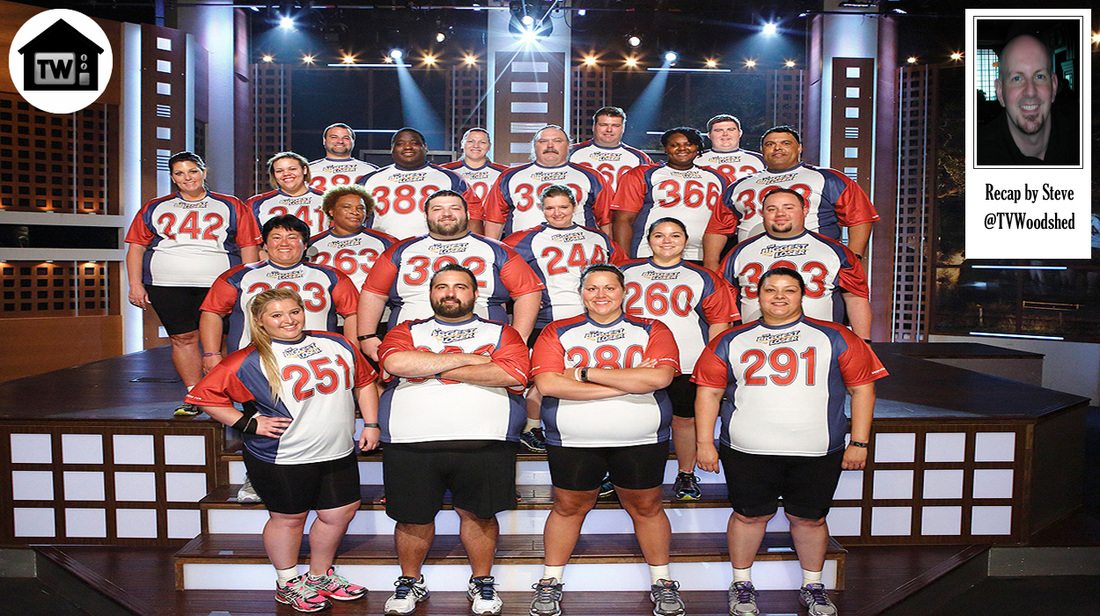 Is there anything better than giving a bunch of semi-fatties a wash and a scrub and then stuffing them into clothes that don't quite fit yet and unleashing them on unsuspecting family members and friends? No. No, there isn't. Welcome to Makeover Week!
We pick up right where we left off last week at the weigh-in. Seamless! Ali blathers and stalls until Rob finally screams, "Say it!" Hah! Okay, Rob can be a blubbery mess at times, but in this moment I love him. Ali announces they've made it to Makeover Week! Much rejoicing abounds.
Before we go any further, I'd like to reference a passage I wrote in my recap of the "
Double Header
" episode from earlier this season:
"Sonya, the Littlest Sumo, tells us she's 39 and that next year she'll officially be the 40-year-old virgin. They show some old photos of her, and, well, there's the problem. She's got big Harry Potter glasses, a mullet, and a floral dress that matches the floral couch behind her. Lord, I don't ask you for much, but please let this girl get to Makeover Week. Just so she can finally get her some. Amen."
And Sonya made it! Do you like Jennie-O Low-Fat Turkey Products? How 'bout
them
Jennie-O Low-Fat Turkey Products!
Limo. Woody is talking about getting eliminated when Bob opens the door to welcome him to Comeback Canyon. Not only does Woody not recognize Bob, he can't seem to grasp the concept and doesn't seem to care in the slightest that he gets a second chance. In fact, he looks annoyed. Of all the reactions to Comeback Canyon this season, Woody takes the prize for "Most Understated."
Woody meets his competition, Scott, and it slowly seems to dawn on him what the hell is going on here. Scott recalls that Woody voted him off the Ranch and that he took it personally, though if memory serves, Scott told everybody that it was okay that they voted for him and it was nothing personal. Duplicity!
Beverly Hills? I assume? The remaining contestants arrive at a high-end clothing store in their embarrassing workout gear to meet up with Tim Gunn. Don't tell anyone, but judging by his appearance and demeanor, I think Tim might be gay. Mum's the word!
Tim spends a lot of time whoring for Kohl's, which is cringe-worthy for both parties, and then tells the contestants that Kohl's is going to be responsible for their makeover looks. Okay, I was going to mention this sooner, but now's an opportune time – four contestants at Makeover Week? Isn't that the smallest group ever? And now they're going to be dressed by
Kohl's
? Man, budget cuts are a bitch, aren't they?
Tim informs the gang that they'll be getting new clothes, new haircuts, and their pictures taken for
Us Weekly
. They're all completely blown away by this turn of events, because apparently none of them have ever watched the goddamned show before. It's like a
Price Is Right
contestant being stunned that they get to spin the Big Wheel. You guys know as well as we do what's going to happen!
There's a montage of Tim Gunn helping the contestants pick out clothes – during which he tells Toma that Toma's going to be his "dress-up doll," which is very uncomfortable – but then we only get to see Lori and The World's Littlest Gay Sumo Virgin modeling the clothes, because when it comes to fashion, it only matters what the ladies are wearing.
Incidentally, when The World's Littlest Gay Sumo Virgin talks about how she feels looking in the mirror, she mentions in passing that she's always wanted to fall in love with a man. So it looks like she's not gay after all. She also doesn't look like a little sumo any more, either.
Sigh
. I guess she's Sonya once again. Welcome back, Sonya. Now let's see what we can do about that virginity, eh?
The contestants head off to see Ken Paves, who is subtitled as a "Celebrity Stylist." What sort of career track leads one to that job, exactly? There's a montage of hair cuttery and colory, and Rob mentions that he's never had conditioner in his hair before today. Dude. You can get it in the same bottle as shampoo these days. It's not a whole lot of extra effort.
Ken himself is shown doing some of the trimming, and I have to wonder if he normally gets his hands dirty like this or if it's just for the cameras. I bet he usually just sits in the back counting the money until, say, Rihanna comes in, and then he shoos away his hair lackeys and kisses her ass.
Some rooftop somewhere. Ali, Tim Gunn, and assorted trainers stand next to a red carpet and receive the made-over contestants. There's shock and awe, naturally, and then each contestant heads off to see a picture of when they started and a picture from their
Us Weekly
photo shoot, and – surprise! – they meet up with friends and family. Again,
watch the show
.
The contestants, trainers, and various hangers-on are treated (dragged?) to a Gavin DeGraw concert. I have no idea who this guy is. Is he famous? I'm so out of touch. Oh wait! Was he the captain on
The Love Boat
? Oh no, that was Gavin MacLeod. Shit. Anyway, Gavin sings about change and reaching your potential and everyone rocks out as only white people can.
Comeback Canyon. Bob is clearly feeling left out of Makeover Week, so he hosts his own for Scott and Woody. It's done entirely in flashbacks, except for the reveal, which happens at Comeback Canyon instead of on a cool rooftop with Gavin DeGraw. Whoever he is. Scott's family is awed – as they should be – and Woody's kids make him sob when they bring up their dead mom. I was kinda hoping for a Jacob Marley thing with Woody's dead wife, but no such luck.
Ranch. We have the shortest Last-Chance Workout ever. Well, for those of us sitting on the couch eating Doritos, it is. I'm sure it was plenty long in real time.
Comeback Canyon. Bob puts the boys through their paces, and they end up talking smack to one another. Finally, a return to form! This is the
Biggest Loser
we all know and love! "Fuck you!" "Fuck
me
? Fuck
you
!" Yeah! There's not much time to enjoy the war of words, though, as we go right into the Comeback Canyon weigh-in. Man, of all the times to be edited down to an hour. Things were just getting good! Anyhow, whoever wins the weigh-in goes back to the Ranch. I hope they saved a room!
Woody weighs in and loses 6 pounds. Not too shabby. Scott steps up and needs to lose 5 pounds or better. The scale starts beeping, the music builds up, and as they always do, they go right into a commercial!
Oh, no wait. No they don't. They go right to the Ranch. The hell? Okay, well, here we are at the regular weigh-in. I'm a little thrown here, sorry. Ali tells the contestants that there's a yellow line this week, and two players will fall below and one will have to be voted out. Huh. This all seems a little fishy, but let's roll with it for now.
Rob gets up first and loses 2 pounds. He claims he doesn't know how it happened. Um, maybe spending time at salons and on rooftops with Gavin DeGraw – whoever he is – instead of doing wall squats? Just a theory.
Toma loses a pound. Sonya – God, that's
so weird
! – loses 3 pounds. And Lori loses a pound. Yeah, these are Makeover Week numbers.
So I guess we're off to … oho, but wait! The weigh-in screen crackles and suddenly Tim Gunn is there! Is this guy an attention hound or what? Tim erases the yellow line so everyone is once again safe. That … that was just unconscionably cruel. Wow. What a dick move. Poor Toma almost had a stroke, and he didn't find this particular swerve funny
at all
.
Anyway, Ali tells them they ain't seen nothin' yet, and the gym doors open dramatically with Bob's silhouette in the center. We hear everyone freaking out about Bob and Woody/Scott, but we'll have to wait until next week for the BIG REVEAL!
Next week! The BIG REVEAL!
​