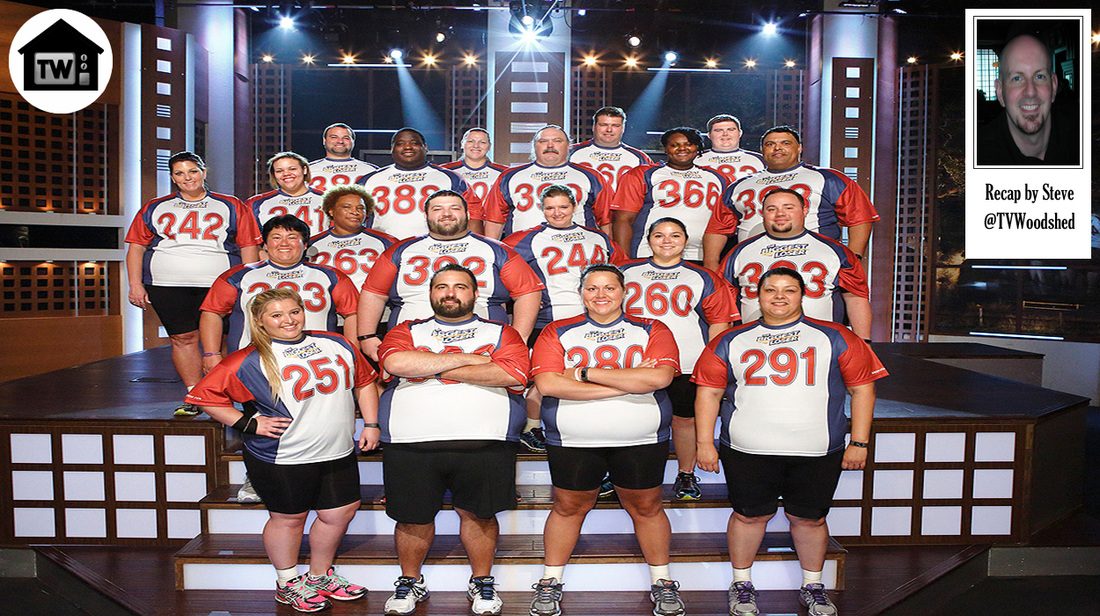 Don't call it a comeback! Okay, yes, call it a comeback. Biggest Loser did. Bob and his Comeback Canyon champion return to the Ranch and Rob is not happy about it. But when is Rob ever happy about anything?
We pick up right where we left off last week with Bob arriving back on the Ranch in dramatic, backlit style. Everyone is shocked, because this show never has any twists or surprises, and Bob announces to everyone that it's about to get crazy up in here. In what sense, Bob? In what sense?

So I guess the craziness is the reveal of Bob's champion? Doesn't seem that crazy to me. It is, however, disappointing as Woody is revealed to be said champion. Really? Woody? I mean, I know it all came down to the final weigh-in, but it seems like Scott deserved it more. I guess there's a lesson here, kids: no matter how hard you work or how bad you want it, you'll always come up short and fail.

Ali gives Bob a moment to explain the whole Comeback Canyon concept, and everybody nods and smiles and has NO IDEA what the fuck he's talking about. I mean, we've seen it every single week and I still wouldn't know how to clarify how it works and not sound like a crazy person.

Once everyone is over the shock of Bob and Woody suddenly materializing, Ali smells blood in the water when she sees Rob's reaction to the big reveal. She starts poking him right in the feels, and Rob has a meltdown that's really uncomfortable to watch. He blubbers that he busted his fat ass to get to the Final Four, and now there are five, so he's pushed down again. It's bullshit, man! It's bullshit!

Back in Rob's room, Sexual Chocolate explains to Rob that the only emotion he has is anger. The fact that Rob wears green makes an Incredible Hulk joke so obvious that I'm not even going to bother. Rob swears that he'll use this week to work on turning Angry Rob into Happy Rob, because thoughtful introspection and deep, meaningful change usually take about a week. Ten days, tops.

Time to catch up with Scott. Wait, who's Scott? Oh right, the guy who came this close to being the Comeback Kid. You suck, Scott. But hey, at least you're skinny. He's down to 240 pounds, and since he's 7'8", that weight looks really good on him. They show him skating with his family. Just gonna float it out there that fat guys can skate too, and then say no more about it.

We see a montage of Bob Through The Ages, and then back in the gym, Modern-Day Bob is positively droolingat the idea of beating up on contestants he's never sunk his teeth into before. Mmmm, virgins. The other trainers try to remain useful, but there's no question that it's the Bob Show today, baby.

Basketball court. There's a challenge afoot! Ali explains that the contestants have to hop on some rowing machines and get to 2,000 … something. Feet? Meters? I was busy unwrapping some Reese's Hearts so I missed it. You know what's just as exciting as watching people on rowing machines? Exactly.

Anyway, then they have to get off the rowing machines and throw some medicine balls into a basketball hoop. Wow, it's like the producers didn't even try with this one. Yeah, some rowing machines, some medicine balls, it'll be fine. Winner gets a one-pound advantage at the weigh-in.

So they get started, and while they're on the rowing machines, there are some referees standing nearby to make sure everything's all nice and legal. Or maybe they're Foot Locker employees on a break, I don't know. Then the medicine-ball-in-the-basketball-hoop bit gets heated, and it comes down to a photo finish between Rob and Toma. Toma wins! And Rob manages to not kill everyone and smash the city to rubble. Progress!

Last chance workout! It's still pretty Bob-heavy, but we catch up with Sexual Chocolate and Rob, and Rob promises that he's a changed man. Huh. I scoffed at the idea of such a rapid transformation earlier on, but there's the proof, right in front of me. Okay, listen up world: I'm going to use this coming week to become a multi-millionaire! And … go!

On the other side of the gym (and the same coin), Flower Power catches up with Sonya, who admits that she's had 39 years of self-hate, and it's crazy to think that can be wiped away in just 16 weeks. Um. Mixed messages, folks. Mixed messages.

And now, the weigh-in! Turns out the weigh-in takes place on Sonya's 40th birthday. Ali makes a big deal about it and it looks as though there might be a Jennie-O Low-Fat Turkey Cake and a celebration, but no. Just an acknowledgement of the occasion, and the fact that she's officially the 40-Year-Old Virgin.

The weighing starts with Toma – who, by the by, Bob seems to have a lil' crush on – and he loses 14 pounds! Crush indeed! Are these two-week numbers? Because that just seems a little implausible this late in the game. But hey, I can't lose my own weight, so what do I know?

Lori's up next and loses 6 pounds. Is that good? I don't know if that's good. It's certainly a more believable number than Toma's. Sonya loses 6 pounds as well, but that's all she needs to punch her ticket to the Final Four. Sonya might be my horse after all.

Rob gets up there and loses 15 pounds! Jesus! Is this Bob's influence? Because if it is, he was completely SQUANDERED this season at Comeback Canyon. Eh, he was squandered anyway. Woody's the last up and loses 11 pounds, which pushes Lori below the red line. But wait! There's still Comeback Canyon! Oh.

Lori and Billian have a moment together before she leaves, and then we go right into her Where Are They Now? Lori's down 91 pounds and is having fun with her hubby and the world's most adorable kid. She's also coaching softball, thus ruining young girls' rotator cuffs for generations to come.

Next week! I hate to say it, but it looks like next week's episode might be a best-of. Yawn. If that's the case, I'll see you bitches at the finale!
​