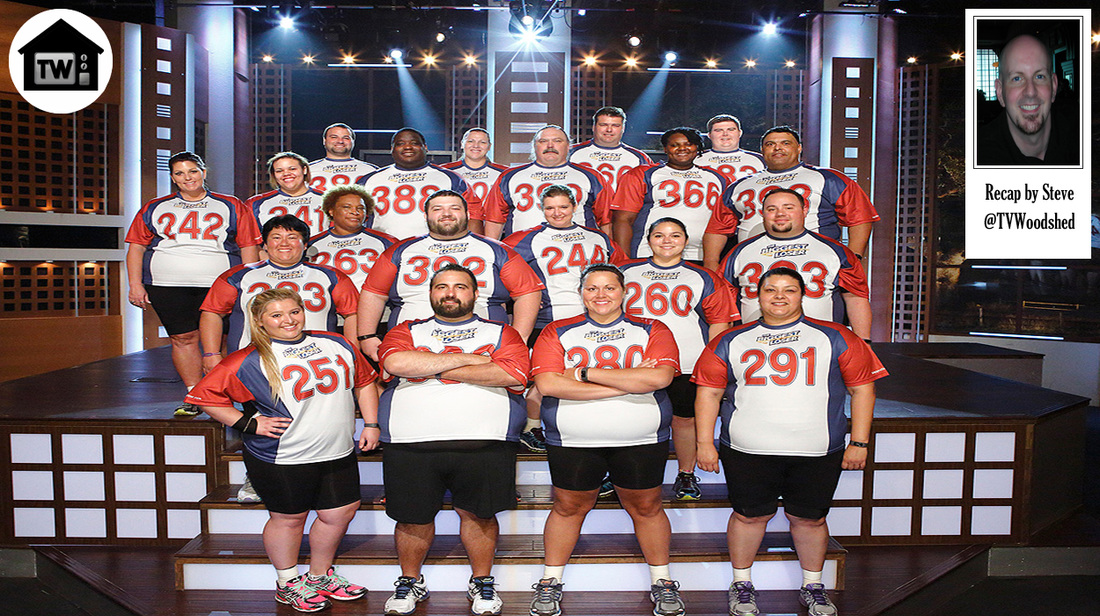 Only four contestants left, so you know what that means! Lots and lots of episode padding, loads of thoughtful introspection, and an overuse of the word "last."
We start off with the Final Four making their way to the gym. Hey, did you know these guys used to be super fat? You didn't? Oh, how fortunate that we have all this grainy footage of them on their first day in the gym! Lookit that blubber fly!

They arrive at the gym to find Flower Power, Bob, Sexual Chocolate, Billian, and some chick I don't know. Apparently she's Jenna Wolfe, a fitness guru from The Today Show, and she's here to show the contestants that they can work out even if they're seven months preggers, like she is. Well we have three dudes and Sonya the Virgin, so yeah, not a great lesson.

While Jenna gets these guys to start sweating Crisco, she assigns Bob to train the other trainers. How did Jenna gain so much stroke on the show in such a short time? The contestants run through a series of silly-looking movements, but their spirits are buoyed by seeing their trainers suffering. Everybody gets their asses kicked, and Jenna wishes them all good luck. Was that just Jenna's audition for next season?

LA Coliseum. Do they actually have sporting events here? LA doesn't have a football team so I'm curious what it's used for. Anyway, the contestants return to where it all started, and each strikes a heroic pose against footage of their formerly flabby selves. If I remember my Coliseums correctly, they're going to have to fight fierce lions, so a brave face is important.

Ali is on the field to tell them what the challenge will be this week. The contestants will have to strap on all the weight they've lost, then run the Coliseum steps and slowly strip the weight away, and then finish back on the 50 yard line. Um, I'll take the lions, thanks.

The race starts and it's possibly the slowest race in the history of races. This is gonna take all day! Sonya gets the early lead but eventually surrenders it to Toma, with Woody solidly in third place and Rob at a concession stand somewhere.

Toma breaks away and runs across the finish line, with Sonya nowhere in sight, so I assume she finishes a while after Toma does. When Sonya crosses, Woody is nowhere in sight, so ditto. The cameras catch up with Rob, who has completely given up, but covers it with a weepy story of wanting to sit there in the stands and take it all in. Rob finishes a week and a half later.

Movie time! The contestants each sit down with a combination of trainers and watch a highlight reel of their time on the show so far. Woody's, of course, focuses heavily on his dead wife. Thank God! I was starting to think we'd go an entire episode without hearing about Woody's dead wife.

Rob gets to see his cringe-worthy meltdown moment early in the season with Doctor H. That must have been fun. Hey, where's Doctor H been? Shouldn't he have popped in and told these guys that they're not going to die quite as soon as he thought they would?

Plenty of tears are shed, and each video ends with the formerly fat version complimenting the current skinny version for a job well done. If I'd done the show, I would have recorded a video that said, "Eh, you're still fat. Get your ass to the gym, tubby."

Last chance workout! Woody, seriously, shut the fuck up about your dead wife already. Woody's running on the dead wife and lifting plenty of heavy dead wife and making sure he's burning plenty of dead wife in his time at the dead wife. It's the Dead Wife Workout after all!

You know, a lot of the contestants keep mentioning the blood, sweat, and tears that they've shed to make it this far. I have zero doubt when it comes to sweat and tears (especially Rob and "Dead Wife" Woody), but how much blood has there been? Has there been as much blood as there has been sweat and tears? Has there been any blood? I'm just asking.

Final weigh in. This is it, folks! One contestant will have the dubious distinction of making it all the way to the finish line and then stumbling and falling on their stupid, fat face. Let's get to it!

Toma's up first. He won a one-pound advantage, by the way, for running all those steps at the Coliseum. And it looks like it'll come in handy, because he only loses 3 pounds. Oooooh, ouch. Rob loses 13 pounds and takes a moment to blubber and bawl. That much crying might actually be enough for another pound or so. Can we get a re-weigh?

Woody steps up on the dead wife and loses four pounds, which is not enough to keep him or his dead wife safe. He's thankful though, because he had this dead wife to dead wife the dead wife for his dead wife, and his dead wife is dead wife of him.

Bring us home, Sonya! She loses six pounds, and that's all she wrote, baby. Toma, Rob, and Sonya are the final three, and Woody has been dead wifed. Boy, really makes that whole Comeback Canyon thing seem kinda stupid, doesn't it? Woody leaves, and the remaining contestants talk some gentle smack about each other.

Catching up with Woody. Do we have to? He's down to 250 pounds and he's working out with his kids and he decides to zip-line because he's conquered his fears. He also mentions something else, but I can't quite recall what it is …

Next week! You know, it, bitches! It's the live finale! Who's your pick to take it all? Who's going to win the at-home? And more importantly … who are all these people again?

​