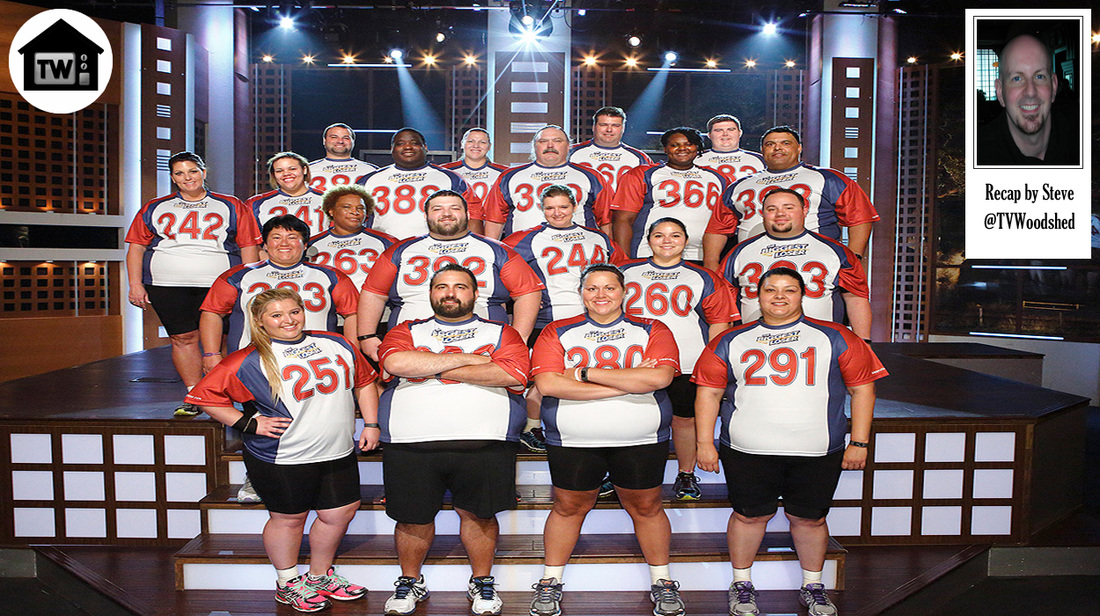 It's the night everyone's been waiting for! Better than Christmas, better than your birthday, better than a month-long vacation in Aruba – it's the Biggest Loser season finale!
We start off this evening of fun and folly as we always do – with the lovely Ali recapping everything that's happened to this point. Hey, I do the recaps around here, sister! We see the three finalists – Toma, Rob, and Sonya – silhouetted in a smoke-filled hallway. Dudes, don't toke up now! You'll get the munchies and ruin everything!

Ali introduces us to the trainers, and they join her on stage for some friendly banter. She asks vague and general questions about what made Season 16 so special. Um … all the advertising revenue it brought in? Because, really, Season 16 was much the same as every other season. So … nothing made it special. Sorry, Ali.

They roll out the dreaded BIGGEST LOSER SCALE OF DOOM and then bring out the first batch of eliminated contestants – Damien, Emmy, and Lori. Who is Emmy again? Wow, these three don't look very good at all. At first blush, it looks like Lori has gained weight since we last saw her. Yikes.

Ali sends them backstage for stripping, hosing, and de-lousing, and brings them back out for public humiliation. Okay, let's see those triple-digit weight losses, here we go! Damien's lost 92 pounds. Huh. Okay, here we go! Emmy has lost 48 pounds. That's it? I lost more than that taking my morning dump. Lori's lost 91 pounds. Well I must say, I am unimpressed. Lori's got the lead, but with 91 pounds, seriously, how's she gonna keep it?

Next out are Woody, Scott, Andrea, and Jackie. I'm still not wowed here, folks. Woody talks about his dead wife – thank goodness! – and Scott compares himself to a beautiful butterfly. I'd say that maybe he's lightheaded from lack of food, but none of these people look in any way malnourished. Ali sends them away to get their branded gear on.

They're back and ready for the scale! Woody's lost 124 pounds. Really? I honestly don't see it, but okay. Scott's lost 120 pounds. Again, really? Meh, at least we're getting triple digits here. Andrea's lost 70 pounds. Jackie's lost 66. Why don't you two just go sit down? You're embarrassing the show. And Lori can go sit down too, because Scott has taken the lead.

Next out are Zina, Chandra, and Blake. Rowr, Blake! It took us this long to finally get a jaw-dropper, and here she is, ladies and gents! Just please, Blake, for the luvva God, don't say anything. Ergh, Ali makes Blake talk, and I recall why I named her Blake the Flake. Oh well. I still say we've got a ringer! Offstage, strip, return.

Zina gets on the scale, and if I were a betting man, I'd say that she gained weight. No, she lost 37 pounds. Still. Embarrassing. Chandra lost 71 pounds, and I'm guessing her torso no longer looks like a sandy beach after the surf's had its way with it. Blake has lost 97 pounds, which is a mixed blessing, because she takes the lead from Scott, which she deserves, but now we have to listen to her. Oy.

Next out are Jake the Snake, Gina, the Man-Beast Vanessa, and Matt. Holy cactus, Matt looks unbelievable! The other three don't. Sorry, other three. Things get weird when Ali shows us a picture of Jake wearing his dead son's Army uniform. Norman? Norman, is that you? Yes, mother, it's me. Off they go to get changed.

And we're back! Jake the weirdo has lost 150 pounds. Impressive! Must have been all those matches against the Ultimate Warrior. Gina has lost 65 pounds. Andrea the Giant has lost 67 pounds. And Matt has lost 155 pounds. Boom! See ya, Blake!

Only three more at-home contestants – JJ, Rondalee, and Jordan – and wow. Just wow. Bravo to the producers for bringing out the big guns (or smaller guns now, I guess) at the end. These three look pretty damned slender, and you've gotta know that one of them is the at-home winner. Well go strip, you three! Let's find out!

JJ has lost 167 pounds. Good Lord amighty, he's lost an entire person. JJ bumps Matt. Rondalee has lost 93 pounds. Eh. She still looks good. It's down to Jordan, who by the way, looks A MILLION TIMES BETTER since he buzzed his head and got rid of that awful comb-over. Jordan has lost 143 pounds! Ka-blam! Winna! Winna! Baked chicken without the skin dinna!

All right, enough with the undercard, it's main event time! Oh, no, wait. No it isn't. The trainers are in the crowd, talking with regular shmucks who have lost weight on their own. Boo! We're not emotionally invested in these people! We haven't shared their journeys!

The last shmuck is Jared from Subway, who reminds us he lost 245 pounds in a year. Wait, what? In a year? Jesus Christ! Doctor H, tell him how bad that is! Anyway, he gives these shmoes free Subway subs for a year. Yeah, I'm sure that'll break Subway's bank.

Okay, can we get on with this? Thank you! Sonya, Rob, and Toma come out and walk alongside their fat avatars. To be honest, they all look much the same as when we last saw them on the show. Ali chats with them for a while, and Doctor H – who is finally getting some screen time – thanks Rob for not eating him earlier in the season. Okay, go get your gear on, let's wrap this baby up!

Sonya's first. She's lost 144 pounds, but not her virginity. Well, I can't say that for sure, Ali didn't bring it up. Rob has lost 238 pounds, and believe it or not, that's not enough to beat Sonya. Well, at least Rob doesn't cry. Much. It all comes down to Toma. While the suspense is building, I'll just add that Toma's last name is Dobrosavljevic. Pat, I'd like to buy a vowel? Toma's lost 171 pounds! Which means he's lost more than he now weighs, and it also means he's the Biggest Loser! Hooray! Cue the confetti cannons!

Next week! There is no next week, stupid. That was the finale. See you all next season!