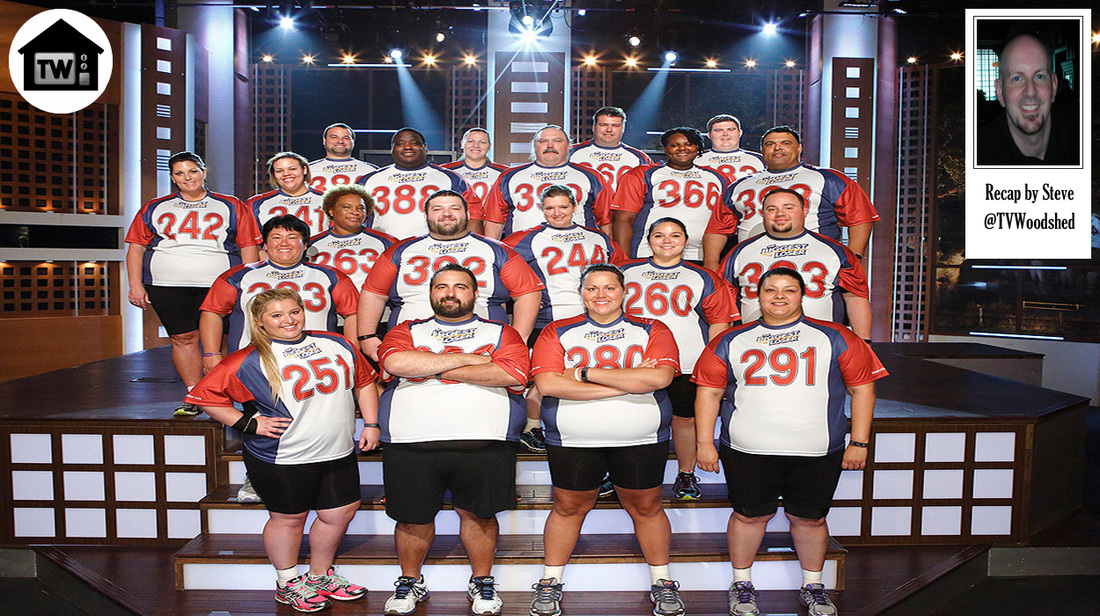 The contestants knock down walls and have emotional breakthroughs, and Dr. H makes the scene to tell all the contestants that their fat is killing them. Like that's some sort of revelation.
Shot of the full moon. Ominous music plays. A limo streaks across the highway, destination unknown. Inside said limo is a very sad what's-her-face – you know, the fatty they eliminated last week. Oh, but turn that frown upside-down, whoever you are. You're going to Redemption Ridge! Or the Comeback Corral. What is it called? Anyway, Bob somehow knows her name. It's Andrea. And she's stunned by this turn of events. Stunned, I tells ya! Bob explains this overly convoluted wrinkle in the fabric of The Biggest Loser, and Andrea seems to lose all interest in the whole thing. Maybe they had to do multiple takes of Bob explaining it and she got bored. Anyway, her competition? Man-Hands herself, the pride of the WNBA, Vanessa.

Billian is annoyed that he lost a member of his team, so he brings the rest of the Blue Team to the kitchen to show them how to make a Waldorf salad. I'm a Statler salad man myself, but to each his own. Billian makes everyone feel bad about being away from their families by telling them how hard it is being away from his. Just an aside, here – as I understand it, the trainers put the fatties through their paces on Monday, and then expect them to do as they were taught throughout the week, and then return on Saturday for last chance workout and weigh-in. So, Billian, go home if you're so lonesome. You've got plenty of time! Oh, and speaking of time, FaceTime! It's this new thing you might have heard of, lets you see and talk to friends and loved ones. Maybe you should download that instead of ruining your team's salads.

The Red Team is in the gym and Dolvett is screaming at his ath-a-letes. Dolvett, please, you're killing me, sweetheart. Blue Team joins them and gets screamed at by Billian. And then there's Flower Power, who can't bear the idea of losing a member of her team. Well then have your people come from a place of love and not fear, you goddamned hippie.

Jackie and Billian have a heart-to-heart about her having permission to be here. Oh, and by the way, I only knew she was Jackie because they subtitled her interview segment. You people really need to wear nametags in these early goings. She cries about her kids and her husband and how they want her to be thin, and how her dad wanted her to find happiness in her life. Wow, we've never heard sentiments like those in the past 15 seasons, have we?

Jen gives Matt a hard time for half-assing his workout and giving her lip to boot. Cue the heart-to-heart! Matt says he's got a hot girlfriend who started dating him when he was a hot young model, and now that he's a big fattie, she's threatening to leave him. Matt, buddy, I don't know quite how to put this, so I'll just say it. Your chick sounds a little shallow. Just sayin'. After the pep talk, Jen gives Matt a long hug. Could this be the start of something?

Blake has an anxiety attack, and tells Dolvett she's had them since she was 11. What does an 11-year-old have to be that anxious about? Dolvett wants to know why she got fat and Blake flat-out refuses to talk about it. But even though she's clearly angry and annoyed, she keeps a crazy-ass grin on her face. And she's got a cackling laugh. Watch out for this one, Dolvett. Bitch is crazy. Dolvett gives her the choice of opening up or leaving the gym. She leaves. Sensitivity! Blake walks away talking to herself – see? – and Dolvett proudly tells the rest of the team he kicked her out. They're all like, "Meh." On three, go Red Team!

This leads to a Red Team bull session where Dolvett wants everyone to open up. Oh geez. Dolvett starts by talking about his one-on-one with previous winner John and how opening up to each other made them both stronger. Get a room, you two. Rather than hear everyone else's stories, Dolvett just leaves, which results in a hallway session with Blake, who feels she owes him her story. Place your bets, folks! Abused as a child? Parents killed in a fiery car wreck? Bitten by zombies? Okay, here it comes – she struggled with weight! Wait, what? That's why you've built up emotional walls? That's why your eyes get all four sides white when you're talking? Because you were fat as a kid? Wow. That's just. Wow. Oh, hey now … they show an old photo of Blake when she was skinny, and damn. Hot damn. Let's see more of that! I'm completely turned around on this and am 100% team Blake!

Comeback Canyon! That's what it's called. Bob is training Andrea and that other dude, Vanessa. Turns out Vanessa has a fiancé. Does he … have a service dog and use a white cane? Sorry, that's unbearably mean, but damn that is one unattractive she-beast. An old photo shows her playing for the WNBA Lynx. Great team name, WNBA. Keep up the good work. Vanessa barely fits in the Comeback Canyon gym. I think she could touch the ceiling without a stretch.

And here's Ali with this week's challenge. Hi, Ali! Ali normally seems pretty on top of things, but today she's clearly reading the challenge rules off a Teleprompter. Doesn't make us love you any less, Ali! Read on! So there are some obstacle courses blocked by "excuse walls" – food, fear, work, and responsibilities. I only like one of those things. Each team has to hoist a punching bag and plow through the walls and other obstacles to get to the end where they hoist the punching bag and ring a bell. Where else but The Biggest Loser, amiright? The winning team gets access to the gym, and the other two teams are shit outta luck. How is this helping? Locking two teams out of the gym? Isn't the goal here to lose weight and get in shape? The fuck?

Jake the Snake is still a burden to his team, so he sits out, as does the Littlest Sumo to make the teams even. There's running and huffing and puffing as the teams make their way along, busting through the walls – which are made of Styrofoam, which is a huge disappointment. Concrete burns calories, folks! White Team and Red Team are neck and neck, and Blue Team is nowhere to be found. Oh, Billian's gonna give them such a talking-to! White Team wins by about two seconds. And Blue Team finishes a week later. But ho! There's a twist! White Team gets to pick one of the other teams to share the gym with them. They pick the pitiful Blue Team. Smart.

White Team and Blue Team are in the gym, and tell Dolvett to go find his team elsewhere. Then they pull a great prank on trainer Jen by telling her they lost the challenge and she has to pick one of them to go home. Oh, your face! You should have seen your face! Seriously, no, we're good.

Dolvett isn't fazed in the slightest by not having the gym and sets up training right there in the house's living room. But we just had the carpets steamed! Red Team gets their calorie burn by furniture-moving and vase-holding. Weird.

Since we're all feeling good about ourselves, let's go visit Dr. H and find out when we're going to die. Scott's first. Dr. H predicts diabetes in his near future. Apparently he has no faith in the show's ability to fix any of this. They talk about the family history of diabetes, and then Dr. H lifts up a cloth that was hiding a rubber foot and a glass eyeball. What the fuck is this? Has Dr. H switched over to voodoo? Scott describes the neuropathy his dad had by sticking a safety pin in the foot. Jesus, it is voodoo. Scott says he doesn't want to die while he's alive. I … don't think you can, can you? You're either one or the other. Dr. H shows Scott a morph of what he could look like if he keeps scarfing Ring Dings, and then what he could look like if he loses the weight. Dude! Spoiler alert!

Poor Lori's next. She's got sleep apnea, high cholesterol, reflux, and pre-diabetes. By the way, I call bullshit on the notion of pre-diabetes. Just make me feel bad about what I've got, not what I'm about to have. Speaking of making people feel bad, Dr. H berates Lori about putting on weight when she was pregnant. The sensitivity continues! She then gets the morph and sees how good – not to mention fashionable – she could look at the end of this.

Some big dude from the Red Team is next. We really need names, people! I'm not going to start memorizing this early in the season, I mean it! Anyway, dude's got severe sleep apnea, pre-diabetes, and – here's one I don't think we've heard before – low testosterone. Ouch. That's a kick in the balls. He tells Dr. H that his knee is shot, and Dr. H gets all dramatic and drags out a wheelchair like the Ghost of Christmas Future. He wants the big dude to get in it, but the big dude gets mad and storms out. Dr. H gives chase – let's face it, how hard can it be to run these big dudes down? – and catches him in the laundry room, and the big dude starts screaming, red-faced, that he knows why he's there and he doesn't want to hear he's going to die in five years. Then why did you go see Dr. H? That was your first mistake.

Dr. H then runs down the whole country, saying it's going to hell in a handbasket – can this guy turn a phrase or what? – and that 80% of the country is overfat. What the fuck is overfat? Big dude calms down and goes back in, and Dr. H shows him a morph of what he could look like. The slim version looks good, although the face is still kinda fat. I think during the screaming match, Dr. H said this guy's name was Rob, so we'll go with that.

And then trainer Jen has a heart-to-heart with Toma. Who's a guy, by the way, for those of you playing along at home. See, all these heart-to-hearts are the result of the show being two hours long. Padding! Jen tells us that she sees that Toma is overweight and he's here for a reason. Well yeah, you dope, the reason is that he's overweight. Maybe he really likes barbeque. It doesn't always have to be some deep-seated scarring of the psyche, you New Age fruitcake. Oh, well, Toma's dad died. But still.

Last chance workout! Episode home stretch, people! The Red Team is sweating outside where Dolvett is screaming and beating up his team, and Blue Team and White Team are getting screamed at and beaten up in the gym. Billian takes Gina aside and tells her he doesn't want to see her smiling anymore. He wants her to be a beast. A beast that doesn't smile. Jerk. Rob, who had the meltdown with Dr. H, tells Dolvett that he hates himself and feels worthless, and Dolvett's all like, "Naw, man, you're good." And then Rob's fine. Cue incidental and uplifting music!

And finally it's weigh-in time! Let's start at Comeback Canyon, aka Ranch Junior. She-Hulk weighs in first and loses 5 pounds. Andrea loses 6 pounds, and so the monster is sent packing. Hope they've got the super-stretch limo to get her out of here. On the ranch proper, the blobs line up for unbearable stress and bitter tears.

Red Team is first. Blake loses 8 pounds. Crazy must weigh a lot. Emmy loses 5 pounds but gains an Oscar. Jake the Snake sheds 9 pounds. See what I did there? Jordan loses 8 pounds. Scott drops 10 pounds, and finally we have some double digits. And Meltdown Rob loses 12. Not too shabby. Red Team's total is 52.

White Team. Toma's up first and loses 8 pounds. Little Sumo loses 7. Rondalee drops 8 pounds. Matt loses 10. Woody sheds 12 pounds and there is much celebration. JJ wraps it up with a 12-pound loss of his own, and there is even more celebrating, for the White Team is safe. Total weight loss is 57 pounds.

Bring on the Blue Team! Gina drops 6 pounds. Lori loses 5. These are small numbers, folks. Chandra loses 9 pounds. Jackie loses 10, which they really needed, and Damien puts the nail in Red Team's coffin with 14 pounds. Billian is so excited he rushes the scale. Go Blue! Total weight lost is 44 pounds.

Red Team heads to the dining room to feast on one of their own, but it won't be Crazy Blake, because she's the Biggest Loser. Emmy gets two votes. No, not Emmy! I have so many award show jokes to make! Three votes for Emmy and that's that. Shit. Oh wait, she goes to Redemption Junction, doesn't she? I keep forgetting that particular safety net.

Let's catch up with Queen Kong. She's lost some weight, and she's happy and active and looks to be coaching basketball again. So I guess I'll just focus on those positives and say no more about it, then. For the best, I think.

Next week: Is Lori quitting because she can't stand being away from her family? The preview certainly makes it look that way, but we'll see!
​