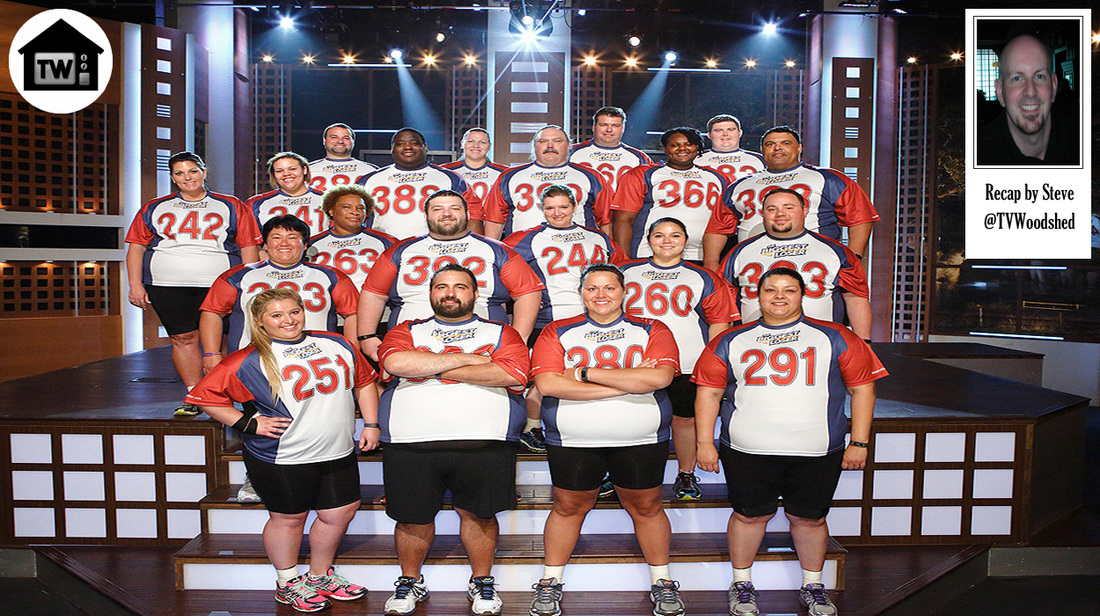 This week we discover who knows about nutrition, who has the most stamina on a spin bike, and who's a 39-year-old virgin. Maybe Doctor H has a cream for that?
Huh. We start off this episode exactly how we started last week's – shot of the full moon, ominous music playing. The limo. Only this time I know who's in the limo. It's Emmy! See, all you have to do is have the same name as an award for television excellence and I'm good. Bob surprises her and she's a little slow to react. I suppose seeing Bob standing outside your elimination limo has to be a little surreal. Bob goes over the rules of Comeback Canyon, and Emmy says, and I quote, "Oh my cow." Is she Hindu? Bob tries to hype up the importance of Comeback Canyon, but really, we all know it's where all the losers – not the Losers – wind up.

Ranch proper. The teams and their water bottles make their way to the gym, where Sexual Chocolate, Billian, and Flower Power are waiting outside. You just know this can't be good. Blake's all like, "I love surprises!" like the fruitcake she is, but the surprise turns out to be a Wall of Glory in the gym – pictures of the ath-a-letes before they turned to Taco Bell for training. Wow, way to make these fatties feel extra bad about themselves.Biggest Loser, you're an asshole. The contestants don't seem too bothered by it, though, as they wax nostalgic about those glory days. Yeah, they'll pass you by, glory days. In the wink of a young girl's eye, glory days. Glory days. Yeah.

Oh wait, Woody is bothered by his photo. It reminds him of his wife, who you will remember died nine months ago from cancer. You don't remember? The show should bring it up more, then. Woody brings the whole room down and everyone wipes away tears, and there's really only one thing for it – exercise! Cue the montage of screaming, sweating, crying, long meaningful conversations, and reminders of those ath-a-letes on the wall. Ath-a-letes!

Living room. Ali's in the house – hi Ali! – and there are color-coded tables set up for each team. Ali tells them there's a double header – we have a title! – of challenges on tap this week, and both will have a huge impact on this week's weigh-in. Yeah, yeah, what else is new? There's a Nutrition Room set up, with all kinds of fascinating information about food. Oy, it's one of those episodes. The teams have five minutes to take in an entire room's worth of information before they're subjected to a quiz. Scott says the last time he took a quiz was 25 years ago, so he should probably keep his yap shut. The teams cram (and drool) and then come back to show how stupid they are.

But wait! There's a twist! A twist on the Biggest Loser? A first! The trainers come in. Are they here to help their teams with the quiz? Don't be an idiot. If a team gets an answer right about a certain food, they get a point. If they get it wrong, their trainer has to eat said food. The contestants are ecstatic. Don't they know the beatings they'll be in for if they make their trainer eat chocolate cake?

First food is a slice of pizza. Over or under 25 grams of fat? All three teams answer over and we're all safe. Second food is pasta primavera. Over or under 65 grams of carbs? Everyone says under and we're all safe. Wow, this is compelling. Red and Blue fuck everything up on the slice of pecan pie and Dolvett and Billian have to share it. Yum. Red and White continue the fuckups on a bacon cheeseburger and a Coke. Goddamn, I'm hungry. Dolvett and Jen have to share this culinary masterpiece. Then Red and Blue force Dolvett and Billian to eat Chinese egg rolls. Next is an egg, cheese, and spinach scramble. Oh man, why you gotta ruin everything with spinach? Seriously. White answers correctly and wins a two-pound advantage at the weigh-in. Grab a bucket so the trainers can purge!

Conjunction Junction. Bob is putting Emmy and Andrea through their paces. They don't have any fun quizzes to make Bob eat crap. How is that fair? By the way, Bob pronounces "athlete" correctly, which is a welcome change. Bob takes Emmy outside to get her to cry for the cameras and she obliges, telling Bob that her mom had to fight dogs for food. Like, gladiator style? In the arena? Then Emmy got bullied for being a Chubbsy Ubbsy when she was in school, and now her daughter gets bullied too. Tradition! It's all sad, but did your wife die of cancer? Did you have seven miscarriages? I didn't think so. The net of the chat is that Emmy needs to confront her mom. About what? Fighting the dogs? I need to pay closer attention during heart-to-hearts.

Jen is in the kitchen with the White Team and wants to teach them how to make healthy baked ziti. I suspected product placement, but no. She just makes ziti filled with veggies. Ew.

Part two of the challenge double header! The contestants are … in a warehouse, I think? There are spin bikes set up all over the place. The contestants have to pedal 24.8 miles on these things, with resistance set to simulate riding uphill. Winning team gets a four-pound advantage at the weigh-in. White Team has too many players so Woody sits out, and you can tell he's totally fine with that. Who wouldn't be? It's as exciting as seeing a bunch of people on stationary bikes can possibly be, and despite lots of enthusiastic screaming from Red and Blue, White wins it, so they have a six-pound advantage for the weigh-in. Time to hit the peanut butter cups!

Oh, no, wait. There's another twist. White can give up the four pounds to get letters from home, but if they keep the four pounds, Red and Blue get letters from home. Consolation prizes! White keeps the four pounds, as anyone would, since letters from home only make you feel bad. And the way the cameras are focusing on Lori, I suspect they're going to make her feel extra bad. Like leave-the-ranch bad. We shall see.

Red and Blue get letters, and as I predicted, everyone feels like shit. Blake's is from her "mommy," who addresses it to "Blakey Chummy LaLa Mishu Porkchop." Okay, so, Blake's not to blame for being so Blakey. Blake's mom is to blame. Shame on you, Blake's mom. Scott's letter from his wife wishes him a happy July 1st. Hey! It's September! Shenanigans! Scott's wife uses poor grammar. I guess that's why he gets so weepy reading the letter. Jake the Snake gets all blubbery thinking about his dead son. Did you forget he has a dead son? We should probably mention that more.

And here's Lori! Huh. That's odd. She's happy with her letter and more motivated than ever. Well that's not how last week's preview made it seem!

Red Team plays around with a football and laughs and bonds. Blech. I remember when Biggest Loser was all screaming and plotting and scheming and backstabbing and waterloading. Maybe we need Jillian back. Scrimmage ends with a chant of "we us!" I think. I guess Scott's entire family has grammar problems.

Last-chance workout! Sweat! Tears! Threats! Begging! Pleading! And … virginity? Wait, hold up now. Sonya, the Littlest Sumo, tells us she's 39 and that next year she'll officially be the 40-year-old virgin. They show some old photos of her, and, well, there's the problem. She's got big Harry Potter glasses, a mullet, and a floral dress that matches the floral couch behind her. Lord, I don't ask you for much, but please let this girl get to Makeover Week. Just so she can finally get her some. Amen.

Weigh-in time! We start at Comeback Canyon. I wonder if this is a test run for Bob to take over for Ali someday. She seems to be stepping back from the spotlight. Hm. Anyway, Andrea loses 4 pounds, and I already know that she loses the weigh-in, thank you very much Twitter and your fucking spoilers. Emmy loses 6 pounds and the Twitter prophecy is fulfilled. Andrea waddles out. Seriously, I'm not taking shots, she waddles. Bye, Andrea!

Legit weigh-in, and White is up first with their 6-pound advantage. Matt loses 7 pounds. Rondalee loses 3 and gets the stink-eye from everyone. Woody loses 4 pounds. They did hit the peanut butter cups! JJ loses 3 pounds. Fucking hell. Excuses fly, but excuses don't lose weight, do they? Toma loses 6. Yikes. It's up to the Littlest Virgin, who loses 4. Well, there you have it. White Team's total is 33 pounds.

Red Team's up. Big ol' Rob loses 5 pounds. What the hell, man? Crazy Blake loses 3 pounds. Well that's just crazy. Jordan loses 4 pounds. Yawn. Wake me when we reach double digits. Jake the Snake sheds 9 pounds. (See what I did there?) Scott loses 11 pounds – finally double digits! – and Red Team is safe with 32 pounds!

Blue Team, you're up. Damien loses 9 pounds. Good start! Lori loses 3 pounds and gets a golf clap. That's embarrassing. Jackie loses 2 pounds. No claps. Even more embarrassing. Gina loses a pound. One pound. Billian's getting mad at his team. Chandra also loses a pound. Jesus. Well, that's Blue Team done. Total of 16 pounds. Oof.

Blue Team stands around and talks about who deserves to be there. Cut to Biggest Loser Last Supper. Tears and speeches abound. Chandra gets a vote. Lori gets a vote. Jackie gets a vote. Chandra gets another vote and that's enough. Chandra gets shipped off to Comeback Canyon. Say hi to Bob!

And let's catch up with Andrea. She's lost 60 pounds, and as Twitter was so kind to inform us before we had a chance to recap, looks great. Her family is working out with her, and she's working hard as the director of the Detroit Pride cheerleading squad. Detroit Pride? Isn't that an oxymoron? Anyway, she plans to lose more weight and be a "hottie potati." Does anyone on this show care about the English language?

Next week! There's a lottery, and only one team member's weight counts for the whole team. Which means the weigh-in is going to be really short. Which means a shit-ton of episode padding. Nooooooo!