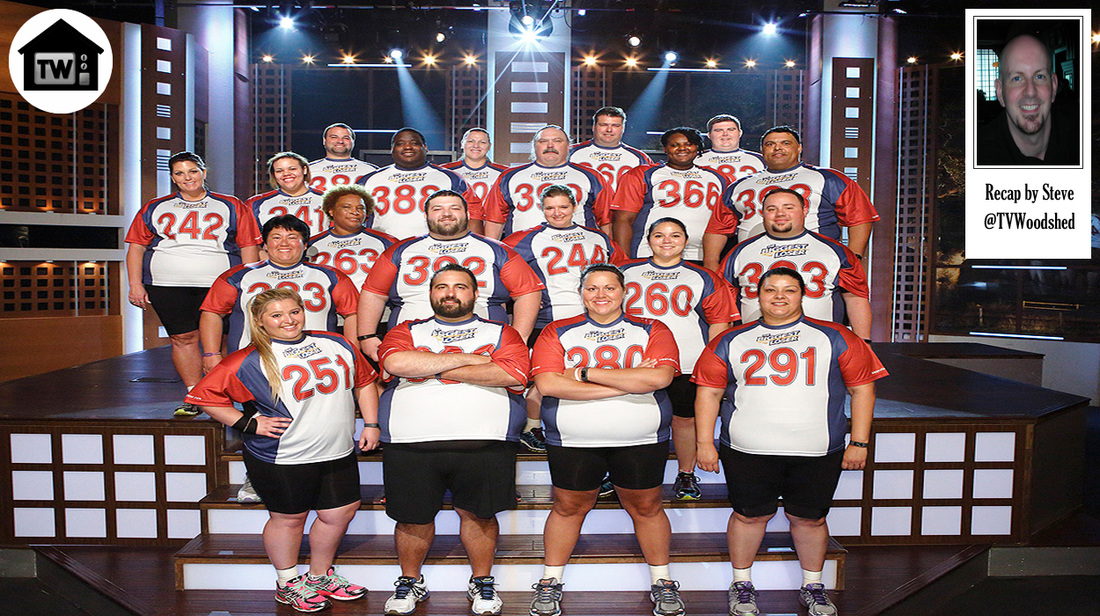 This week, one of the Biggest Loser contestants wins the lottery, which turns out to be a trip to New Jersey. Wait, that can't be right.
And my birthday comes early this year! An hour-long episode! I don't know what I did in a previous life to deserve such a beautiful gift, but whatever it was, I'm glad I did it.

Limo of shame. Chandra arrives at Comeback Canyon with a "Holy crap!" There's no need for you to work blue, sweetheart. Bob gives her the lowdown and introduces her to her new nemesis, Emmy, and Bob wonders if this will finally be the week that someone wins two weigh-ins in a row. You know, I hadn't really considered it, but since each new Comeback Canyon contestant replaces the one that's already there, it's like there's no Comeback Canyon at all. You just hang around an extra week, get a black shirt, and then you're shipped off anyhow. This is dumb.

Ranch proper. Since it's a short episode, we get right down to it. See, Biggest Loser? See how life could be? There's a lottery popper set up in the gym, which to Jordan looks like "some kind of Ghostbusters machine." The fuck? Jordan, eat some granola, I think your blood sugar's low. Ali explains that whomever wins the lottery will go home for a week with their team's trainer, and their weight is the only weight that matters for the team. This particular gimmick? Seen it. But whatever, let's bounce some balls.

With a dazzling smile, Blake tells us she has a stress fracture in her foot. Stress fractures are bad, honey. Frowny face. Ugh. Blake, you're completely useless. The Reds end up safe, and as the lottery comes down to White Team or Blue Team, Flower Power says, "I'm literally crossing my toes in my shoes." Literally? You can do that? Show me.

Damien from the Blue Team … wins? Loses? Is the one to go home either way, so it's off to New Jersey with him. I wonder if they fly Damien and Billian out on the same plane. Can you imagine?

Billian: "Damien, I want you to stay strong. Stay focused. Embrace your inner athlete –"
Damien: "Will you shut the fuck up? I'm trying to read the SkyMall catalog here!"

Cut to New Jersey. We see Damien walking up the street to his house. The limo couldn't have dropped him off a little closer? And by the way, nice house! I mean, yeah, it's in New Jersey, but still. Damien enters and is showered with love from everyone in the room. Since he's got seven kids, it's impossible to tell who's family and who just wanted to get on camera. Damien makes a little speech and then introduces Billian, and everyone's reaction is exactly the same: That's not Bob!

Billian sets Damien to football drills, which should be pretty familiar to him, while back on the ranch, the Blue Team act like they can't find the gym without their trainer to draw them a fucking map. And they whine that they don't know what they should be doing. Just do what Dolvett and Flower Power are doing, you jackanapes! Sorry, forgive my language. But Jesus Christ, are they helpless. There's a montage of trainers doing their training, which includes a gratuitous downblouse shot of Flower Power, which … is … I've lost my train of thought.

Dolvett tries to get some camera-ready tears from Jake the Snake by bringing up his dead son's birthday – you remember he has a dead son, right? Well Jake won't crack and says he's cool as a fool with it, so Dolvett moves on to see if he can make someone else weep, puke, or pass out, because the camera crew's getting bored.

You know what's weird? This episode is half the length of a regular episode, but it feels like there's even more padding than usual. Maybe it's because there's no Rube Goldberg contraption that the contestants have to run through to win stuff. Bob does some training, and then we go back to New Jersey. Again, nice freaking house! I guess you need a place that big with that many kids. Billian tries to get Damien to break down over losing his mother, but the big guy pretty much stays strong. We've got a serious lack of crying in this episode.

Billian takes Damien to New York City for a last chance workout, and if there's time, The Book of Mormon. Back on the ranch, there's a last chance workout as well, but shit, if you've seen one, you've seen 'em all. Flower Power talks about a voice that's "quietly starting to get louder in my head." Oh, Jen. Just stick to the tight workout clothes and don't talk so much, okay?

Comeback Canyon weigh-in. Emmy loses 4 pounds and Chandra loses 7, so Emmy gets the boot, and Comeback Canyon proves that it serves zero purpose.

Regular weigh-in. Damien and Billian are reunited with the gang, and we get started. Red Team is up first, and they start with Blake. Here's how stupid Blake is – she takes off her walking boot before she gets on the scale. Like they weren't all weighed in beforehand. Oh, Blake. Anyway, she loses 8 pounds and strikes a cheerleader pose, which makes her even more annoying. Jordan loses 10 pounds and honors his promise to do the Truffle Shuffle. Dolvett doesn't know what that is. Seriously, Dolvett? You need to get out of the gym and rent some '80s classics. Scott loses 7 pounds. Jake the Snake sheds 10 pounds. See what I did there? He's also off all his diabetes meds, so he shed those too. I did it again! Rob is last and loses 12 pounds. Red Team lost 47 pounds. The Next Gen writers would be proud.

White Team. Rondalee loses 5 pounds. You suck, Rondalee! Matt loses 10 pounds. Woody drops 11 pounds. See, we're zipping right along here! Toma loses 11 pounds and Ali mocks him for his two-thumbs-up celebration. The World's Littlest Sumo Virgin loses 9 pounds, and is ecstatic with it, though I'm betting she'd be equally ecstatic with a boning. JJ loses 16 pounds. Hot damn! White Team's total is 62 pounds.

Blue Team, not that it matters. Jackie loses 4 pounds, not that it matters. Gina loses 4, not that it matters. And Lori loses 8 pounds, not that anyone cares. Damien, who does matter, loses 14 pounds. Chasing hookers around NYC must really burn some calories.

Red Team loses, and Jake the Snake does the most annoying thing a Biggest Loser contestant can do – he asks everyone to vote for him so that he can save his teammates. Blergh. First of all, that's quitting, and second, I haven't even tapped into my reserve of wrestling-related gags for Jake. Either way, the shortened episode keeps speeches to a bare minimum in the Dining Room of Death, and Jake gets his wish and is voted out. We get a glimpse of his arrival at Comeback Canyon, and his reaction at seeing Bob is the equivalent of someone seeing that a two-liter bottle of Coke is on sale for 99 cents. There's also a hint of, "Fuck, I thought I was done with burpees. Fuck!"

We catch up with Emmy, who looks great after losing 50 pounds. She's got the whole family running tough mudders, including grandma, who looks like she might be buried where she falls. Convenient, I suppose.

Next week! The contestants are forced way up in the air to shimmy along some rope contraption, and somebody plummets to their death! No, not really. Okay, maybe.
​