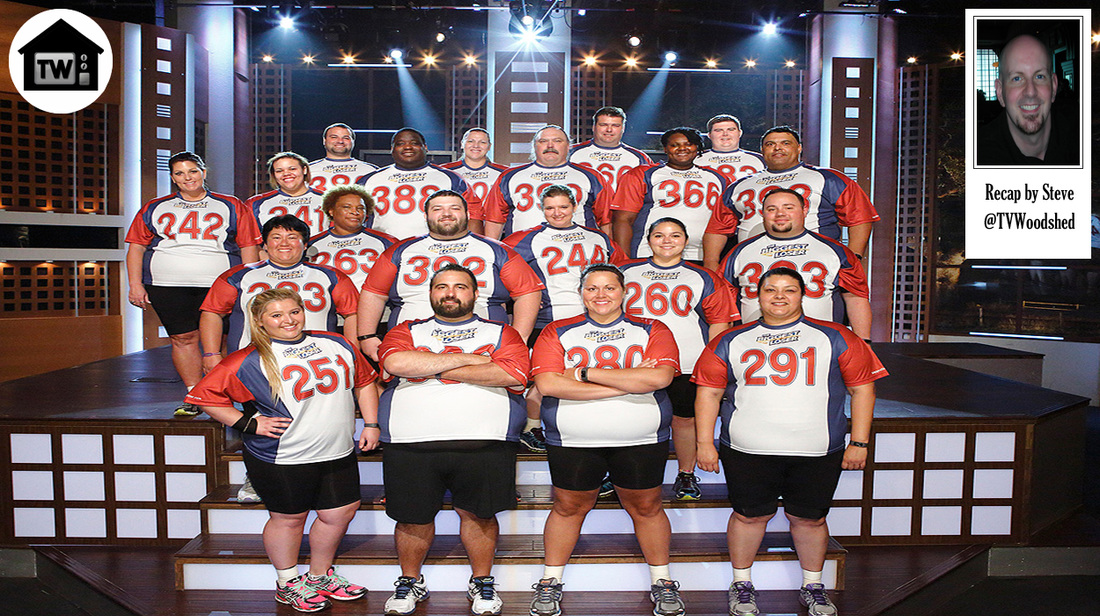 Are you looking for Biggest Loser high drama? Catfights, screaming matches, and complete emotional meltdowns? Well, don't look to this snoozer of an episode, because it's nothing but a pile of fluff.
Wow, another hour-long episode. My cup runneth over! Thank you, Biggest Loser. Thank you for finally embracing sanity.

I see a bad moon rising. I think it's the same shot of the moon recycled from last week. And the week before. Seriously, the moon can't be full every week, right? I'm not an astrophysicist, but I know this much is true. Jake the Snake is in the limo of shame talking about his dead son being proud of him. Again with the dead son. Jake arrives at Comeback Canyon and has no idea what's going on. Seriously, he's just looking around like "Thefuck?" even as Bob tries to explain the worst wrinkle in Biggest Loser history.

The ranch. The contestants are working out and the trainers keep reminding them that it's week five. I think they do that to prove it's not recycled workout footage. Like holding up today's newspaper in a photo. Flower Power feels like Matt is sandbagging it, so she takes him outside to get his story. He talks about being an athlete and model, and that he got injured and got fat. Just like we all did. What was the injury? Because there are no specifics, I bet it's groin-related. Matt gets a hug and everything's fine.

Challenge! Ali tells the contestants that they're going to pull themselves across a canyon on some power lines. At least they look like power lines. It would be more exciting if they were powerlines. Oh, and they'll be 100 feet in the air. Honestly, that's not that high. Woody doesn't wanna do it because he's afeared of heights. He wants to sit out, but he sat out the last challenge, so he's gotta. The winning team gets to kill a contestant on one of the losing teams. No, sorry, sideline them so their weight doesn't count. Eh, same thing. And there's a red line at weigh-in! Freak out now, for tomorrow we die!

So everyone straps in and starts pulling themselves across the canyon. It's as exciting as pulling yourself across a canyon can possibly be. There's pain and screaming and determination galore, and White Team wins. Big freakin' surprise.

We catch up with Jake the Snake working out at Comeback Canyon, and he mentions his dead son again. Sweet Jesus, enough with the dead son already! We get it! Chandra's working out too, and we hear how it's age versus beauty, or something. No, that can't be right. Age versus something. I don't know. Bob keeps asking them to finish the phrase "I am ..." and he writes down what they say. Hey Bob? I am bored. I am disappointed this episode isn't moving along as fast as I expected. I am moving on to the next segment.

Last chance workout! Red Team is working out in the gym. Y'know, like every other last chance workout. Blue Team is working out in the pool. White Team is working out on the beach, and Flower Power is talking about cutting through the noise and letting go or some hippy-dippy shit. Hey man, that's, like, beautiful. The only reason she's forgiven this week is because she's parading around on the beach in little bikini bottoms, which ... of course ... sorry, lost my train of thought.

White Team strategizes about who they're going to kill. Er, sideline. Sorry. They throw around a few names, but if they come to a decision, we're not privy to it.

Comeback Canyon weigh-in. Wow, that did actually come up pretty fast. Bob confirms that it's age versus beauty. So what, Jake the Snake's not beautiful? Jerk. Jake loses 7 pounds. Chandra loses 4 pounds, and once again, Comeback Canyon proves to be nothing more than a one-week pit stop for castoffs. Whose brilliant idea was this, anyway?

Weigh-in proper. JJ gives us incredible insight that if White Team picks the right player to sideline, it will help them, but if they pick the wrong one, it will hurt them. How have we made it this far without JJ's wisdom showing us the way? White team's short list is Damien, Scott, and Blake. Blake finds this hilarious because she's not right in the head. After a lot of buildup, the White Team chooses Damien.

Red Team's up. Scott loses 13 pounds! Damn! Blake loses 7 pounds and gives us that crazed Joker face. Jordan loses 7 pounds as well. Rob drops 5 pounds. For a big dude, that's not a lot. Total of 32 pounds.

Blue Team. Damien's weight loss doesn't matter, but he loses 6 pounds. So was that a good pick or no? Gina loses 7 pounds. Jackie loses 8 pounds. Hot damn! And I just noticed Damien has blue nail polish on. The hell? Lori loses 9 pounds, so the total weight lost is 24 pounds. Blue is safe.

White Team. JJ loses 5 pounds. Ooh, rough start. The Littlest Sumo Virgin loses 6 pounds. Woody drops 7 pounds. These numbers are not impressive. Rondalee loses 8 pounds. So far it's 5, 6, 7, and 8. Come on, Toma, lose 9! And he does! If Matt loses 10 pounds, my mind will be blown. Matt loses 3 pounds and ruins everything, for my number sequence and for the White Team. Nice one, Matt. Total of 38 pounds lost. Not gonna do it. And there's no muss, fuss, or bother, because Matt's below the red line. Stick him in the limo and ship him off to Bob!

By the way, it turns out if the White Team had sidelined Scott, they would have won the weigh-in. Nice one, White Team.

We catch up with Chandra, who's lost 54 pounds. That's not really that impressive, to be honest. I mean, it's a lot, yes, but she's a big gal and the big gals generally have the big ol' numbers. Her grandfather's been diagnosed with lung cancer and his only wish is for Chandra to get healthy. If it were me, I'd wish for no lung cancer, but to each his own. Grampa's proud, that's all that matters.

Next week! It's the temptation challenge, and whomever eats the most shitty food gets immunity. Sorry, but how does this help with weight loss again?
​