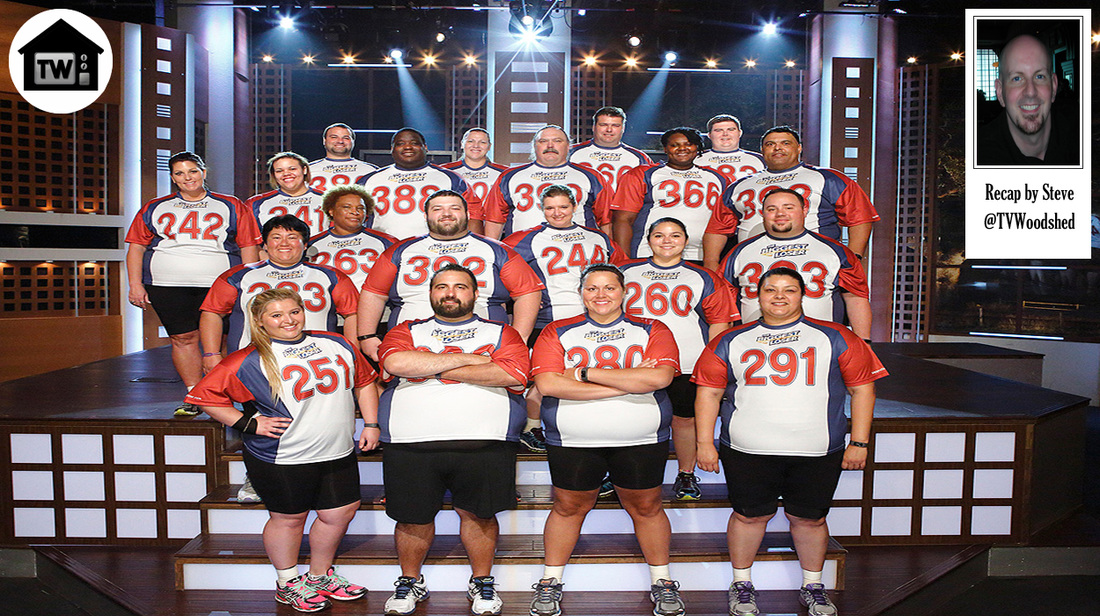 In a move that seems counter-intuitive to weight loss, the contestants have to eat as much shitty tailgating food as they can to win immunity at the weigh-in. Mmmmmm, shitty tailgating food
I get the distinct impression that Biggest Loser is luring me into a false sense of security with these hour-long episodes. Don't get me wrong, I'm appreciative, but I'm really just waiting for the other running sneaker to drop.

Full moon, limo, Bob, Comeback Canyon. You know the drill. Matt arrives and has one of the more subdued reactions – I'm starting to think rumors are floating back to the ranch proper that this particular safety net is in place – and Bob tells him that he's going to be up against Jake the Snake. Both men state in a passive aggressive way that they're going to kick each other's ass.

The LA Coliseum. The parking lot is filled with extras acting like tailgaters as Ali greets everyone in her completely non-specific football shirt. Number 78, Ali? Mean anything to you? Thought not. So the challenge here is to enter a tent filled with tailgating food and spend five minutes in there, either eating or not. If you eat and consume the most calories, you get immunity this week. It's almost like they want these poor damaged souls to damage themselves further for our amusement.

The contestants go in one at a time, and only a few opt to eat – Scott, Woody, Rob, and Toma. All boys. Girls got willpower, yo. With 852 calories and a renewed sense of shame and self-loathing, Toma wins immunity. Rob is annoyed because he really tried to scarf and it wasn't enough.

Gym. The trainers are shouting out "Week six!" possibly confirming my theory that they do so to prove that the show isn't just recycling workout footage the way they recycle shots of the moon. Toma's got immunity but he could still bring the team down, so everyone's got their eye on him. I got my eye on you, Toma!

Dolvett chats with Rob and notes the change in him, from a self-hater to a self-lover. But not in the dirty sense. I don't think. Billian focuses on Jackie this week as we all wonder aloud, "Who the hell is Jackie?" She doesn't even have a decent reason for not giving 100%. She just misses her kids. Yawn. Billian has her throw some punches and she seems to feel better.

Matt and Jake the Snake work out hard in and around the Comeback Canyon gym. Bob asks Jake to read a poem he wrote, and while I'm not really a fan of poetry, it's really pretty good and uses nice big words like "cacophonous." And here I thought Jake was just master of the DDT. Bob says he's going to keep the poem and use it to inspire other contestants. Jake smiles. It's disconcerting.

Ranch proper. Dolvett takes Scott out for a heart-to-heart. Turns out Scott has parent issues. He never connected with his father and his mother sat on the sofa and drank soda pop all day. Uh, yeah, that's called growing up in the '70s. That's what all of our parents were like. Buck up, buttercup. Scott's afraid of being dead while he's alive. Physiologically speaking, you've got nothing to worry about there. Scott and Dolvett hug as the music swells. Shame they couldn't have done this on a beach at sunset.

Wow, it's weigh-in time already? Man, that first half hour was a whole lotta nothin'. They didn't even make them jump over or through or around anything! And we never even got a last-chance workout in! What a gyp. One other thing – for an episode titled "The Tailgate," there was maybe seven minutes devoted to tailgating and it was all at the beginning of the show. Weak.

Comeback Canyon weigh-in. Jake and Matt compliment each other, but you know each is hoping that the other had a secret stash of Twinkies hidden somewhere. Jake loses 11 pounds. Matt loses 16 pounds. Damn! And yet another week goes by without a repeat offender at Comeback Canyon. Have I mentioned what a stupid idea this was? They should have divided the original group into Red, White, Blue, and Black and just run the show the way they always have. But no one cares what I think. Jake can't leave without mentioning his dead son multiple times, and Bob mentions him too, just for good measure. If we can't tug on your heartstrings, folks, we can sure as hell pound at them with sledgehammers. So long, Jake. Say hi to Damien for me!

Weigh-in proper. Ali's dressed like Black Canary from Arrow. Rowr. Red line again this week, so let's get to weighing. White Team first. JJ loses 7 and is over the moon. That's not that great, JJ. The World's Littlest Sumo Virgin loses 7 as well. Rondalee drops 6. Woody loses 8. The lesson there is that you can eat all the tailgating food you want and still lose weight. Toma, with his immunity halo, loses 7. No slacker Toma! Total weight lost is 35.

Blue Team. Jackie, whoever she is, loses 5 pounds. Lori loses 4 pounds. Small numbers, kids. Gina loses 3 pounds and gets no applause. Ouch. Damien drops 7. Blue Team sucks. Total weight lost is 19 pounds.

Red Team. Scott loses 7 pounds. Popular number. Jordan loses 6 pounds. Any double digits this week? Blake the Flake loses 5 pounds. Rob loses 11 pounds! There's my double digits! Total weight lost is 29 pounds. Red and White are safe, and Blue Team loses Gina to the red line. Don't be sad, Gina. You're off to Bob!

Gina arrives at Comeback Canyon and we finally get the over-the-top reaction we've been waiting for, not just to the sight of Bob but to the concept of a second chance. Hooray!

We catch up with Jake, who has lost 120 pounds and looks just as good as he did when he feuded with Rick Rude in the early '90s. Hey, you're not going to believe this, but Jake talks about his dead son. I'm going to miss seeing him on the ranch, but man, the constant dead son talk gets old fast. We see Jake working out and then he dumps all his needles in a trash can because he's no longer a diabetic. I don't think you're supposed to dispose of needles in that manner, Jake. But hey, whatever distracts him from talking about his son works for me.

Next week! The contestants play Dunk the Trainer, and whoever can't keep their trainer dry loses them for the week. Because it's not like we're trying to LOSE WEIGHT here or anything.
​