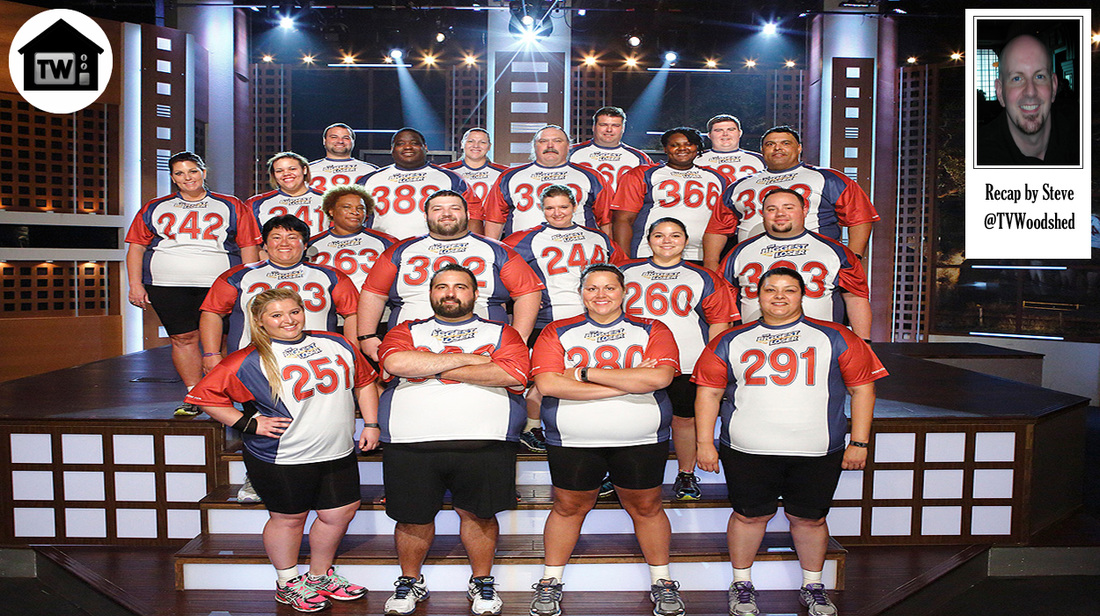 After the world's dullest softball game – and that's saying something – the contestants play a variation of Dunk the Clown, said clowns being their respective trainers. It's all fun and games until someone plunges into the pool in $1,500 shoes.
Yet another hour-long Biggest Loserepisode. Hm. Maybe we're safe from the bloated two-hour padfests after all.

Once again we're treated to the full moon, the limo, the Bob, and the Comeback Canyon. Only this week we finally get a contestant – Gina – who's genuinely excited to see Bob, figures out very quickly what's happening, and is thrilled to have a second chance. See, learn from this woman, people. Gina, meet Matt. If the same pattern keeps repeating, you'll be sending him home this week. Ah, the glory of Comeback Canyon.

Baseball diamond. Billian takes Lori out so she can relive her glory days as an Olympic softball pitcher. They use bright yellow softballs – I assume to show up better on camera – and Lori uses that goofy-as-shit underhand pitch style to send some fastballs right by Billian, who I think isn't really trying. That's nice of him. Make Lori feel better about herself. To Lori's credit, she does bring some high heat and consistently gets it in the red square on the net behind Billian, which I'm assuming is what you're supposed to do, yes? They end the day by making sure to talk about Lori's multiple miscarriages, because Jake the Snake is no longer around to talk about his dead son.

Indoor pool. Oh please tell me they're going to re-create that scene from the first season finale of Sherlock. No, no they're not. They're going to put the trainers up on high platforms and their respective teams have to hold onto weighted ropes to keep them high and dry. First team to fuck up loses their trainer for the week. Next team out only gets their trainer for last chance workout. Last team keeps their trainer as normal.

Now, as much as I hate pulling back the curtain like this, there's really not a whole lot at stake here. As I've explained before, the trainers work with their teams on Monday, then trust them to do their prescribed workouts throughout the week, and then return Saturday for last chance workout and weigh-in. So if you lose your trainer for the whole week, you're only losing them for two days. If you only have them for last chance workout, you've only lost one day with them. Really not a huge deal, folks. I say let 'em drop!

The trainers shout encouragement and throw out a little trash talk, but Red Team is first to give up so Dolvett becomes Dolvwett. I might have reached too far for that one. White Team throws in the towel next so Flower Power takes a dive, and thus Blue Team wins. But sends Billian into the drink anyway. Ha! Wait, no one's going to pull Ali into the pool? Weak.

Gym. As predictable as clockwork, the Red Team and White Team work out hard but also use the time to whinge about not having their respective trainers. Hey, you guys let go of the ropes. You've got no one to blame but yourselves. Red Team's Scott steps up and motivates his people, including Blake the Flake, who does nothing but smile that insane Joker smile throughout the workout. Man, imagine having that much crazy on one team?

Comeback Canyon. Bob's got Matt and Gina working together to solve complex problems that include carrying old tires around. He claims there's a method to his madness. I'm going with just madness. They're competing against each other, Bob! Comeback Canyon, where everything's made up and the points don't matter.

I normally skip over the Challenge America segments, but this week's features a former Biggest Loser finalist, Joe, who decided to ride his bike from Washington DC to California. Ride, Forrest! He's doing it to raise awareness for childhood obesity. I'm sure anyone who saw him riding across the country looked at him and thought, "I should stop feeding my kid so many deep-fried Snickers." But really, the only reason I bring it up is that this guy was from two seasons ago and I was like, "Who the fuck is Joe?" Biggest Loser, bringing you disposable celebrities for 16 seasons!

Last chance workout! Flower Power makes a huge deal about being gone for the week. See pulling back the curtain, above. She dubs this the "Only Chance Workout." So then your team hasn't worked out at all this week? The Only Chance Workout bears a striking resemblance to a last chance workout. Lots of screaming, sweating, and whatnot. Nothing new to see here, folks. Move along.

Comeback Canyon weigh-in. Gina loses 3 pounds. You stink, Bob! Matt loses 2 pounds. Wow, you really stink, Bob! Matt is sent packing, and we still have yet to see a contestant last more than a week at Comeback Canyon. Just call it The Bottom Branch and be done with it.

Weigh-in proper. Red Team's up first. Rob loses 9 pounds and makes it into the 300s. The high 300s, but still. Jordan loses 7 pounds. Scott drops 7 as well. Blake the Flake says she wants to be 199 this week, but doesn't think it's going to happen. Boy, Dolvett's positivity just rubs right off on them, doesn't it? Blake loses 5 pounds and is 199. See, nutbag? Total weight lost is 28 pounds.

Blue Team. Lori loses 5 pounds. Must have been all that crazy underhanded pitching. Jackie loses 2 pounds, but none of us know who she is anyway. Damien promises to not let anyone down, and needs to have lost more than 13 pounds. He loses 5. Way to not let anyone down. Total weight lost is 12 pounds. Yeesh.

White Team. JJ loses 7 pounds. Toma loses 4 pounds. Woody drops 4 pounds. Rondalee loses 2 pounds. Ouch. The World's Littlest Sumo Virgin loses 6 pounds. Total weight lost is 23 pounds.

White Team and Red Team are safe. Blue Team loses Jackie. (Who?) She says it's time to go be a role model to her two girls, which gets some crocodile tears from Ali. Or maybe she had something in her eye, it was a quick cut. Oh, and also, Jackie? That's her name, right? You're not going home to your girls just yet. You're going home to Bob, baby. Prepare for single-digit weight loss!

Let's see how Matt's doing. You'll recall that Matt used to be a model with killer abs, and that he suspects his girlfriend is going to leave him if he doesn't get his fat ass into shape. Well hold on to that shallow gal because Matt has lost 114 pounds! We get to see him working out with his hollow shell of a girlfriend, and they climb this crazy steep hill/mountain thing to look at a waterfall, and Matt proposes. She says yes, but I have to wonder if she's secretly thinking, "That's how big of a diamond I get?"

Next week! It's Biggest Loser, Vegas style! I assume they throw the contestants into that den of sin to see if they'll give in to temptation. Because it's not like we're trying to LOSE WEIGHT here or anything.
​