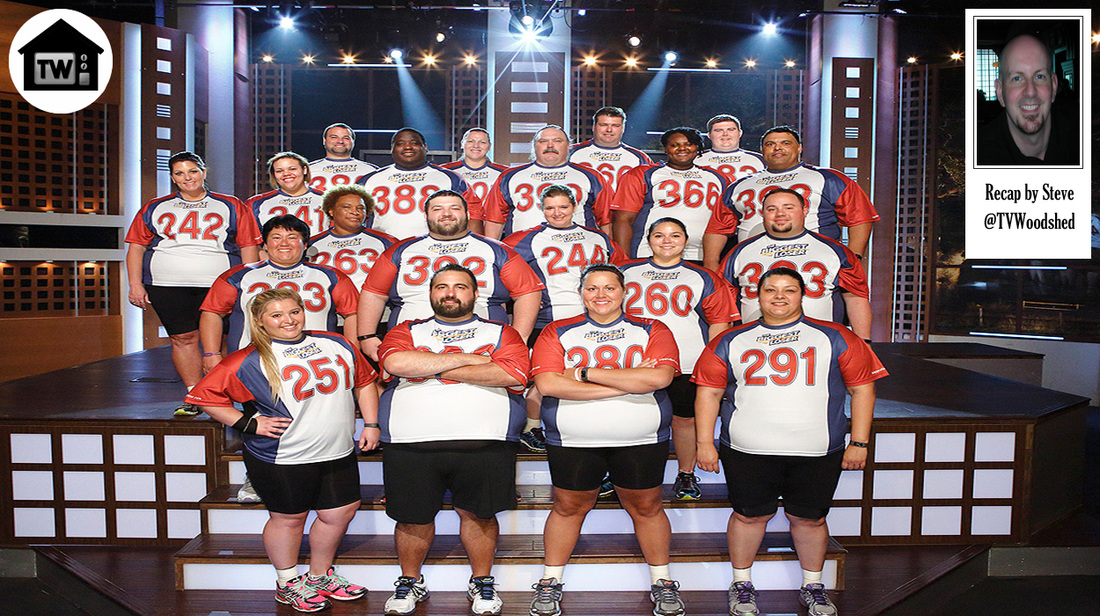 This week, one team gets sent off to Vegas, where a week of booze, hookers, a blow has absolutely no effect on their weight loss whatsoever, to the eternal frustration of the show's producers.
Hour-long Biggest Loser episodes make me as happy as a kid with a bag full of Halloween candy and no razor blade apples.

Huh. No full moon, no limo, no Bob, no Comeback Canyon. I'm freakin' out, man! We start with a time-lapse sunrise and various desert-dwelling creatures arising from their slumber. Before we even have a chance to unwrap our Ding-Dongs, we're into this week's challenge. The contestants arrive at the world's longest treadmills positioned over the world's shallowest swimming pool. It's a recipe for hilarity! One member of each team has to run on the treadmill and stay dry, and the winner gets to penalize the losing teams. I hope it's spankings with the Biggest Loser paddle.

Red Team chooses Scott, White Team chooses Rondalee, and Blue Team chooses Damien. They start at 3.5 miles per hour, then it bumps up to 5, which Rondalee (her teammates call her "Roe," as in Roe v. Wade, which make zero sense) can't handle and she goes into the drink. They bump up to 6.5 miles per hour, which is really fast. Damien goes down, and Red Team has their first victory. That was a seriously short challenge.

Now to the penalties. One is cleaning the Biggest Loser house, including the shitty toilets, and the other is sending a team to Las Vegas. Wait, what? Oh, I see, the cleaners can go to the gym when their chores are done, but the Vegas people are stuck in Vegas until the weigh-in. This seems to assume there are no gyms in Vegas. Maybe there aren't, I don't know. Red Team sends White Team to Sin City and the Blue Team will be scrubbing gussets.

Flower Power sits Woody down on the pretense that she's worried because he's going back to his hometown of Vegas, which is where he gained the weight in the first place, but really it's to get him to cry about his dead wife for the cameras. Jesus, Biggest Loser. If Blue Team were going to Vegas, would you have Billian poke Lori about her miscarriages? Sometimes it's just really disturbing what you do for ratings.

Vegas, baby! Wow, they put them up at Paris? What, was Circus Circus completely booked? They check into a lavish suite, which I contend is a set on a soundstage somewhere because Paris isn't that great. All these guys can seem to do is complain about all the temptations around them. They're not grateful to be away from the ranch, they're not happy to be in normal clothes. Just, "Oh, so many temptations here!" Here's a nickel's worth of free advice – YOU'RE NOT REQUIRED TO GIVE IN TO TEMPTATION! Stay in the suite and order fucking salads from room service! God, the manufactured drama. White Team is worried about JJ surrendering to everything around him. He's 22 years old, for Christ's sake! Of course he's going to give in!

Comeback Canyon. Jackie and Gina are doing yoga with Bob in the forest. He gives them both a pep talk until Jackie breaks down in tears. Then Gina breaks down too. Nice. Have we met the tear quota for the week?

Ranch proper. Get ready for the funny as the Blue Team, along with Billian, are forced to clean up the dirty ol' house. Looks like the other teams left it extra messy. It's like when an outgoing president's staff trashes the White House before a new president takes office. Those rascals!

Red Team's in the gym where they belong, and Dolvett is smiling with every single tooth showing. It doesn't make him ease up on them any, though, so beware a smiling Dolvett. Hey, it looks like we haven't made tear quota yet because Dolvett is poking at Blake the Flake until she breaks down because she's lonely and doesn't have her friends around her. They show a photo of Blake with her friends and her friends are fiiiiinne. I'd want them around all the time too. Dolvett tells Blake to worry about Blake. Yawn. What's happening in Vegas?

JJ says that they want to have some fun and go see the town, so what better way to see all Vegas has to offer than to go to the nightclub that's actually in their hotel. Woo, Vegas! I'm curious who's footing the bill for all this. Did the show give them a stipend to use however they wanted? The gang more or less dodges the temptation bullets that are all around them, and JJ slips off to dance by himself in the club. That's neither sad nor pathetic. The next morning, White Team is working out in the hotel pool, and then climbing the Eiffel Tower. Temptations!

Blue Team is working out in the gym, so that whole subplot of them cleaning the house took up maybe 30 seconds of screen time.

Oh, and it's weigh-in time! What a weirdly disjointed episode. We start at Comeback Canyon. Jackie is up first. She loses 3 pounds. Gina needs to lose 3 pounds or better and she drops 2. So still no repeat customers at Comeback Canyon. Bye, Gina!

The weigh-in that really matters. Ali looks smokin' in a tight black and white dress. Rowr. The weigh-in starts with Red Team. Rob is up first and loses 9 pounds. Jordan loses 6 pounds. Scott drops 5 pounds. Blake the Flake loses 3 pounds. Seems like they kinda limped to the finish line. Total weight lost is 23 pounds.

White Team is up next. Rondalee (or Roe) loses 3 pounds. JJ loses 7 pounds. Oh yeah, he was the guy to worry about in Vegas. The World's Littlest Sumo Virgin loses 6 pounds. Toma drops 8 pounds. Woody (or Woodchuck, which they call him as he mounts the scale) loses 7 pounds, so the White Team's total is 31 and they're safe.

Blue Team shouldn't take long. Lori is up first and loses 3 pounds. Damien loses 9 pounds. Wow, he finally came through for his team. Total of 12 pounds lost.

Red Team loses the weigh-in and Blake the Flake is history. Blake is sad. Don't be sad, Blake. Bob's waiting for you.

We catch up with Gina and she's lost 65 pounds. Really, that's it? I don't mean to pick nits here, but really? That's all? She looks okay and she seems really happy, and her husband is happy too. So it's all good, I guess.

Next week! They trot out some old washed-up football players to inspire the contestants, and whatever the challenge is can net the winners video chats from home. So the contestants will still be fat, but they'll be sad and lonely as well.
​