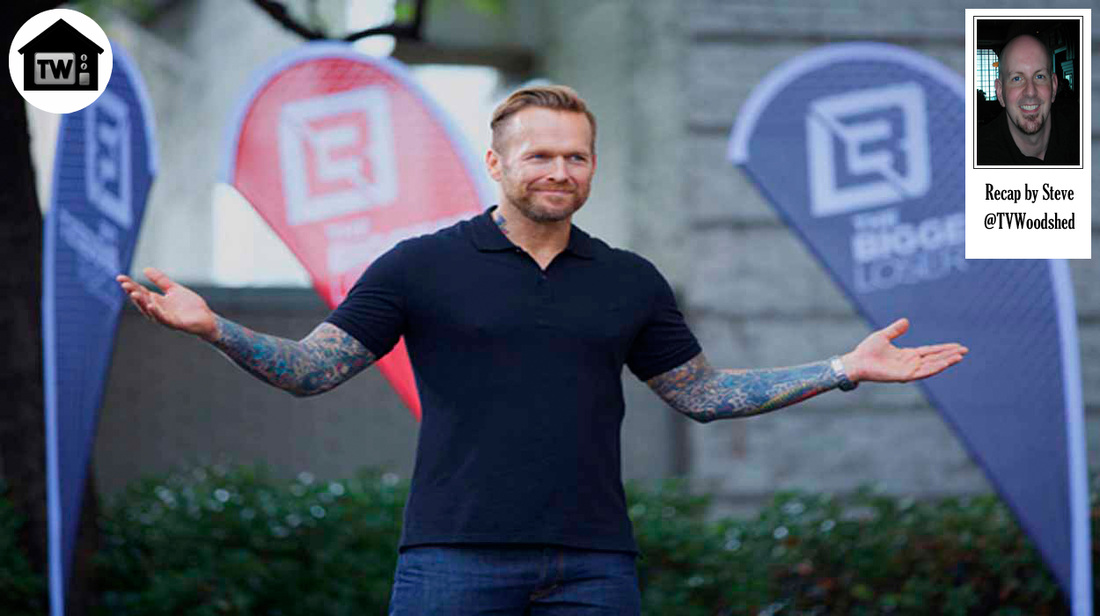 It's Season 17, bitches! New Biggest Loser host Bob Harper assures us that everything has changed, but really, it's still a show about screaming at and torturing a bunch of fatties. So let's get to it!
We start off with Bob Harper telling us that we're all desperate, worthless, and can't resist temptation. Guilty! We see video footage of contestants being bad and doing bad things that involve shoveling fat and cholesterol into their gaping maws. And then they're suddenly in a presidential motorcade that delivers them to the
Biggest Loser
Ranch. Stylin'!
The fatties all stand in a line outside the gym and get all jiggly when Bob Harper comes out to greet them. Save your energy, ladies and gentleblobs. You're going to need it. Bob says that this season is all about change. Isn't every season about change? Oh, I see, they've changed the host, the house, the gym, and the
Biggest Loser
logo. Which is now just a letter "B" with a slash through it. It looks like something my niece whipped up in Microsoft Paint, but whatever. Change!
Bob takes a moment to introduce the pseudo-celebrities who are contestants this season. We've got Erin, who was evidently on
The Voice
, and we've got Richard Hatch. Richard Hatch? I love that guy! I loved him as Apollo on the original
Battlestar Galactica
, and I loved him as Tom Zarek in the reboot! Hm? What's that? It's a different Richard Hatch? Aw. Oh, this was the naked guy on
Survivor
who forgot to pay his taxes. Well that's … almost as good.
Anyway, Bob throws everybody right onto a bunch of treadmills and they're all worried about sweating through their street clothes. I'd be more worried about my thighs rubbing together and starting a fire. As they're panting and sweating, Bob offers them each five large to get off and walk away. Sold! No? No takers? Suckers. Bob ups it to 10 grand. Take the deal! Go home and get yourself a personal trainer! Nobody bites, so Bob bumps it to 25 Gs. You gotta be kidding me! No one?! You are all out of your goddamn minds, every last one of you.
And we've got a fatty down! Vicki collapses and the trainers have to come in and lift her legs and put a cold compress on her neck while Bob berates her. I will say that Bob is a much more in-your-face host than Ali ever was. But I think Ali was more devious. Now in years past, they would have carted Vicki off to the hospital and she'd have spent weeks there recovering, but I remind you that EVERYTHING HAS CHANGED. So they get her vertical and throw her right back on the treadmill. Die, Vicki! Die!
Everyone survives the treadmill ordeal, and as a reward, they get to go into the
Biggest Loser
gym. This is a reward? The spotlights come up on trainers Jen and Dolvett. Mmmm, Dolvett. Okay, yes, this is a reward. Bob does a quick plug for Planet Fitness and makes the big announcement that regardless of how hard they fall on their faces within the show, each of them gets a
free year of membership to Planet Fitness
. Wow. Planet Fitness is $10 a month so they're forking over $1,920 in free memberships. Hey, big spender. Spend a little time with me.
Jen and Dolvett are tasked with choosing their teams, and in deference to the way the contestants' lives have played out up to this point, everyone is picked last. Bob sends everyone off to bed without any supper, and the next day the two teams show up in the gym to get their asses handed to them. By the way, the gym is split right down the middle so one team has half and the other team has half. Segregation! Anyway, there's tears, sweat, blood, and puke a-plenty. Oh how I have missed this!
And now for the shame session! Bob gathers everyone in the house – which, frankly, looks no different at all – and starts poking them in the feels until we get that most precious salty
Biggest Loser
currency – tears. One of the fatties, Toy, talks about failing as a mother for her young son. Bob won't leave it alone, so we find out that she wasn't minding the little fella and he wandered off and drowned in a swimming pool. Oof. And yes, that's bad, but the worst part is that we'll be hearing that story
ad infinitum
as the season unfolds. Unless Toy gets put on the shelf.
Time for our first challenge! And for some reason, they decide to do it right in the middle of downtown LA instead of out in the middle of nowhere. EVERYTHING IS DIFFERENT! And the nice thing about this urban setting is that passersby can ogle the fatties as they make fools of themselves. That should help the ol' self-esteem.
One thing that hasn't changed is the unnecessarily convoluted challenges. Thank God. We need a little consistency, people! So the fatties need to unload bags of money into a scale, which brings down a ladder. Then two team members need to climb the ladder to the top of the Banco Popular (Spanish for "Order me a pizza, bitch!") building, where they'll be tempted by something. Is it Satan? Forgive me for thinking outside the box, but why not grab these money bags and TAKE OFF? You'd get a good burn from the run AND you'd have some cake!
So anyway, they fill the scales and the ladders come down. Team Jen (ugh) sends Richard and Erin up the ladder and Team Dolvett (blurgh) sends twins Luis and Roberto. Richard and Erin do fine – slow, but fine – and Roberto slips off the ladder and hangs there like the world's softest wrecking ball. He gives up. There's your lesson from this episode, kids! If it's hard, don't bother.
Richard and Erin reach the roof and are given a choice: they can have $40,000 to split between them, or they can snag a sweet 8-pound advantage at the weigh-in. What kind of fucking asshole would take the money? How would you even face your teammates? Richard and Erin, not fucking assholes, take the 8 pounds. I wonder if Luis and Roberto would have been given the same choices. We'll never know, because Roberto's got no balls. Well, maybe he's got Sno-Balls. Mmm, Sno-Balls.
But no time for Sno-Balls! It's time for the Last-Chance Workout! Screaming, whimpering, crying, sweating, cursing, praying for death – you know the drill.
And then we're off to the first weigh-in of the new season! The new scale set looks like it was repurposed from the
Who Wants to Be a Millionaire?
set. Lots of neon and video walls, and not one but TWO SCALES. EVERYTHING IS DIFFERENT! As it happens, I'm fine with this particular wrinkle, because it means we'll get the weigh-ins done twice as fast. Not fast enough to compress this two-hour padfest down to 60 minutes, but I'll still take it.
In that vein, I won't bother going weigh-in by weigh-in, because let's face it, we're only going to be emotionally invested in four or five of these people anyhow, and the rest are just cannon fodder. Now that we get to meet everyone, though, I will offer this observation – what's with all the goddamn hicks? Half these people sound like they're from Mudlick, West Virginia. I found myself wishing for subtitles for most of them, gol-dangit.
Anyhow, Team Jen manages to win the weigh-in thanks to some pretty big numbers, and that sends Team Dolvett's Britney and her partner/aunt Toy to the elimination room. Ugh, with the platters again? Of all the things you people changed, you couldn't update this particular piece of hack? Everyone votes, and most people seem to think Britney can do it on her own but Toy needs more time, so they send Britney packing. If I didn't know that reality shows were 100% real, I'd swear that the producers asked them to keep Toy because she's got that sad, sad story that needs further exploitation. Thank goodness for reality.
We catch up with Britney, who has gone from mega-fat to super-fat thanks to Planet Fitness, and shows off her tent-like little black dress to her fat friends. Or possibly fat relatives. Either way, there's a whole lotta meat in that room.
Next week! The ladies on Team Dolvett have long, late-night discussions about whether he's milk chocolate or dark chocolate. Richard gets lost trying to find Tribal Council. And Bob gets a new tattoo of Jen's butt.