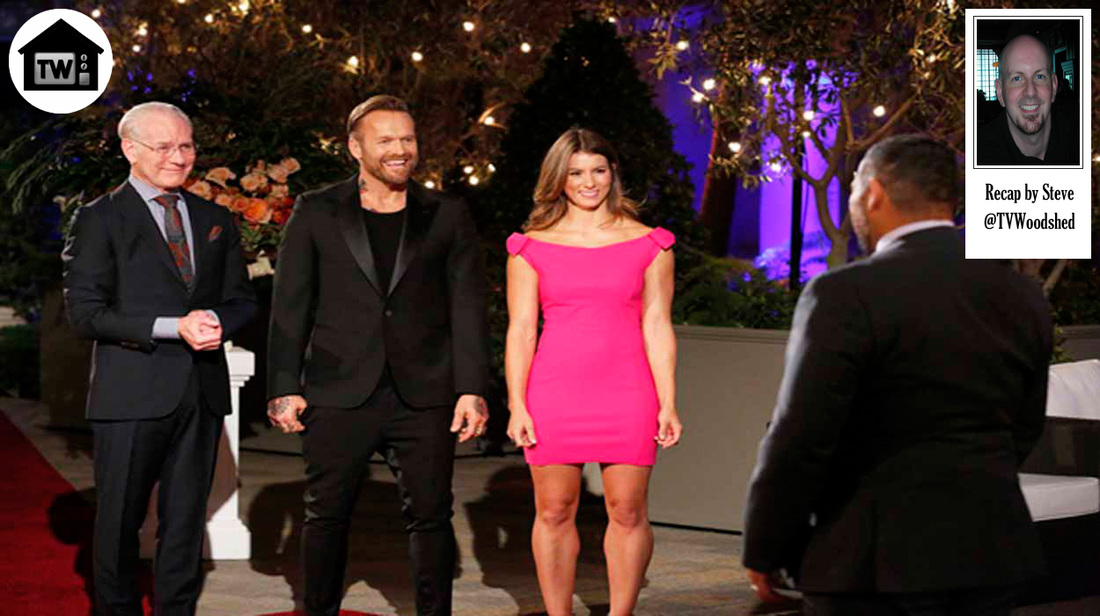 That's right, it's Makeover Week! Time for Tim Gunn to stuff some semi-fatties into Spanx and tell them they're beautiful, and then we can parade them at the county fair for that ever-elusive blue ribbon.
Previouslies: Luis and Rob are sent off into the sunset and we move forward without them.

The contestants arrive at a swanky L.A. clothing boutique called Vivienne Westwood. You mean there's someplace else to buy clothes besides Target? Well this is news to me! Bob welcomes everybody and announces that it's Makeover Week. Everybody laughs and claps and jiggles up and down like they had no idea it was Makeover Week. Then what did you think you were doing at Vivienne Westwood? Lifting mannequins?

Bob introduces Tim Gunn, and with the two of them standing there, we've got a high level of gay going on. Tim is very excited to strip these people down, de-louse them, and make them fashionable. Bob tells them that when Tim's done with them, if there's anything left, they're off to Ken Paves for a shave and a haircut, and then friends and family will get a look at them.

Just an aside, here – the first time I ever saw Tim Gunn and Ken Paves on this show, I didn't know who either was and assumed Ken was Tim's houseboy. Here we are many seasons later and I'm still not entirely sure I'm wrong.

So Tim gives everyone something to try on, with varying degrees of success. I understand that it must be a real thrill for these folks to wear a size 10 instead of an 18 or have a waist size of 38 instead of 50, but let's call a spade a spade – they're still fat. Not as fat, obviously, but still fat. Which forces me to reiterate that Makeover Week should be combined with the live finale. Doll them up when they're done, Tim!

So everyone feels beautiful and sexy and confident and whatever, and when Tim is dressing Colby, he comments that he can't wait to see Colby without his Hillbilly Jim beard. Or as Colby calls it, a bard. Colby tells Tim that his daddy killed hisself, and the last thing he did when he saw his daddy in his coffin was touch his daddy's big ol' bard, so that's why he keeps a big ol' bard of his own. Tim feels like an asshole, and I feel a little grossed out. But then, I come from a big Irish Catholic family that thinks nothing of KISSING THE CORPSE at a wake, so I don't know why it should bother me at all.

So then we're off to see Ken Paves, and who's with me here – Ken Paves looks like a monkey. Anyone? Oh, you all know he does. Just admit it. He starts trimming and coloring and styling. I've wondered this before – does Ken only do the styling himself when a celebrity comes in and/or there are cameras around? Does he have his lackeys do it otherwise while he smokes in the back and watches monkey porn?

Anyhow, Ken gets Lauren in the chair, and he can't resist name-dropping Jessica Simpson, and how he was responsible for her 'do in the early aughts. Lauren says that Jessica Simpson is her hair icon. Ugh. Can we vote Lauren off now? Later, Ken tells Colby that he heard his weird bard story and that he'll leave the bard alone, but then for some reason Colby grabs the clippers and starts cutting the bard off. I suppose he can always stroke Hope's big ol' bard when he gets home.

So then one by one the re-done contestants arrive … somewhere … and are greeted by Tim Gunn, Bob, and whichever trainer is handy. There's lots of oohing and ahhing, but there's really only two takeaways from this pseudo-red carpet event – Felicia's rack. She comes jiggling and bobbing down the carpet, and even Bob and Tim can't take their eyes off her gorgeous Golden Globes. Dolvett can only think of motorboats. If #feliciasrack isn't trending, goddammit, it ought to be.

So the contestants go inside … somewhere … and admire themselves in a mirror, and then the mirror rises and friends and family are there to gush. There are no former contestants there, because that would be cheating, but we do get to meet Erin's boyfriend – who is so clearly gay, but that's none of my business – and Roberto's little ones, one of whom he almost strangles when giving hugs. All the contestants, trainers, and plus-ones gather … somewhere … and Bob makes a toast to Tim Gunn for all his hard work. But not to Ken Paves. Interesting.

Bob tells the family members that they're going to visit the ranch to get a taste of what life there is like. Can you imagine what kinds of indemnity forms and insurance paperwork have to be filled out to arrange this? It's staggering to think about!

So the contestants and their families arrive on the ranch, and Bob tells them that everyone is going to participate in one of their convoluted challenges. The contestants have to run down a race course carrying weight plates and put them on a sled, and then drag the sled to the finish line. The family members are in charge of unscrewing said plates and handing them off. You see? You see what kind of liability there can be in this craziness?

So Erin chooses her boyfriend to help her. Colby chooses his mother. Lauren chooses her son. Jacky chooses her daughter. Stephen goes with his son, Jack, who can't possibly be of any help whatsoever, but that's his only choice. Roberto chooses his shifty-looking stepson, Angel. I bet Angel is quite adept at unscrewing things in a hurry.

So the race starts and Erin gets a solid lead, followed by Felicia and Roberto. It's really only a three-horse race, and Erin wins it. The other contestants feel compelled to finish, even though there's nothing at stake, and I believe Stephen finishes in about a week and a half, owing to the fact that his weight plate unscrewer is four years old and has no upper body strength to speak of. Erin wins her family a trip to one of those Biggest Loser knockoff ranches, and also a one-pound advantage at the weigh-in. Bob tells the contestants to kick their families to the curb and takes off.

At some later point, Bob gathers all the contestants in the house and tries to get some tears flowing. Surely we can't be short of our tear quota this week! It's been Niagara Falls, Frankie Angel! Anyway, Bob starts poking at Lauren and Roberto but he's getting nowhere, so he forces Colby to talk about his father killing hisself. Is this … is this really necessary?

So Colby tells the tale, and his daddy shot hisself in the head, and when Colby got home, they had already removed the mattress because it was such a mess. Bob misses the opportunity to ask if it was a mess because of the smoldering shotgun blast hole or because it was covered with whatever brains Colby's dad might have had. Then Colby insisted on sitting on the bedroom floor, trying to mop up the blood pool. Out, damned spot! Out! So everyone cries and we all learn a valuable lesson.

To the gym! It's a Last Chance Workout, and if you don't know what every single Last Chance Workout looks like, I'm not sure why you're reading this recap. To the scales!

Scales of Misery. Everyone gathers to seal their fate. Erin goes up first, and it's a little disorienting to see her without her bluish-gray hair. I kinda liked her bluish-gray hair, but I'm not Ken Paves, so what do I know? Erin loses 6 pounds, and has her 1-pound advantage. I'm guessing she's safe. Lauren ascends the scale and Bob says, "Hi, Jessica Simpson." And the entire country cringes. She only loses 5 pounds and Felicia (and her breasts, which are tightly secured tonight) lose only 2. Hm.

Stephen loses 10 pounds and Jacky loses 9. I'll go out on a limb and guess they're safe. Roberto and Colby each lose 9 pounds, so Lauren and Felicia are below the yellow line. Noooooo! Not Felicia! We're just now getting to know her cleavage! Bob gives both women a chance to beg for their lives, and it's pitiful and uncomfortable and probably doesn't change anything anyway.

Dining Room of Doom. They gather for the feast. They stab it with their steely knives but they just can't kill the beast. Jacky votes for Lauren, and Stephen does too, probably because Jacky told him to. Roberto and Colby both vote for Felicia, almost like they never witnessed the glory of Felicia's sweater cows. It comes down to Erin, who votes for Lauren. Yes! The Tits of Glory live to fight another day, and we never have to hear a Jessica Simpson reference again! Except maybe at the finale.

We catch up with Lauren, and she's lost a total of 66 pounds. She's happy and healthy and whatnot, and she and her son go rock climbing. Whatever works.

Next week! We're in the home stretch and I believe we find out who's going to the finale and who's going home. The preview makes it look like the contestants are suspended hundreds of feet above a lake, so maybe someone will drown too! Fingers crossed!
​