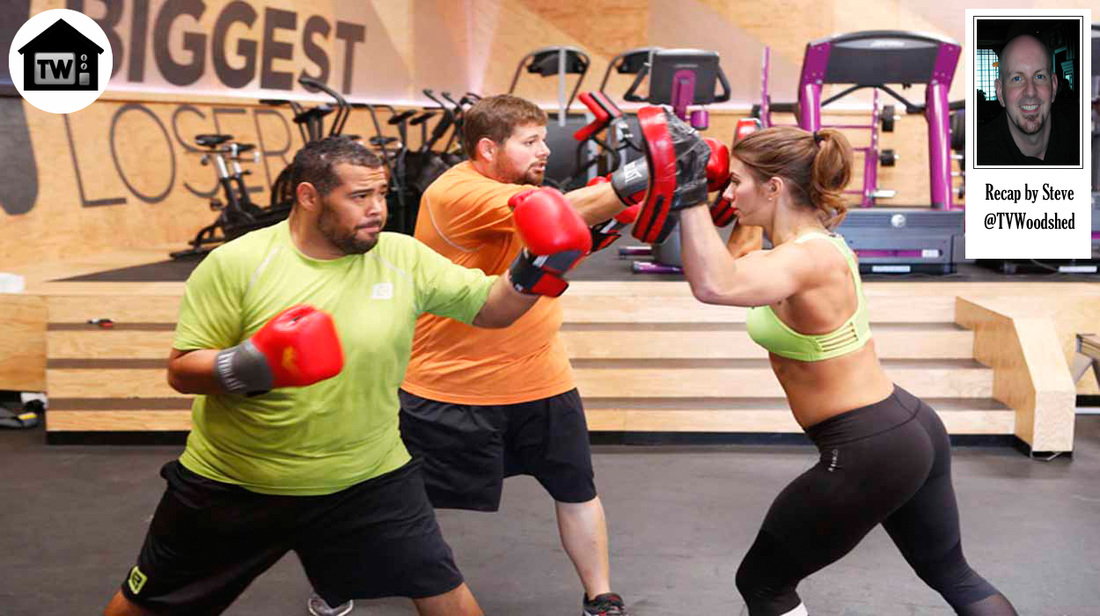 In the first half of tonight's double-header, the contestants risk drowning to win a one-pound advantage on the scale, and the rest of it is mostly padding and product placement since there are so few fatties left. Jennie-O turkey away!
Previouslies: The contestants got made over, we got a look at Felicia's colossal cleavage, and Lauren got the axe.
Lake. The contestants arrive and Bob outlines how they're going to drown this week. That's a fairly efficient way to get us to the finalists. I only hope
someone
survives. The semi-fatties are going to be stuffed into harnesses and strapped to ropes over the lake. They have to … well, from the motions they're going through and all the grunting, I'd say they're humping the ropes. I thought this was a family-friendly program!
So they all start humping their way up, and the ropes start moving to hasten them to their watery graves. Jacky, Colby, and Stephen take the plunge in fairly rapid succession, and then we hear some inspirational words from Roberto about never giving up and never surrendering and then he falls in the drink too. Way to walk the walk, Roberto.
Felicia and Erin are at the top of their respective ropes but Felicia isn't humping fast enough and winds up wet behind the ears. That means Erin wins, and as her first reward, she gets baptized in the lake just like all the other losers. Her second reward is that she gets a one-pound advantage at the weigh-in, and gets to give a one-pound disadvantage to someone else. That's bound to make you popular in the house.
Back in the gym, there's sweating and shouting and the threat of the one-pound disadvantage looming over everyone's head. Dolvett asks Erin if he can "holla" at her for a minute, which I'm sure provides him with no end of credibility in the black community. They strategize over who's going to get the one pound, but if they come up with a plan, we don't get to hear it. Intrigue!
Bob gathers the contestant together to tell them how important their Sleep Number® adjustable beds are to their weight loss. And folks, it's true. Only the Sleep Number® bed provides individualized comfort, so you and your partner can adjust to your ideal firmness and support – your Sleep Number® setting. See that, Bob? I can whore just as much as you can. Except I don't get paid for it.
After surrendering part of his soul to the corporate leeches, Bob does one-on-one meetings with the contestants to get them to cry. There are precious few episodes left, and we'll need those extra tears to carry us over until next season. So weep, you emotionally damaged ex-fatties! Weep!
Then we see poor Erin getting propositioned by everybody, and it really makes me wonder if winning the challenge was worth it. Alliances are proposed, and Roberto tells her that if she spares himself and big ol' Colby, they'll carry her through to the finale. For his part, big ol' Colby says he ain't never begged for nothin' and he ain't about to beg for nothin' now. Where do I get my Wisdom of Colby daily calendar?
And with that, time for some annoying beeping and random numbers that have nothing to do with actual weight. It's the Scales of Terror! The moment arrives for Erin to decide who she's going to dick over, and it turns out to be Roberto. Yeah, that's probably who I would have dicked over too. He doesn't seem at all surprised, so I take from that that he would have dicked himself over as well. Glad to know we're all on the same page.
Jacky and Stephen are first to weigh in, and she loses 8 pounds and he loses 9. Next is Colby, who loses 11, and Felicia, who loses 4. Felicia sucks. Finally, we have Roberto and Erin. With Erin's arrow through his fat little heart, Roberto needs to lose 10 pounds, and does so.
You'd think losing his target weight would be enough, but then Roberto starts screaming and spitting at all of us fat, slovenly Americans to get up off the goddamn couch and go for a walk and then run a marathon and get healthy for all of our
hijos
out there. Um, I would
love
to do that, but these Reese's Peanut Butter Eggs aren't going to eat themselves. Back to the weigh-in, Erin only loses 3 pounds and falls below the yellow line with Felicia, proving that instant karma really does exist.
In the Dining Room of Destiny, they go through the motions, but we all know that it's going to be Erin, and it is. Dang. Erin was my horse, and really the only pretty face to look at besides Felicia's. Oh well. No use crying over spilled lard.
Next week! We find out who is going to make it to the finale, and who is going to come agonizingly close to making it to the finale before falling on their stupid, fat face. Luckily, next week starts
right now
!