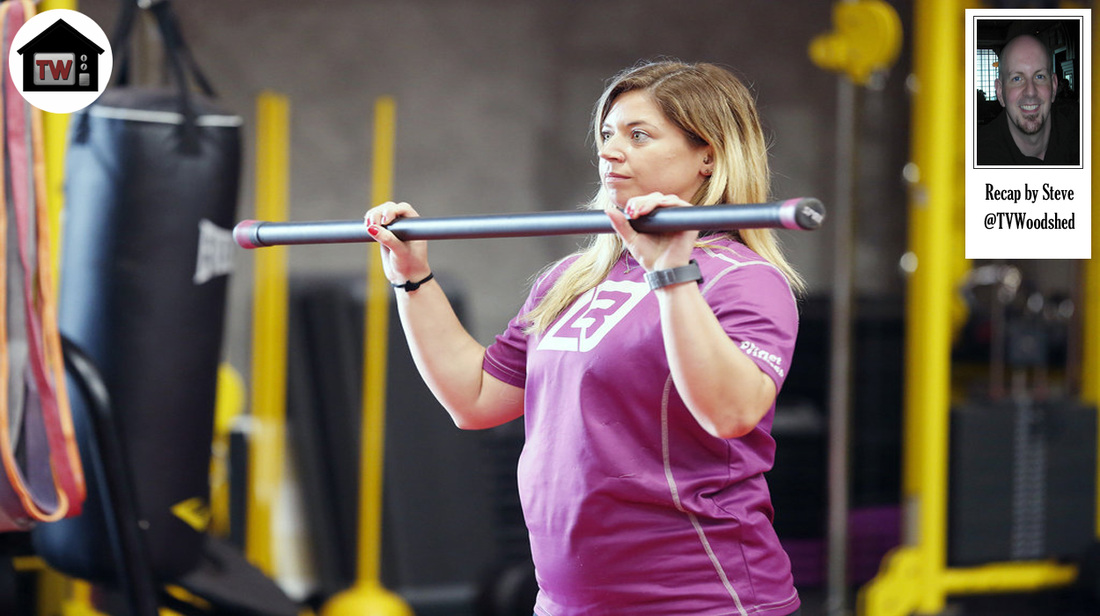 It's the fi-nal count-down! Nah-nah nah naaah! Nah nah nah-nah-nah! Nah-nah nah naaah! Nah-nah nah-nah-nah-nah naaah! We finally find out who's made it into the finale! Unless those Biggest Loser fuckers pull a last-minute swerve …
Previouslies: The contestants didn't drown like they were supposed to because fat floats, and my horse Erin got dragged behind the barn and shot. Boo!
The contestants arrive at the Greek Theatre, like you do, which I guess is at the top of a really steep mountain. But the box office is at base camp? I don't know. If you live out in LA,
e-mail me
and explain how this works. Bob is there, and tells everyone that they have to strap on (tee hee!) all the weight they've lost and strip it off (tee hee!) as they make their way up the mountainside. Whoever isn't mauled by a mountain goat and/or survives their heart attack wins.
So everyone starts off slow, since they're dragging so much poundage, but as they drop the weights off, the speed picks up. I like that Bob is running this thing with them. Ali never would have. She would have rolled her heel in her Christian Louboutins and missed weeks of whatever shitty soap opera she was on.
The race order never really changes – it's Roberto, Stephen, Colby, Felicia, and on another mountain somewhere, Jacky. Roberto wins, and screams at the top of his lungs that he's sorry for being a bad father. Don't beat yourself up, Roberto. Every father is a bad father to some degree. Then Stephen, Colby, and Felicia finish, and Stephen has to go back to find Jacky. Nice that none of the other fuckers were worried enough about her to go back and check.
As winner, Roberto has to choose between $25,000 or a two-pound advantage at the weigh-in. Roberto, sensibly, chooses the two pounds, and Felicia asks if she can have the 25 large. If you wanted the money so badly, Felicia, you should have run up the hill faster. Lesson learned.
Gym. They've brought in some comfy couches and set up a monitor so the contestants can watch their journey videos. Like "Open Arms"? Oh, journey with a small "j." Gotcha. So there's footage of everybody working out and learning and growing (while shrinking) and we all have ourselves a good cry.
Colby and Roberto find themselves a bit peckish, and lo and behold, Jen happens to be right there in the kitchen, cooking at the stove. What an astonishing coincidence! She offers to teach them how to make healthy breakfast burritos with fresh, low-calorie Jennie-O® turkey. Fortunately for everyone involved, Roberto and Colby love their low-calorie Jennie-O® turkey breakfast burritos. How embarrassing it would have been if they hadn't! Blurgh.
Hey, it's Doctor Death! Run! Run for your lives! Doctor Death is here to show the remaining contestants how much healthier they are now. Felicia has lost inches off her waist! Colby has cut down his sugar intake to two cubes! Roberto is off all of his pills! Hooray! Doctor Death is proud of everyone, but is still available to saw off a foot if anyone should lose one to diabetes.
Last chance pad-fest. Ugh, this is when, to paraphrase
The Shawshank Redemption
, time draws out like a blade. Everyone does stuff and the footage is interspersed with them doing the same things 11 weeks ago and we see how far they've all come. Okay, we get it. Amazing journeys, yes, we understand. Transformations, yes, good. Can we wrap this up, please?
Finally! The last visit to the Scales of Truth! There's a double red line tonight, so the three folks above it are in the finale, and the two folks below it are history. Roberto is first and loses 6 pounds, plus his two-pound advantage. Jacky loses 6 pounds and the tension is building. Stephen loses 10 pounds and is the first official finalist. Oo-rah! Felicia loses 3 pounds and it's not enough to get over the red line. I've resisted the urge this long, but no longer – bye, Felicia!
With Roberto as the second finalist, it all comes down to big ol' Colby. He needs to lose 7 pounds to be the last finale guy. Otherwise it'll be Jacky. The numbers beep and we all hold our breath and … oh, you fuckers! TO BE CONTINUED? Bite me!
So we catch up with Erin, who has lost a little more weight since last we saw her and has resumed her singing career. Curiously, it looks like she's performing in her living room. Eh, whatever pays the bills. Felicia has lost a bit more weight too, and we see her in a little black dress. I'd normally leave it at that, but there's something odd about Felicia's ass. Did anyone else notice it besides me?
She's in her dress, and then turns and does the hand-on-the-hip thing, and in profile you can see the curve of her buttocks. Only the curve is, like, 18 inches lower than where you'd expect to see it. It's like her butt cheeks are on the backs of her knees. I wish I had a screen grab to show you what I mean, but it's certainly odd. Anyway, good work, butt-knees!
Next week! The live season finale is upon us, and we all marvel over what a quick season this was. Plus, all the contestants return and we get to say, "I don't remember
any
of these people."