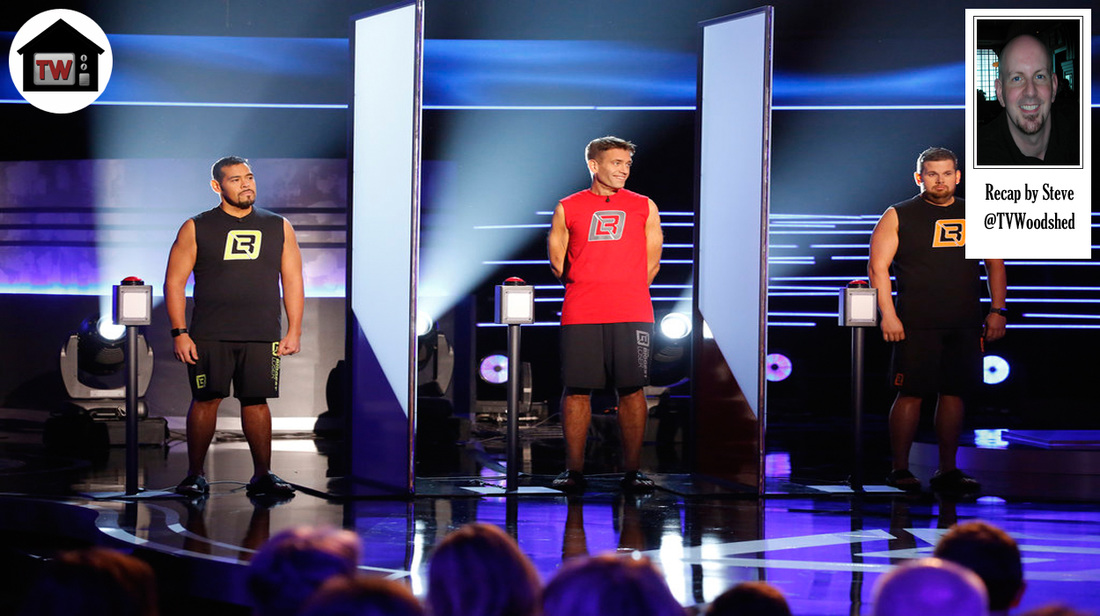 Start warming up the nachos and grab the over/under on your favorite former fatty – it's the Biggest Loser season finale! ​
Hey, it's Bob, looking very dapper in a gray three-piece suit but losing points with me for wearing brown shoes with it. Is the brown shoes thing a phase? Can we get back to the relative sanity of black shoes with dark suits? Please? Anyway, Bob tells us how amazing this season was and that tonight it's gonna get crazy up in hyah. I disagree on both counts.
We're reminded that we don't know who the third finalist is because those
Biggest Loser
fuckers cut it off in the last episode. Time to find out now. It's Colby. Huzzah! The finalists are one big sausage-fest! Bob introduces Jen and Dolvett, both looking fine, and the three of them exchange some bland and uninspired banter. Then Bob kicks them to the side of the stage so we can get this party started. But not before telling us – for the first time of many – that there's a big twist coming later in the show. So factor that in if you're betting.
Bob brings out the first batch of former fatties – Richard, Erin, Vicki, and Lauren. Erin looks smoking hot, Lauren looks pretty hot, Vicki
thinks
she looks hot, and Richard looks about the same. Bob chats with them to stretch for time – does this really need to be two hours, people? – and Erin sings a little bit. Then Richard makes a point of mentioning that the
Biggest Loser
doesn't have a mental health counseling component. What, all those sessions with Bob poking you in the feels don't count?
Bob sends the contestants off for hose-downs, de-lousing, and rebranding, and then we catch up with them for the big weigh-in. Richard is first, and lost 45 pounds. That's embarrassing. Way to set the bar super low,
Survivor
boy. Lauren lost 67 pounds. Now we're getting somewhere. Erin lost 87 pounds! Yeah! That's my horse right there, ladies and gentlemen. Vicki lost 61 pounds, so Erin holds the lead for now. I'm counting my winnings already.
Next out are Toy, Britney, Rob, and Sarah. Okay, I'll just point out the elephants in the room here, and that would be Toy and Britney. If you two aren't even going to try, then don't bother showing up for the finale. If I had to guess, I'd say they both gained weight, but we'll see. Meanwhile, Rob looks tremendous, and Sarah has lost so much weight I didn't even recognize her until they did her highlight video. Damn, woman. I think I may have lost my bet.
Quick change, and the contestants are back to weigh in. Toy is first and lost 81 pounds. Oh come on. That is utter and complete fucking bullshit. If she lost more than five pounds then I'm the queen of Siam. Thanks to this clearly bogus weigh-in, Vegas has cancelled all bets. Thanks a lot, Toy. Actually, yes, thanks a lot, because there's no way Erin is winning this. Rob weighs in and has lost 116 pounds! Atta boy! Britney weighs in and has lost 33 pounds. I still call bullshit, but it's a
little
more believable. And Sarah lost 148 pounds! Fucking hell. Sarah bumps Erin. Bye, Erin. Still love ya, babe.
The final group consists of Whitney, Felicia, Hope, Luis and Jacky. Whitney – who I don't remember at all – looks really good, as does Felicia. Luis is looking slim and trim and is sporting Mex-American hosiery, which is fun. Jacky looks amazing. And Hope … well, Hope is Hope. In an
earlier recap
, I noted that Hope is uglier than a lard bucket full of armpits. I have nothing to add at this time.
So off they go for the quick change, and here they are back to weigh in. Just be thankful that I'm zipping past a lot of the padding, because there's a lot of it, folks. A lot of it. Whitney weighs in and lost 56 pounds. That's it? It looks like more, but after Toy and Britney, I no longer trust the scale anyway. Hope lost 40 pounds. Felicia lost 56 pounds. These are pretty dull numbers, people. What did you all do with your free Planet Fitness memberships anyway?
Luis lost 139 pounds! See, now that's a
Biggest Loser
number! Boom! Jacky's the last one to weigh in, and she lost 117 pounds. Very impressive, but not enough to unseat Luis, who is the at-home champion! No confetti for him because we still have the main event coming up, but good job nonetheless, Luis.
Okay, home stretch, people! And I do mean stretch, because we've only got three more contestants and about an hour more to go. Yeesh. So first out is Roberto. Admittedly, he looks really good, but we've already seen his twin brother, who effectively acted as a spoiler. He's wearing the same socks as Luis, and takes the time to show us a toy shark that his son gave him. Weird.
Stephen is out next, and he actually looks scrawny. I think he might be my pick. He's apparently been sequestered from Jacky for some reason, and seeks her out in the Losers Gallery to get some sugar. And finally it's big ol' Colby, who looks good and a lot smaller than he used to, but still kind of big, if you know what I mean. Colby, amazingly, struggles for words when chatting with Bob. Will wonders never cease?
And now, ladies and gentlemen, THE TWIST. Roberto, Stephen, and Colby are hidden from each other with partitions so they don't know what they're up against. Each one has a button. Bob offers them $50,000 to hit the button and take the cash, but it means a three-pound advantage on the scale. Bob then re-reads the Teleprompter and corrects that to a three-pound DISadvantage. Nice work, Harper. The time counts down, and at the last second, Colby takes the deal!
Bob asks Colby why he took the deal, and he rambles incoherently about a close friend of his starting chemo and a fan who watched the
makeover episode
and decided not to commit suicide. None of which sheds any light on why he took the deal, but whatever. He's got a guaranteed fitty large no matter what happens on the scale. Imagine how many pig's knuckles that can buy!
So at long last, we're down to it. I'm still picking Stephen, and not just because we share the same first name, spelling and all. Colby's up first and lost 122 pounds. Stephen is up next and lost 133 pounds. In order for Roberto to win this whole thing, he needs to have lost 150 pounds or more. Roberto loses 160. The twins win it all! The twins win it all! Something you'll hear on the
Biggest Loser
but never in Minnesota. Zing!
Next week! There is no next week, you dummies. That was the season finale. I don't know when Season 18 starts, but when it does, I will be there to snark all over it. See you then!